Seve Ballesteros, myself, John Lister and Eldon Carswell – photos supplied Rotorua Lakes Council
As outlined in my previous post, 1975 was a year of mixed results for those of whom I was caddying. There were both highlights and lowlights but, as the year progressed, I would get to experience my first exposure to a young man who would go on to become one of the greats of the modern game.
I had seen Seve Ballesteros at several events in 1975, effectively his rookie season in Europe, but I had not seen him at close quarters as such although that was about to change. He had already recorded four or five top tens in European Tour events and was, even then, being considered one of Europe's great future stars.
In September of that year, an event would be played at Turnberry in Scotland, the Double Diamond International, which would involve teams of five from the Americas, The Rest of the World and the Home Nations, Scotland, Ireland, England and Wales.
I did not appear likely to get one of the bags in the event as my regulars were not playing. Given that the Americans, with one or two exceptions, were unlikely to be traveling with their caddies however, I decided to try my luck in securing one of their players.
I targeted Jim Colbert, an impressive player who had at that stage already won four events on the PGA Tour and, from what my due diligence had indicated, he would not be bringing his caddie to Britain.
My good friend, Michael Glading, had been caddying in Europe with me for much of the 1975 season which had included a win on the bag of South African, Hugh Baiocchi, at the Dutch Open. He was planning on returning to New Zealand via the United States to caddy for Baiocchi at the World Golf Hall of Fame event at Pinehurst and for Irishman, John O'Leary, at the Ryder Cup at Laurel Valley the following week.
Michael agreed to speak to Colbert at the Pinehurst event and to my delight he was more than happy to have that part of his visit to Scotland sorted ahead of time.
I arrived at Turnberry on the delightful Ayrshire Coast for the second time having first caddied there for Billy Dunk at the John Player Classic in 1973 (see here). It was arranged that I would meet with Colbert on the Tuesday morning of the Double Diamond. When I arrived at the course on the Monday to do my yardages, however, I was advised by one of the Scottish caddies that Colbert was already on the course and had taken a local for the week.
Still unsure whether his comment was in jest or a deliberate act to unsettle me given I had one of the more significant bags for the week (some of the Scottish caddies were capable of doing just that) I did some more checking. Then, armed with the knowledge he was not on the golf course, I eventually headed across to the beautiful Turnberry Hotel on the hill.
The Turnberry Hotel where I first caught up with Jim Colbert.
Reception told me Colbert had only just checked in and when they called his room he was happy to come down to meet me for a coffee in the lobby of the hotel.
He was a delight, certainly a confident sort of character but he was great to me and I could tell even from our initial discussion that we would get on.
That would turn out to be the case as he would go on to win each of his five matches, playing a key role in the success of an American side which included Colbert, Johnny Miller, Lou Graham, Dave Hill and Mark Hayes.
One of those matches was when he tackled the 18-year old Ballesteros, who was a member of the Rest of the World side.
In the absence of a Continental European side that year, Ballesteros was considered enough of a rising star to be included in that team which included he, Gary Player, Bob Charles, Dale Hayes and Jack Newton.
Certainly Ballesteros impressed that week and, already, it was evident that he would become a fine player. It was, though, hard to imagine back then just what an impact he, his golfing skills, charismatic appeal, creative imagination and artistry would have on the golfing world over the next 25 years.
On reflection, however, it is nice to be able to look back and recall being so close to him so early in his professional career and being on the bag of Jim Colbert when the American won their encounter.
Ballesteros – 1975
Two years later I had worked in the real world back in New Zealand for a couple of years although that world was not exactly feeling too real for me. So, at the end of 1977, I headed to Australia for a few events including the West Lakes Classic, the Australian Open and the Australian PGA Championship where I would again team with John Lister.
Lister would finish runner-up to David Graham at the Australian Open at the Australian Golf Club that year but the remainder of the events in Australia and those in New Zealand were not so lucrative for the player who had dominated New Zealand golf events in recent years.
Lister had won the Otago Charity Classic in Dunedin (the first event back in NZ after Australia) on two occasions in earlier years but in 1977 it would be tournament invite, Seve Ballesteros, who would win by three strokes over American, Bob Byman, who the following week would win the New Zealand Open in Auckland.
Following the event in Dunedin, an exhibition had been arranged in the North Island tourist city of Rotorua by cigarette company Benson & Hedges and Air New Zealand. The participants would therefore involve two of the most recent winners on the New Zealand Tour, Ballesteros and Lister, in a face off at the Springfield Golf Club.
Now, it just so happened that I had been a member of Springfield as a 17 and 18-year-old in the early 1970's. My mother also lived in Rotorua so I had taken advantage of an earlier trip to my Mum's place to grab some yardages on the golf course well ahead of the day.
Lister, Ballesteros and I flew from Dunedin to Auckland on the Sunday evening immediately following Ballesteros' win at the Otago Charity Classic and were put up in a hotel near the airport in Auckland ahead of a flight down to Rotorua the following morning.
We flew the 45 minutes down to Rotorua to be met by those organising the exhibition and representatives of the club.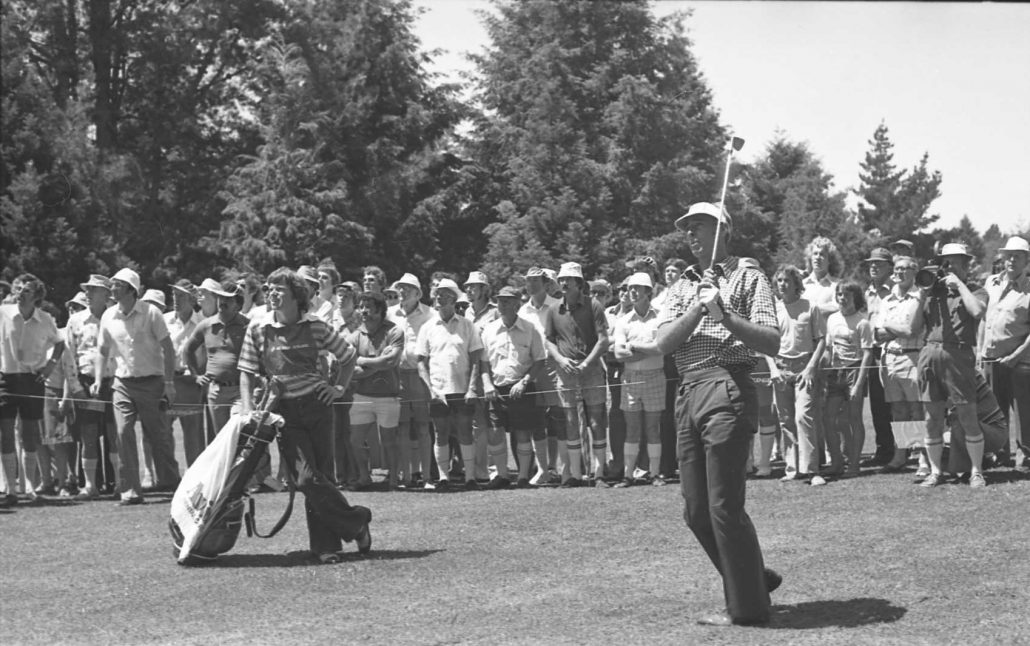 Lister en route to defeating Ballesteros
The spectator numbers that had assembled that day were impressive and I have subsequently heard from a number golfers who have said they traveled from many parts of the North Island of New Zealand to be there.
Ballesteros was, after all, developing a growing reputation in world golf, highlighted of course by his runner-up finish as a 19-year-old to Johnny Miller at the 1976 Open Championship the previous year.
Lister had won on the PGA Tour the previous year, had finished runner-up at the Australian Open a few weeks earlier and was the leading force in New Zealand events of that era. There was, therefore, every reason for the event, despite it being an exhibition, to attract a good crowd.
This was in an era when, typically, players did not bring their caddies across the world and so Ballesteros teamed up with the Club Champion at Springfield, Eldon Carswell. Carswell would no doubt have been excited at the prospect of guiding such an emerging star around his home course that day.
Lister and Ballesteros in Rotorua
It was not all plain sailing for Eldon, however, Ballesteros letting him know in no uncertain terms when he persisted on calling him 'Steve' instead of 'Seve'. Things were tense for a while but in my memory and eventually, I feel sure, that of Eldon, the day overall was a great and memorable one especially, for me, when Lister managed to defeat Ballesteros.
As a sideline to these experiences was that twenty years later, I met up with Jim Colbert (who had beaten Ballesteros in 1975) once again when I ventured to the US to caddy for Graham Marsh in a few events on the then US Seniors Tour.
Colbert by then was not only a very successful golfer having won multiple times on the Senior Tour in addition to his 8 wins on the PGA Tour, but he was a very successful businessman as a prolific golf course owner and developer.
Because of their mutual interest in golf course development Marsh and Colbert had a lot in common. When he offered Graham and I a ride in his own Sabre jet from Atlanta to Washington DC it was agreed we would leave immediately after the Nationwide event in Duluth in Georgia for the US Senior Open to be held at Congressional Country Club.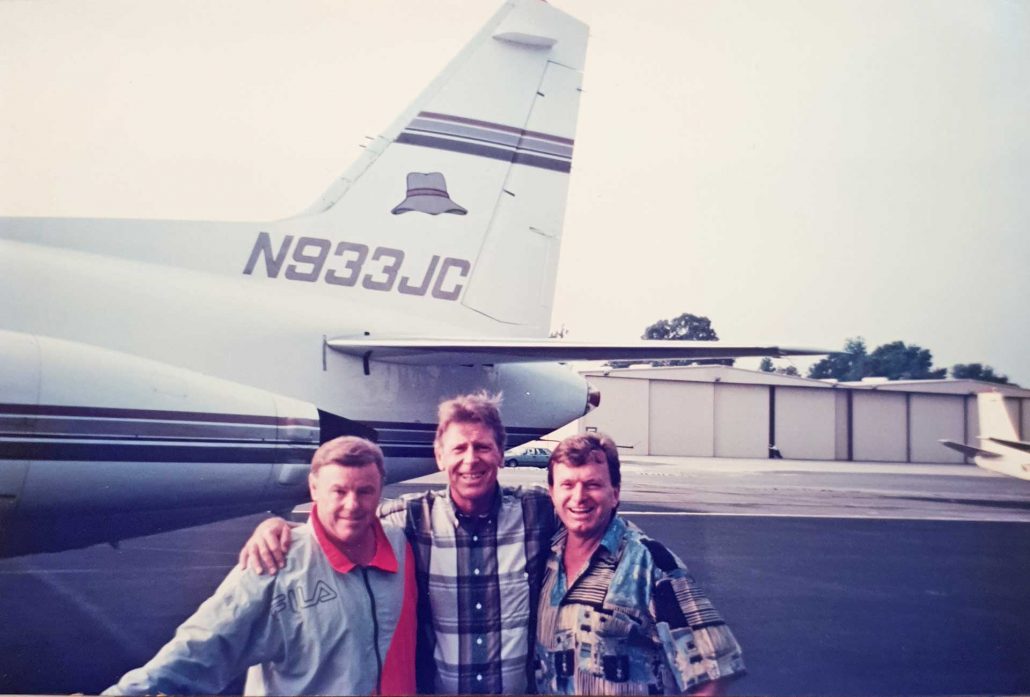 Jim Colbert, Graham Marsh and I about to board Colbert's jet in Atlanta
No sooner had the doors closed on the jet as it readied ready for take-off and Colbert had opened beers for us four passengers on board, than he was quickly into conversation about Ballesteros, asking if I recalled the day he beat him at Turnberry.
Ballesteros had of course, in those twenty years since, won 70 tournaments world-wide including three Open Championships and two Masters titles. He had also been responsible, along with the likes of Nick Faldo and Bernhard Langer, for changing the fortunes of Europe in the Ryder Cup.
I think it was a real source of pleasure and pride for Colbert to be able to say he had beaten the brilliant Spaniard so early in his career and so it should have been.
If I had a dollar for every time I have since heard people, many of whom never had the opportunity to see him play, describing the brilliance and legend of Ballesteros I would be a very wealthy man.
To have gained a taste of it first hand and seen him at such close quarters at such an early stage of his career, however, is yet another of the many memorable golfing occasions I have been fortunate to experience.
https://www.bruceyoungmedia.com.au/wp-content/uploads/2020/05/Bruce-John-and-Seve-2.jpg
918
1685
Bruce Young
https://www.bruceyoungmedia.com.au/wp-content/uploads/2017/01/logo.png
Bruce Young
2020-05-05 10:14:46
2021-04-01 18:43:02
Two Great Days Against Seve Ballesteros