Bruce Young has established himself as one of Australia's leading golf journalists and analysts. Since leaving a marketing role in the golf course design company of highly regarded Australian golfer Graham Marsh in 1999, Bruce has created a portfolio of golf related work in internet, print, radio and television commentary and has recently branched out into hosting lunches and other MC related activities.
Born and raised in New Zealand, Bruce began playing golf as a 12 year old in Dunedin and although reasonably proficient at the game, he soon realised there were limitations on his capabilities and that golf also offered opportunities outside of the playing of the game and he set about pursuing them.
In 1970 as a 17 year old he caddied in his first professional tournament and soon caught the bug. He initially caddied for family friend John Lister and with Lister he enjoyed the thrill of winning ten tournaments in New Zealand during an era when professional tournament golf there was at its peak.
A chance opportunity to caddy for Japanese star Masashi (Jumbo) Ozaki in the 1972 New Zealand PGA Championship would give Bruce his first winning experience as a caddy and kindled in him a desire to pursue caddying beyond the shores of his own country. He travelled to Australia for a few events in 1972 and then in 1973, at the age of 19, headed for Europe where he would become one of the very first from Australasia to caddy in a professional capacity.
"I was originally going to work for Jack Newton but received notice from Jack a few weeks before I left for Europe that his father was heading over to carry the bag for him and he suggested that I might like to work for his fellow Australian, Bob Shearer," said Bruce. "I worked for Bob in European Tour events for the next season and a half, but late in 1973 was fortunate to secure the bag of Graham Marsh at the then Piccadilly World Match Play (see videos)".
It was an opportunity that would change Bruce's life.
"Marsh was beaten in the final by Gary Player at the 40th hole after defeating Tommy Aaron and Tom Weiskopf in the early rounds but, in addition to the amazing experience it provided, it offered me the chance to consider going back to Europe in 1974 which I eventually did."
That turned out to be a good decision as after several early season events with Shearer, Bruce caddied for New Zealanders Bob Charles and Simon Owen in consecutive weeks when they won the 1974 Swiss and German Opens respectively.
Bruce again returned to Europe in 1975 and caddied for Graham Marsh whenever he came to Europe from Japan and for Simon Owen in the interim but by the end of 1975 he had had enough.
"The purses in that era were not what they are today and whilst I was enjoying it I felt I needed to consider employment in the 'real world' so to speak. That only lasted a couple of years and even then I kept caddying during the summer in Australia and New Zealand.
"Then, in 1979, John Lister, who played the PGA Tour, offered me the chance to caddy for him in the USA. I left in April and arrived back in New Zealand in late October. I loved my time in the US but again I had to think a little more long term."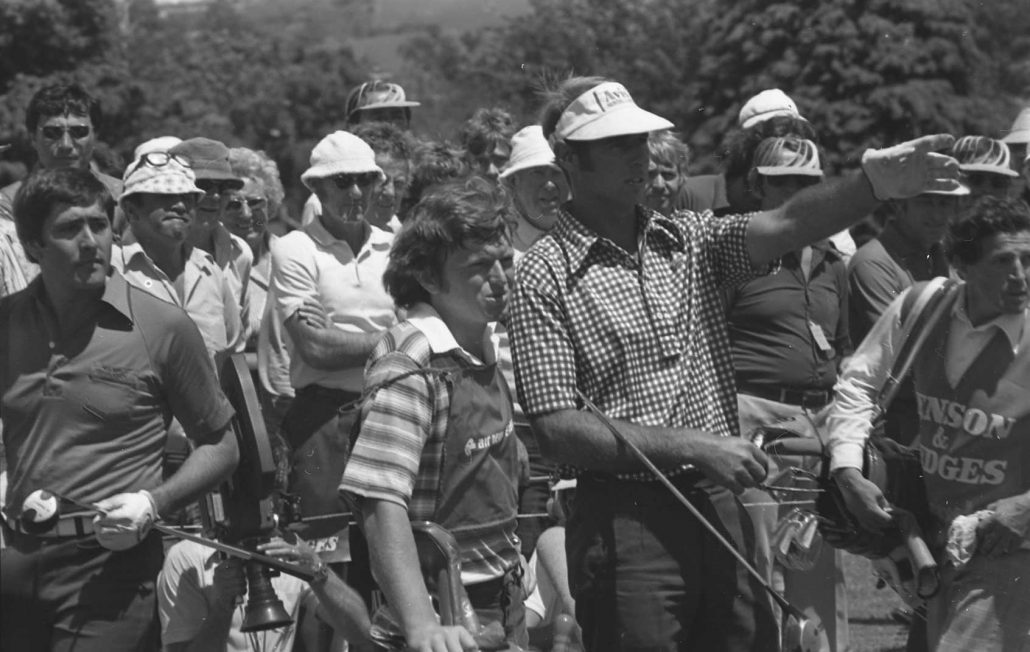 John Lister and Seve Ballesteros Exhibition Match Rotorua NZ  1977

Bruce worked in New Zealand in other industries until 1986, caddying the occasional event over the summer months in New Zealand including for Graham Marsh again when he won the New Zealand PGA title in 1983.
Bruce moved to Australia to live in 1986, taking up a role in the travel industry. Still keen to dabble in a little casual caddying, Bruce caddied for Marsh in a one off event at the TPC Championship at Riverside Oaks in early 1989. It was there that he was offered a chance to work for Marsh in a full time role that would involve caddying for the West Australian in Japan. "The role was twofold really as not only would I be caddying for Graham in Japan but acting in the role of liaison between he and the design company Graham had established on the Gold Coast with his then business partner, Ross Watson."
"We had a great time in Japan, travelling regularly from Perth where I had based myself. Graham won twice in Japan in the eighteen months I had in that role and it also allowed me to get a better understanding of the design industry."
In all Bruce caddied for the winners of seventeen 72 hole events during his time caddying. Those winners were John Lister, Graham Marsh, Simon Owen, Bob Charles, Jumbo Ozaki and American Jim Colbert.
"In late 1990 Graham offered me the role of marketing his design business but it would involve moving back to the East Coast and being based in Robina on the Gold Coast. For the next eight years I pursued golf course design business for Graham throughout Asia and the Pacific Rim, visiting countries such as Indonesia, Malaysia, Singapore, Korea, India Thailand and China on a regular basis."
"As a result of Graham's role in the design of the Terrey Hills Golf Club in Sydney, I was asked if I would be interested in doing on course commentary for the ABC at the Canon Challenge, an Australasian Tour event held there during the mid to late 1990's.
"I recall being very nervous but managed to get through it and was asked to be involved in following years on that and other events for the ABC. Work also came with Channel Ten and Television New Zealand but I was always on the fringe because I had not been a player and, irrespective of my golfing background or capabilities or otherwise in commentary, I had to battle for regular commentary gigs."
During Bruce's time in the role in Marsh's company, he took leave to caddy for him in five events on the then US Seniors Tour including the 1994 US Senior Open at Pinehurst in which Marsh lost by one shot after a bogey at the final hole.
"In 1998 I decided to seek out work with those providing television coverage at the World Cup in New Zealand in order to do some on course work there and in the hope that it might lead to more."
"As a result of that, in early 1999 I was offered the chance by European Tour Productions to travel to Qatar, Morroco and Portugal to be part of the World Feed commentary at the Qatar Masters and the Moroccan and Portugal Opens."
"In order to do so I had to make a decision. This was a direction I was keen to pursue and while Graham Marsh had been particularly good to me over a period of time I wasn't about to compromise myself or his company by continuing to split my focus. In February of 1999 I resigned from Graham Marsh Golf Design and set out on a journey that would lead to a career in golfing journalism."
It was a big gamble for Bruce as he was taking on a field where he had little in the way of journalistic background but what he did have was an in depth knowledge of the game of golf and a self belief.
"Yes it was hard in those early years and I had to give away a lot of work in order to build profile. I began to establish regular writing and radio work and there was the occasional television commentary work that came my way and so I was getting by."
In 2001 Bruce was approached by two keen Brisbane golfers who were determined to create a golfing website that would establish itself as a leader in that area of the market at a time when the internet was in relative infancy. 18 years later iseekgolf is the one of the leading golf only websites in Australasia and likely the southern hemisphere and has a significant audience worldwide.
"Jason Savidge and his then partner, Stuart Beck, the two founders of iseekgolf.com, were keen to have somebody on board who could provide content and so I wrote my first article for them in July of 2001. Fifteen and more than 10,000 articles later I am proud to have been part of the success of a concept that faced early scepticism but has proven to be such a success story."
In addition to his role as a contributor to iseekgolf, Bruce's work included providing golf related segments for the Sports shows of the Radio TAB Network and for radio in New Zealand, writing for the websites of Peter Lonard and Brendan Jones, providing weekly video analysis for Golf Link, writing monthly articles for several golf magazines in Australia and New Zealand, writing form guides for New Zealand TAB on the Major Championships, providing golf analysis for Sky News Channel and media consultancy for several golf tournaments.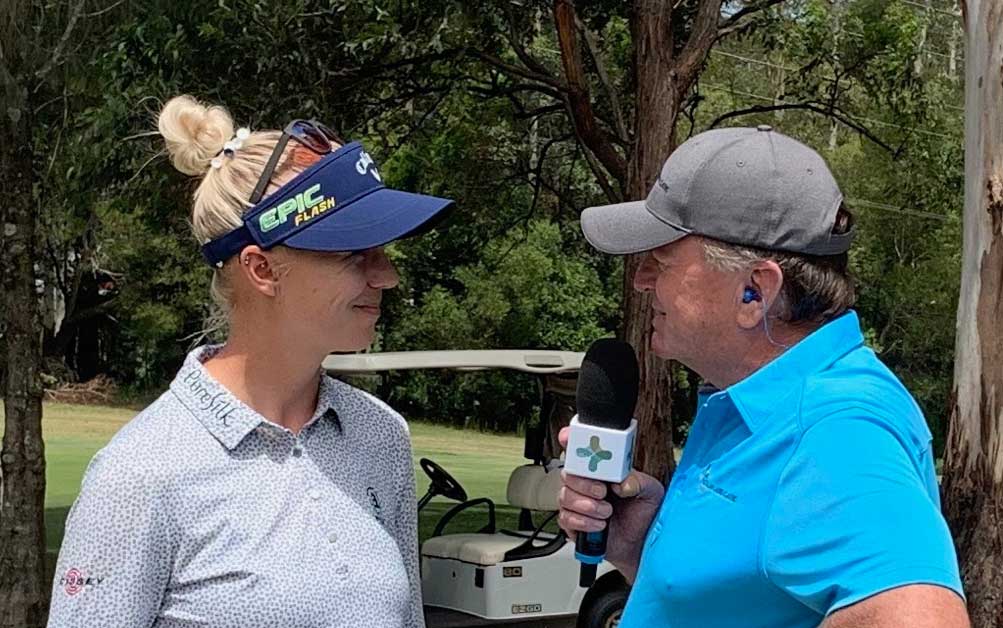 On course interview Madelene Sagstrom – Bonville 2019
Bruce also continued his involvement in television commentary, having worked on co sanctioned European Tour events for European Tour Productions on their coverage of events such as the Australian Masters, the New Zealand Open and the Johnnie Walker Classic. He has also performed voice over work for Tier Two Australasian Tour events shown for the web and on Fox Sports and Channel 10 (see video page) and over a six year period in a role as on course commentator at the Asia-Pacific Amateur Championship along with Bill Macatee, Frank Nobilo and Dottie Pepper.
Interviewing eventual winner Guan Tianlang at 2012 Asia Pacific Amateur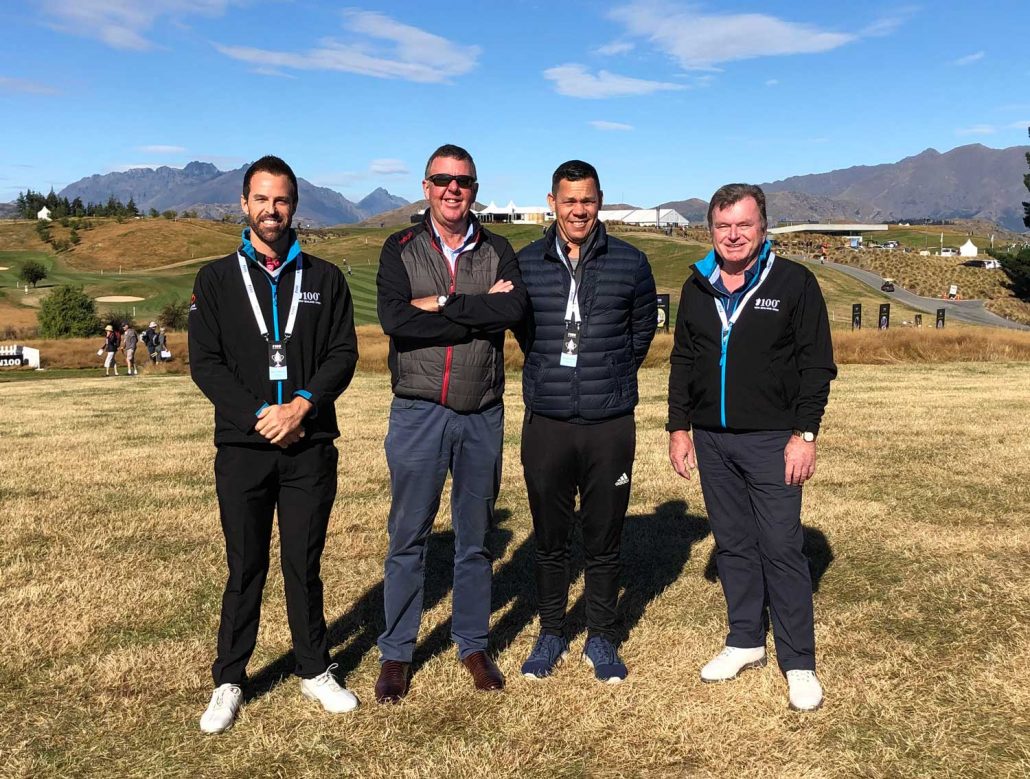 Commentary Team 2019 NZ Open
Bruce has added a new string to his bow of late by branching out into MC work. Not only has he hosted several lunches and golf related functions, but has facilitated panel discussions and hosted conferences for the Australian Golf Industry Council and the PGA of Australia, played host at Golf Shootouts at Emerald Lakes and Virginia Golf Clubs in Queensland and hosted tournament launches and prize-giving ceremonies at the Queensland PGA and the Queensland Open.
Bruce was also MC at the 2009 Queensland Mining Industry's Health and Safety Conference in Townsville and in 2010 was MC at the Asia Pacific Srixon PGA Coaching Summit at Royal Pines on the Gold Coast where David Leadbetter was the keynote presenter.
Bruce was also the MC/Facilitator at the Asia Pacific Srixon Coaching Summit in 2012 and was again in that same role in 2014.
Further MC roles have involved the Australia and New Zealand Search and Rescue Conference at Jupiters Casino on the Gold Coast, the luncheons on all four days of the RACV Ladies Masters on the Gold Coast, the Australian Golf Writers Annual Gala Dinner during the 2014 Australian Open as Facilitator during the 2015 Golf Management Australia Conference on the Gold Coast and as MC at the 2019 Asia Pacific Turfgrass Conference in Brisbane.
2019 Asia Pacific Turgrass Conference