Myself, Alfie Fyles (Gary Player's Caddie) Gary Player and Graham Marsh – 1973 World Match Play.

Having outlined in my previous piece how my European caddying adventures came about and began in Bournemouth, this story outlines how the rest of 1973 unfolded and culminated in one of the most exciting experiences I have enjoyed in golf.
Working for Bob Shearer for much of the season, I had travelled to many different parts of Great Britain and Ireland as well as to France, Germany, the Netherlands and Switzerland before arriving at what was to have, initially, been my final event of the season in Birmingham in early September, the W.D and H.O Wills Open.
Shearer had not played well for much of the season and had failed to get starts in the late season events so I had been free to pursue other options in an attempt to extend my time in Europe.
Not one to ignore potential opportunities I was aware that Australia's Billy Dunk had been invited to play the John Player Classic at Turnberry and the Dunlop Masters in Wales and had written to him (snail mail) earlier in the year in the hope that I might be able to have his bag for those two events.
In mid-August I received advice from Dunk confirming my involvement in the two events thus ensuring that my time in Europe would be extended until early October at least.
The week before Birmingham I had caddied, in the absence of his regular caddie and for the first time, for Bob Charles in the Double-Diamond teams event at the Princes Golf Club near Deal in Kent and afterwards he asked whether I would be available to caddy for him in two practice rounds a week ahead of the John Player Classic as he had to head off for a few days just before the event.
My end of season schedule was, therefore, building nicely but it was to build even further and in the most dramatic of ways in the week ahead.
Following Birmingham, the South African golfer, Dales Hayes, loaned me his car while he headed back to South Africa, my side of the deal being to get it to him at Turnberry more than two weeks later. Things were indeed falling into place as I enjoyed the sporty Vauxhall Firenza over the two weeks and arrived at Turnberry the week prior to the John Player Classic.
The stunning Turnberry – a few good things happened there that week – Getty Images
I spent a couple of days caddying for Charles in practice rounds and while there ran into Australian Graham Marsh who I had met in New Zealand although I couldn't say I knew him well.
I had known him well enough, however, to write to him in Japan earlier in the year to investigate any opportunity of caddying for him at the Piccadilly World Match Play Championship in mid-October to which he had been invited as a rising star and as the winner of the Scottish Open in June.
On asking Graham if he had received my letter he said yes but that the guy from St Andrews who had caddied for him in his Scottish Open win three months earlier would be with him at Turnberry and at the Dunlop Masters and the World Match Play. I figured that would be the case but that it had been worth the inquiry anyway.
Marsh, too, was at Turnberry well ahead of the John Player Classic as he had business to attend to in Southern France for a few days ahead of the tournament and wanted to get in a couple of practice rounds before heading off. He asked if I wanted to work those rounds to which I, of course, said yes.
I began to finalise my plans for heading home to New Zealand after the Dunlop Masters but you can imagine my delight when, on Marsh's return from France, he advised he had received word from his Scottish caddie that he was unable to make the John Player and the following two events were in doubt because of an illness to his wife.
Graham found me at Turnberry and asked if I was still available for the World Match Play. I was beside myself as the event at Wentworth was one of the great events of the season and the opportunity to caddy in my first season in Britain in a field where only eight of the world's best players were involved was almost too good to be true.
The opportunity also existed to caddy for Graham at Turnberry and in Wales and, on reflection, I probably should have but felt an obligation to stick to the arrangement to caddy for Dunk and so organised for my friend, Lee (General) Wilkins, who had been on the bag of the highly successful Peter Oosterhuis in recent seasons, to work the two events for Marsh prior to Wentworth.
Dunk, who rarely played in Europe, performed below his best in the two events, perhaps not helped by me leaving his umbrella in the pro shop ahead of one of the rounds at Turnberry. Dunk was capable of getting fired up at the best of times but when a huge rainstorm hit on the 17th hole that day and he asked for his umbrella I was looking for a rock to crawl under.
In Dunk's defence, however, it was my blunder and overall he was good to work for. He was a brilliant iron player and never really showed the world just how good he was. He won twice in Japan and countless titles in Australia and New Zealand but he did not enjoy travelling and so seldom did.
And, so, it was on to Wentworth and the chance to caddy in a dream event. Compared to other events we were well looked after by the tournament. Beautiful jackets were provided to each caddie in addition to a per diem in addition to whatever our respective players chose to pay us.
Access to the clubhouse in Britain in those days was never available in regular tour events but in this event not only were we allowed in the clubhouse but to eat the table of our bosses.
Graham faced the Masters Champion that year, Tommy Aaron, in the first round and won comfortably.
His opponent in round two was the Open Champion that year, Tom Weiskopf, and despite losing a ball up a tree early in his 36 hole match, Marsh would go on to win 4&3 and had therefore made the final where he would face four time winner, Gary Player, who had accounted for Johnny Miller in their semi final match.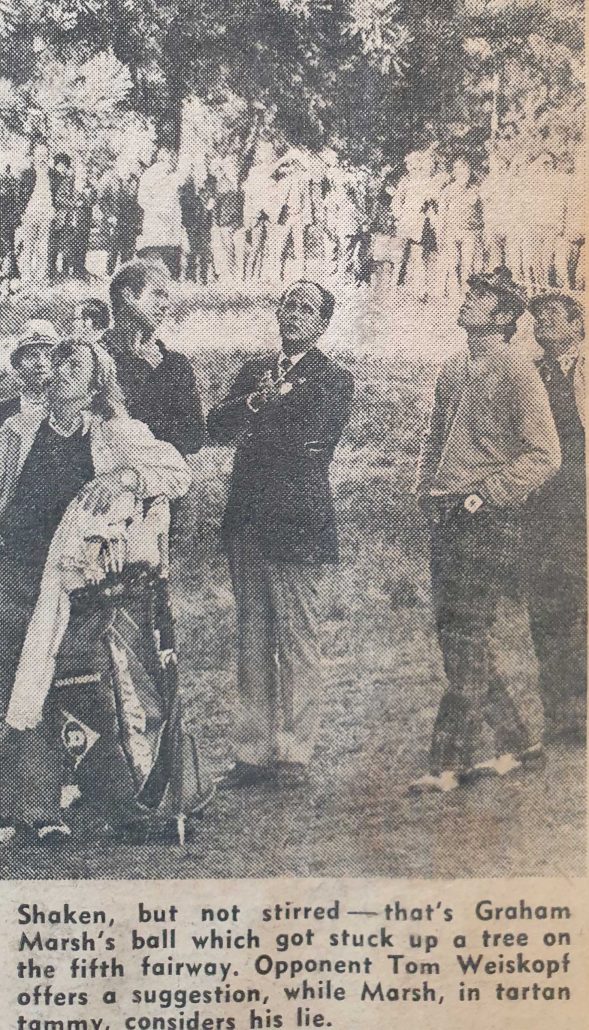 The semi-final against Weiskopf
For me as a just turned 20-year old it was almost surreal as I headed down the practice fairway on the Saturday morning to fox balls for Marsh. I saw a television crew coming down the fairway towards me.
I could not work out why but as I picked up the balls (yes in those days we had to fox the balls ourselves), it soon became apparent they wanted to have a chat with me which was the beginning of a day like no other I had experienced to that point and since.
The match was tight all the way. All square through 18 holes, a still tied through 27 although Player grabbed a two-hole advantage with four to play. It seemed all over but Marsh birdied the 33rd and when Player three putted the 34th, the contest was set to go to the wire.
As the pair stood on the 35th tee I was standing a little below Graham and noticed that Player was ahead of the markers. It was totally inadvertent but Graham had noticed it also and as Player was getting set over the ball he advised his opponent.
Player was clearly not impressed but when he lost the hole to a birdie and went one down with one to play he was even less so.
As the players walked from the green, Player shook his finger at Graham and said; "Man I've got to tell you I teed my ball up in exactly the same place as you back there on the tee but as far as I am concerned I don't worry about petty things like inches so we'll forget the whole thing."
Rather than me explain that incident further and how Player managed to get himself out of jail and win at the 4th extra hole, the longest final in the history of the event, the video below highlights how it all unfolded and Player's amazing tenacity and grit under pressure.
Despite the agonising loss, this was an unforgettable day and experience for me and brought to a close my first year on the European Tour.
Those final few weeks had provided the incentive to return in 1974.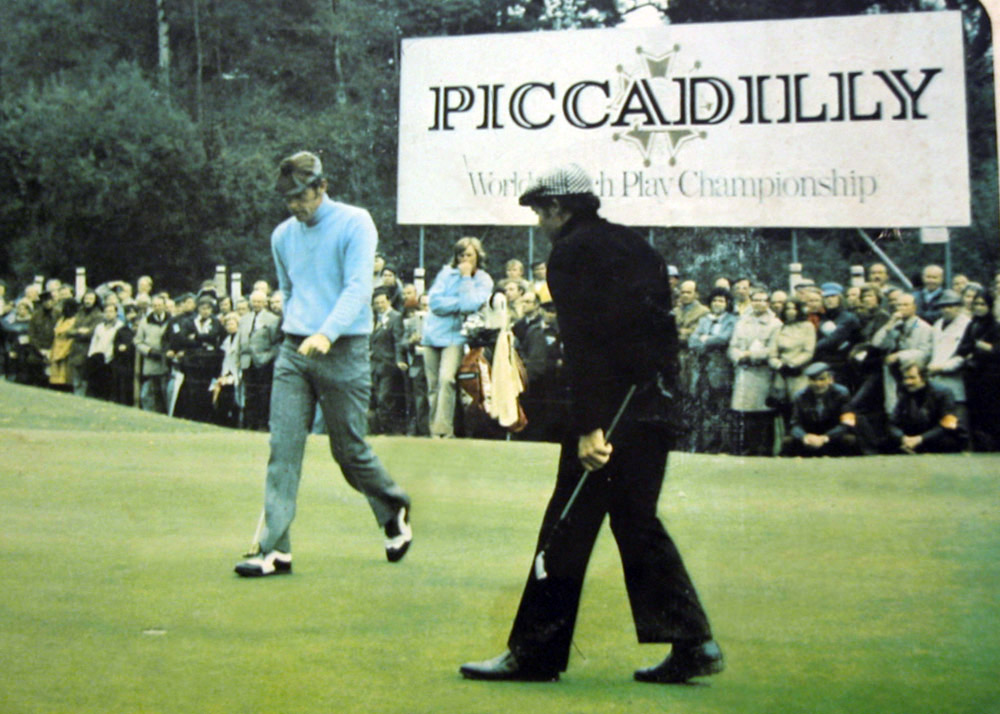 The 36th hole
https://www.bruceyoungmedia.com.au/wp-content/uploads/2020/04/World-Match-Play-reduced.jpg
1132
1500
Bruce Young
https://www.bruceyoungmedia.com.au/wp-content/uploads/2017/01/logo.png
Bruce Young
2020-04-16 02:01:53
2021-02-27 03:59:55
Dream Finish to First European Season