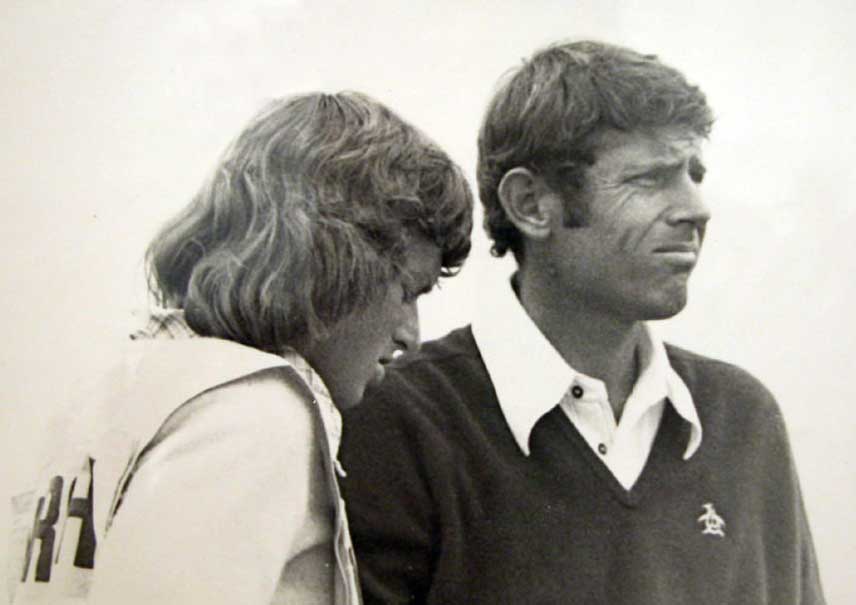 Graham Marsh and I during 1975 European campaign.

The 1974 year had proven to be a good one in my caddying adventures. Not only had I caddied for the wins of Bob Charles and Simon Owen in their respective victories in Switzerland and Germany, but, on my return to New Zealand John Lister had continued his domination of New Zealand scene with yet further wins at the Otago Charity Classic and the Garden City Classic.
As the year ended I began to think about whether another trip to Europe in 1975 would be of any value but the thrills I had experienced there in 1974 got the better of me and I again contemplated a couple of months' work ahead of a return to the European Tour in late April.
The caddying arrangement with Bob Shearer had come to an end at the Dutch Open in August of 1974 and for the remainder of that year in Europe I worked for Simon Owen and, when he played in Europe, Graham Marsh.
It was arranged that I would again work for Owen and for Marsh in Europe and instead of a paying job, I spent time on the horse stud of friends in the Waikato of New Zealand before heading to Britain.
This time, I would have travelling companions, Michael Glading and Merv O'Brien, with me, making the trip even more enjoyable although Merv's rather bizarre and comedic tales require and will get a write-up of their own as we move forward.
Compared to his rookie season the previous year it was a disappointing year for Owen in 1975, finishing 86th on the Order of Merit compared to his very impressive 9th in his debut season in 1974.
To add insult to that injury was that Bob Shearer, who I had made the decision to split with the previous year, was developing into the golfer that he had promised to be and finished 5th on the Order of Merit. I was however happy for Bob that he was beginning to realize his significant talent.
Simon Owen and I – Carroll's Irish Open Bray 1975.
The year and my spirits would be boosted, however, by the efforts of Marsh who would play seven events in Europe that season and, although he did not win any, he performed very well when 6th at the Open Championship, runner-up after a playoff to George Burns at the Scandinavian Enterprise Open and 4th at the Dutch Open.
Marsh's effort at the Open that year was particularly impressive recording a final round of 71, one of only four rounds under the par of 72 that day in conditions which allowed the fabulous Carnoustie to really bear her teeth.
Marsh finished in 6th place alone, only two shots from the playoff between Tom Watson and Jack Newton with Jack Nicklaus, Johnny Miller and Bobby Coles tied for 3rd just one shot behind the leaders and Marsh another shot back.
The playoff in Sweden was agonising as, having played so well to make the playoff, Marsh blundered with a horror first extra hole to allow US rookie Burns, a standout during his amateur career, his first win in the professional ranks.
Marsh would also play the Benson & Hedges event in York the week after the Dutch Open where he finished 12th. His brother, Rod, and legendary Australian cricketer and commentator, Richie Benaud, had travelled across from nearby Leeds where the third Ashes cricket test was being played to witness the final day at the Fulford Golf Club.
Rod was of course the Australian wicketkeeper in that era, but as was the tradition in test match cricket back then there was a rest day and so he took advantage of the opportunity to watch Graham playing at the nearby event.
I asked Graham if Rod could perhaps get me tickets to the remainder of the test match as it was delicately poised and while in the region I too had thought it a great opportunity to see a match of such significance.
It would become of even greater significance the next morning when vandals / protestors dug up the pitch and poured oil onto it, thus causing the match to be abandoned with Australia needing some 230 further runs to win with seven wickets in hand and Rick McCosker on 95 not out.
The protestors had been campaigning to free armed robber George Davis from jail. My one and only opportunity to watch test match cricket in England had therefore been foiled.
It would not be the last of rather intriguing experiences in the remainder of the season for me.
I will outline in another piece, caddying for Jim Colbert against Seve Ballesteros at Turnberry in a head to head match in September of 1975 but, at the Dunlop Masters in early October, another unusual occurrence took place.
Marsh had returned to Japan after the Benson & Hedges to play further events there and the next time I would see him would be at the Ganton Golf Club near Scarborough on the north coast of Yorkshire for the time honoured Dunlop Masters.
Arriving late from Japan, where he had played the Japan Open the previous week, Marsh had just one practice round over the fabulous Ganton layout before the event got under way but that did not stop him putting together an outstanding effort to lead after an opening round of 70 on a very demanding day.
With the prospect of another crack at the World Match Play the following week, for Marsh to have been in this sort of form was exciting to say the least and after a couple of beers with a few of the boys in Scarborough that evening I was off to bed early looking forward to an early second day tee time and feeling pretty happy with things.
I woke early and was off to the golf course to get the pin positions as were forced to do in those days. Some bright spark would later realise that making the pin positions available to all on the first tee was a much better way of controlling caddy movement on the golf course early each day.
On my way to catch transport to the course I walked past a newsagent and there, in bold print on a board outside the shop, was the headline "Marsh Disqualified"
Now I looked at it for a few seconds, not quite comprehending what I was seeing and initially thought it was referring to something else – perhaps a footballer or whatever.
On closer inspection and having bought the paper I realised that Marsh had, indeed, been disqualified from the event after leading the opening round for inadvertently signing an incorrect scorecard.
On the closing nine at Ganton there are two very similar par 4's and Marsh's playing partner, David Chillas of Scotland, had marked down a 3 where Marsh had actually had 4 and 4 where he had 3 and so while the total added up to 70, because Marsh had signed the card with individual hole numbers out of sync he was disqualified.
Marsh first heard of the mistake when a golf writer had noticed the discrepancy while going over his final spiel later that evening and saw that the scores, which had come in from the scorers on the course during play and were posted on the big scoreboard in the media centre, differed from that on the card.
The journalist then contacted Graham at his hotel and advised him on what appeared to be a scorecard issue and so Graham headed out to the course to confirm and had no choice other then to disqualify himself.
I was not staying in accommodation anywhere near as salubrious as that of Marsh's and in the days of no mobiles he had been unable to contact me to inform. I went over to his hotel and joined he and his wife Julie for breakfast to discuss the situation and when we would leave for London.
David Chillas was an outstanding young man and was devastated by the error he had played a role in although Marsh took full responsibility for not paying enough attention to the details of his card. The similarity between the two holes meant that the indiscretion had gone unnoticed to Marsh's tired and perhaps jet-lagged eyes.
And, thus, it was on to Wentworth where Marsh would face Open Champion Tom Watson in the opening round of the Piccadilly World Match Play. He would bow out by the margin of 2 down at the 36th hole, the most significant moment in the match coming when Watson drove it out of bounds at the 16th in the morning round and still managed to halve the hole after Marsh failed to get up and down from just off the green.
It brought and end to a rather roller coaster season in Europe, some good, some bad, but back in New Zealand, John Lister, would again add lustre to the year with yet another win (his 4th in succession) at the Garden City Classic.
One of my travelling companions, Michael Glading, experienced a great thrill of his own when on the bag for Hugh Baiocchi when the South African won the Dutch Open and so it was a year which, despite its ups and downs, had added significantly to the adventures we were experiencing.
Marsh during his 1975 World Match Play loss to Tom Watson – my last event in Europe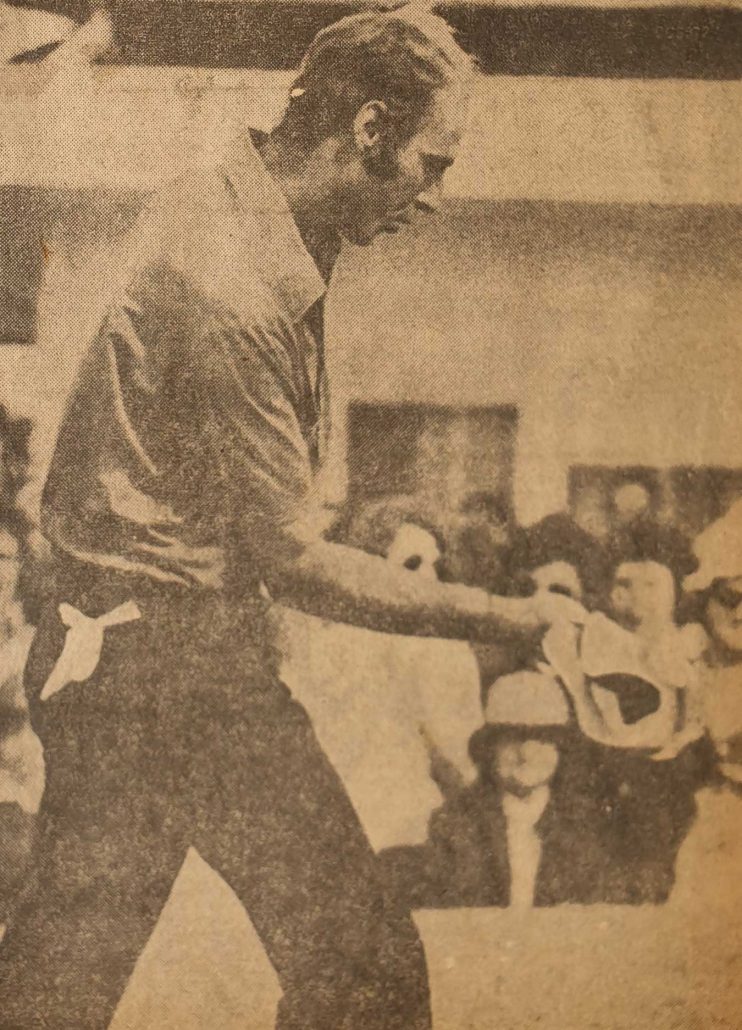 Late 1975 – Lister wins again in Christchurch
https://www.bruceyoungmedia.com.au/wp-content/uploads/2020/04/Marsh-and-I-1975-2.jpg
1137
1579
Bruce Young
https://www.bruceyoungmedia.com.au/wp-content/uploads/2017/01/logo.png
Bruce Young
2020-04-30 04:22:44
2021-02-27 03:41:02
Europe 1975 – A Season of Mixed Fortunes