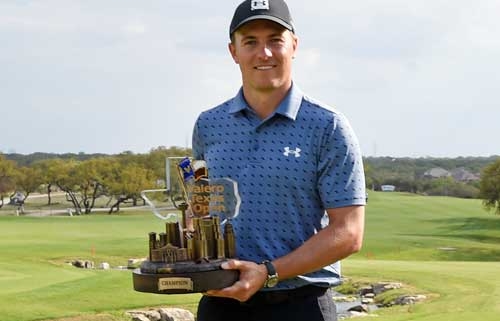 Jordan Spieth – holds the trophy for his 12th PGA Tour title – photo Getty Images Steve Dykes
It took 27-year- old Jordan Spieth four years to win his first 11 titles on the PGA Tour and nearly as long again to win his 12th.
Today Spieth broke a four-year drought when he won his first PGA Tour title since his 2017 Open Championship title and confirmed his recent resurgence with a two-shot victory over Charley Hoffman at the Valero Texas Open in San Antonio.
Spieth began the final day tied in the lead with England's Matt Wallace but he gained control with two early birdies and by the turn he was three ahead of both Wallace and Hoffman.
Hoffman threatened to make Spieth battle for his return to the winners' circle but the Texas native, Spieth, was up to the task and matched him with every stride. It was perhaps fitting that his return to winning ways happened with his own state title.
Clearly moved by the turnaround in fortunes, Spieth was quick to thank those who had helped and stuck by him during his downturn.
"Yeah, I feel grateful. I feel — I feel really — you know, it kind of bounces off and on right now when it hits me that I'm back in the winner's circle," said the champion.
"It's been a road that's had a lot of tough days. I've had people in my corner that have always believed in me even when I've kind of believed less in myself. I just feel a lot of gratitude to those who have helped me kind of get back here.
"My wife has been just a rock to me. This is my first win since we've been married, so it's been progressing this way since maybe December. Before that, there was a lot of tough times. When you're struggling at work, you try not to bring it home and that kind of stuff.
"I'm very grateful for the people that I have around me. I'm blessed with a great family who's always just looking out for my best interests. I've got an amazing team and I get put in position and I've got full trust in everyone that's on my side that they're going to be the best at what they do and I've just got to go out and feel the freedom to go enjoy playing golf."
Spieth paid special tribute to his caddie Michael Greller for some important advice he offered during the day.
"Michael did a great job today of telling me — he was like, look, Matt and Charley, these guys are playing for a lot more than you're playing for. Whatever you're feeling, they're feeling more. Charley's trying to get in next week, Matt's trying to get a job, you know, Tour card.
"These guys have a lot more to play for than you and we're trying to make progress for next week. It's kind of his way — we clearly were very focused on winning this golf tournament and it being important, but I think that was his way of freeing me up and I thought that was really good advice today."
Earlier this year the former world number one and two time Australian Open champion was only just inside the top 100 in the world but thanks to his recent efforts he is now # 38 with a lot more to come it would seem.
Hoffman who has a very good record at Augusta National won't be there next week as this was the last chance for a golfer otherwise not qualified to gain access to the Masters. It wasn't to be but Hoffman did all he could in his last minute bid.
"I've lost golf tournaments, I've won golf tournaments, but today Jordan won the golf tournament. Obviously I put some pressure on," said Hoffman. "Obviously I would have liked to have hit some better shots coming down the stretch, but gave myself an opportunity coming down the 18th fairway and that's all you can ask for. Hats off to Jordan.
"Obviously you come to each event trying to win, but second place isn't that bad. Obviously I want to get back to the Masters, I want to get back to Kapalua. I play to win, not finish second. But obviously had a chance, gave my best and just fell slightly short"
Cameron Davis was the only Australian to make the weekend but struggled over the final 36 holes and finished 69th.
https://www.bruceyoungmedia.com.au/wp-content/uploads/2021/04/Jordan-Spieth-Texas-Open-Steve-Dykes-1.jpg
449
500
Bruce Young
https://www.bruceyoungmedia.com.au/wp-content/uploads/2017/01/logo.png
Bruce Young
2021-04-05 00:23:25
2021-04-07 02:32:50
Spieth's back with Home State Victory