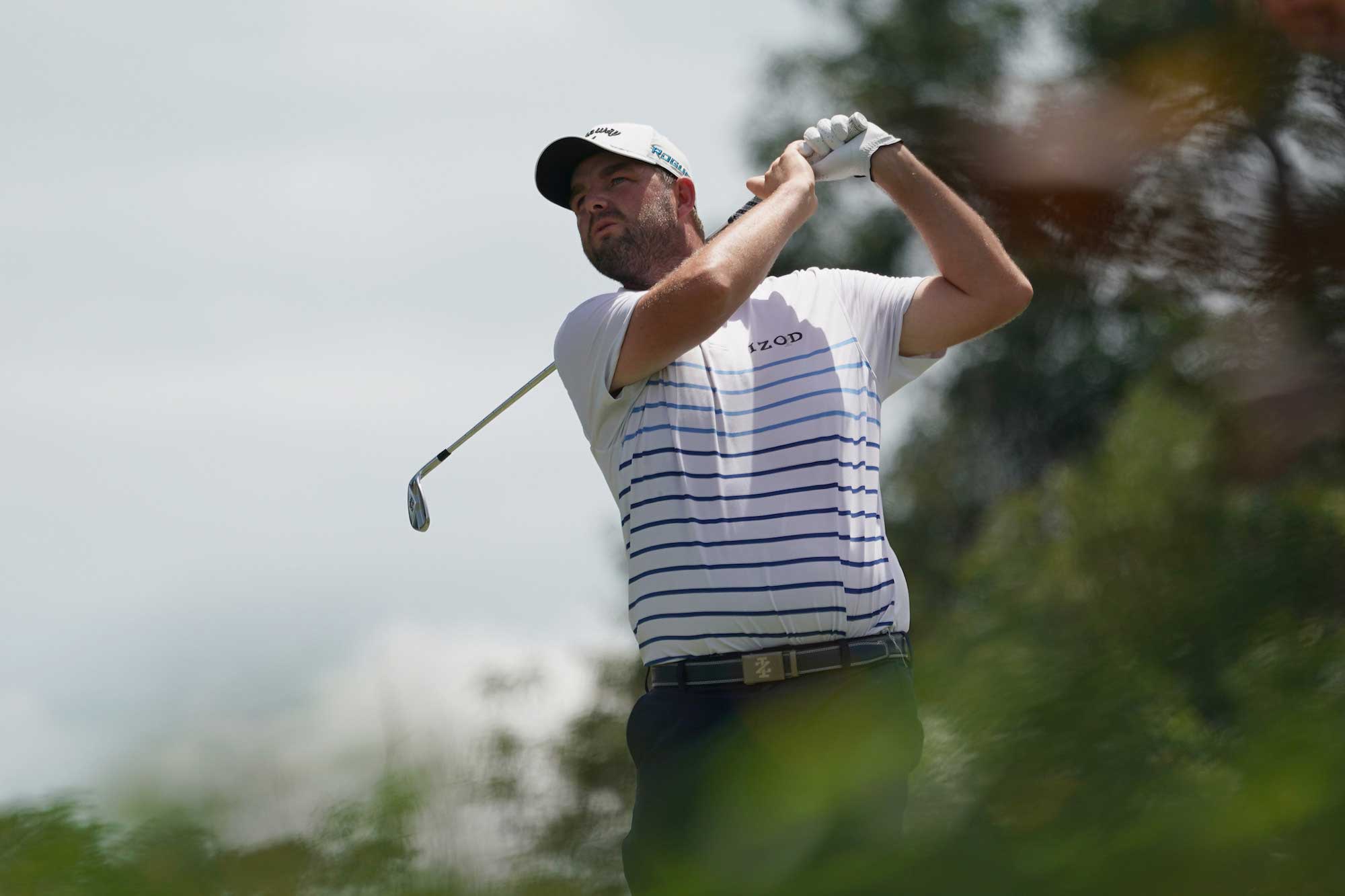 Marc Leishman – file photo
Marc Leishman heads the Australians at the halfway stage of The Masters, a second round of 67 having him just two behind the leader, Justin Rose, and in a share of 4th place as the first men's major of 2021 heads into the weekend.
Leishman closed out his round significantly better than had been the case on day one, a homeward nine of 2 under quite a difference from the 3 over finish yesterday after what had been a great start to the tournament on day one.
Leishman again made a great to his round today, birdies at his opening three holes setting up his 5 under par effort, the only blemish coming at the dangerous 11th when missing the fairway right. He managed to hit a fine shaped recovery just short of the green but was unable to get up and down.
All in all, however, it has been a fine performance to date for the Victorian, especially given some performances below his normal level of late.
His putting has been amongst the best of the week to date, currently in second place in the putting stats.
"I couldn't be more excited," said Leishman. "This is why I came here. This is the position I wanted to be in. My game's finally feeling good. It's the Masters, so yeah, I'm excited for the next two days, but there's a lot of good shots that have to be hit and a lot of good putts made to give myself a chance going into the back nine on Sunday.
"It's probably too early to look at it as opportunity. As I showed yesterday, so much can happen around here that, no matter where you are on the leaderboard, as long as you're somewhere near the top, anything can happen, whether you're leading or five back. You go to that back nine, and it's game on.
"I'm just happy to have a chance and be near the lead going into the weekend. You don't really want to be nine or ten back going in and have too much work to do, particularly when the greens are the way they are. But, yeah, happy to be thereabouts."
Cameron Smith worked himself into a great position when he eagled the 13th to get to 5 under and within two of the lead before his approach to the 14th did not jump out of the rough as he thought and he could not negotiate the difficult pitch from short of the green.
Then, at the next, he fell victim to the exceptionally dangerous 15th hole despite laying up with his second. He perhaps got a little too cute flag with his 3rd and came back into the water. The result was a double bogey and, all of a sudden, he was five from the lead.
Smith was unable to advance his cause over the closing three holes and in fact did well to save par at the last after finding the trees from the tee.
The 27 year old is, however, well enough placed just five from the lead and his chances of equaling or perhaps even improving on his runner-up finish last year remain alive.
"I'm quite frustrated, actually," said Smith reflecting on letting his good early play slip late in his round. "I played some really good golf, and yeah, just to finish like that was quite disappointing.
"I felt like I had a lot going for me. I hit a lot of good shots coming in and just didn't really get anything out of it and obviously a bit of a silly mistake on 15.
"I mean, 14 hurt. I didn't really hit a bad shot there, I was just probably half a club out and we thought we were going to get a little flier out of the rough there, and just didn't jump and come up short, and that's probably not the best spot to leave yourself there. Yeah, learned something there."
Smith however has a good record at Augusta National in the four previous times he has played the event and that might stand him in good stead this weekend.
"I think if we don't get any rain, hopefully we don't, I love the way the course is playing. I mean, I can play well here, I know it. I've done it before."
Matt Jones has comfortably made the cut in just his second appearance in the event. He is at 1 under, in 17th place and one of only twenty players under par.
"To make the cut was always the first goal," said Jones. "Today that 69 couldn't have been — I missed a lot of putts out there. 69 was as high as I could have shot today. I think — I missed the 6th green and the 4th green, and I can't remember missing another green other than that. I played great today."
Adam Scott was clearly frustrated with his two bogey, one birdie round of 73 which saw him finish just inside the cut mark at 3 over. A drive into the trees at the first led to a bogey and set the tone for the day.
"I was flat out today didn't play particularly well," said Scott in an abbreviated interview after his round. "I didn't give myself many chances, so not much happening.
"I just didn't hit it close enough. It's not easy putting from far around here. You don't expect to make much. In fact, you're just trying not to three putt. If I get a chance to play again, I'll have to hit a bit closer."
Jason Day was bitterly disappointed with his opening round effort yesterday and things did not improve today, adding a round of 76 to his day one 77 and he missed the cut by a massive six shots.
So four of the five Australians to tee it up on Thursday get their chance to advance their cause over the weekend.
Three of those players are under par and thus remain alive in terms of contending on Sunday but Leishman has displayed a much improved game over the opening two days and has an opportunity to improve on his previous best of his 4th place finish eight years ago.
https://www.bruceyoungmedia.com.au/wp-content/uploads/2021/01/Marc-Leishman-HP-Aust-PGA-2017.jpg
1400
2100
Bruce Young
https://www.bruceyoungmedia.com.au/wp-content/uploads/2017/01/logo.png
Bruce Young
2021-04-09 23:18:56
2021-04-13 03:31:28
Marc Leishman two behind Rose at Augusta National