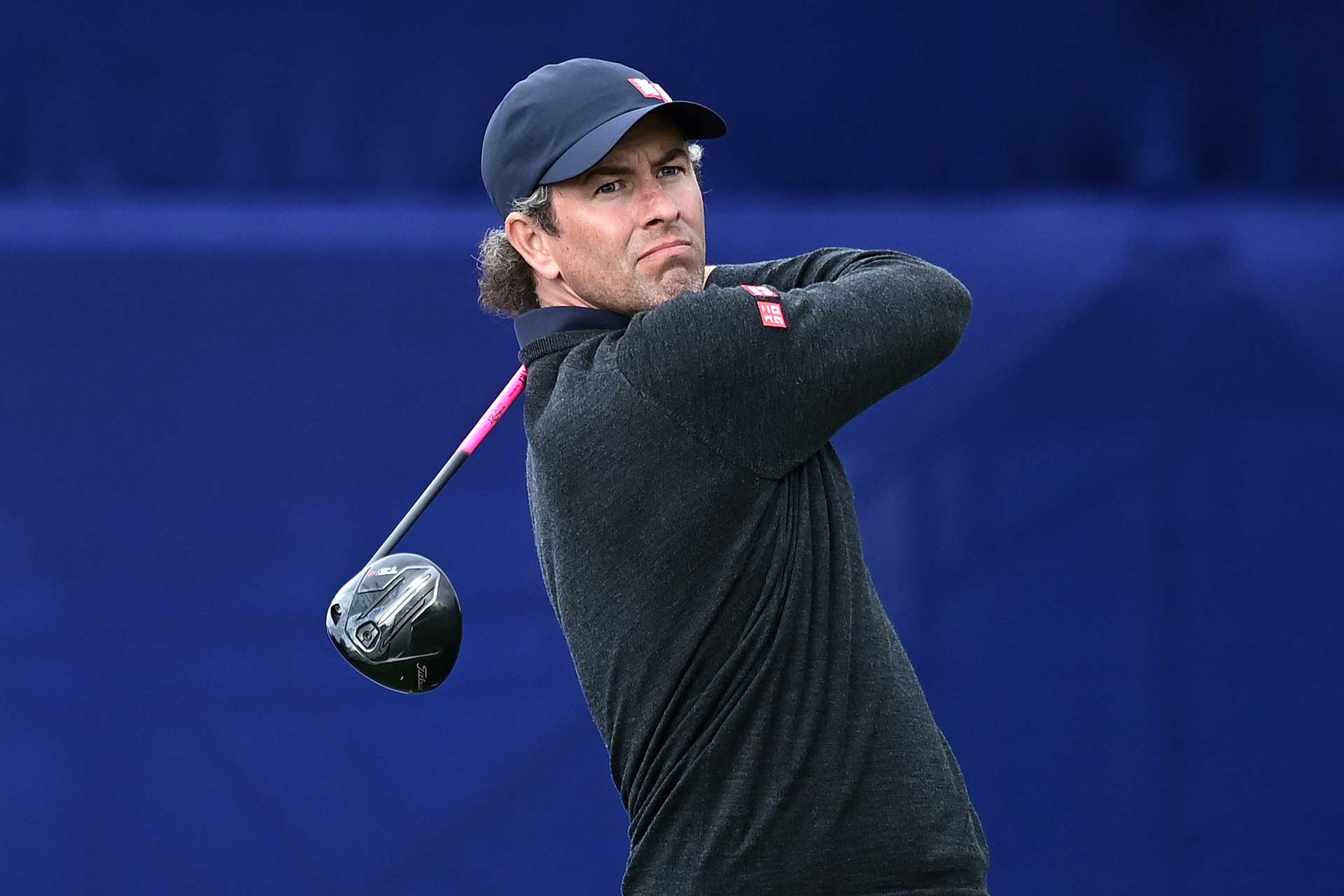 Adam Scott not far from where he needs to be to do well – photo Getty Images
Reverting back to its traditional date after being played for the first time, last year, in November, the anticipation of an April Masters is building quickly and, in 2021, five Australians get their chance to add to the one Masters title the country has to its name.
Cameron Smith, Adam Scott, Marc Leishman, Jason Day and Matt Jones have all played the event previously, Jones the least experienced with only one previous appearance while for Smith it will be his 5th, Scott his 20th, Leishman his 8th and Day his 11th.
Scott provided Australian golf with one of its finest moments when he won in 2013 but there has also been four other top tens for him including a runner-up finish in 2011 when he shared that spot with debutante Jason Day that year.
The fact that Scott finished a very meritorious 9th on debut back in 2002 suggested that this might be the golf course on which he would s record his first major title and so it would be when he defeated Angel Cabrera on that drizzling evening back in 2013.
By his standards, Scott has had an extensive preparation for this year's event, this being his 8th event of the year and having made every cut and two top tens to his name including his last start 13th at the Honda, suggests his game is not far from where it needs to be to produce a good week.
"It's been good," said Scott when asked on Monday where his game is at right now. "I've had a couple of weeks to really do what I want with my game, and the test will be on Thursday, but there's certainly been a focus on my long game.
"It was getting better at Honda, which was good, but I'd like to drive it a bit better again here, and if I can do that, I think that sets me up for a little bit more stress-free golf, which is not completely possible around Augusta National, but if you can take a little bit of the stress away, it makes for a nice week, and hopefully set yourself up for a run on the weekend.
Scott suggested the golf course is as firm as he has seen it in many years:  "Yeah, you don't often see it like this on a Monday, but in my memory, 2007 had the firmest greens I think I've played here in my years. Zach won.
"But in the practice round that year I actually remember being on the 16th green with Greg Norman and poured some water on the slope and the water just trickled all the way across and off the green. It never got absorbed. That stood out for me. I didn't do that today, but it looks kind of similar."
Jason Day – Getty Images
Jason Day has the second highest number of appearances of the Australians this week and given only one person (Fuzzy Zoeller) has won on debut at Augusta National (other than in 1934 when all were here for the first time) his runner-up finish that year was stunning. His Friday round of 64 in just his second competitive round on the golf course was Day close to his best.
Day has also recorded three other top tens including a third-place finish behind Scott in 2013.
Day has been playing along solidly, if unspectacularly, thus far in 2021 and it appears he is in a happy place in his life but still retains the motivation to regain a number one standing at some stage.
"I think of myself as a better person now than what I was five years ago. I feel like I've found a happier place in my life. I've found a little bit more balance per se, and I'm not really driven by the results to make me happy because to be driven by results to make you happy, that's very temporary, and your emotions go up and down, to the point where you're always constantly thinking about it.
"My goal is to get back to No. 1 in the world, and I know that I'll definitely do a lot of things differently just because I've been in that position beforehand. If I get back there, I know that things will be a little bit different for me, and hopefully I can actually extend and have longevity at No. 1 like a Dustin or Norman, Tiger, something like that."
The aspect that has held Day back from being one of the true greats of Australian golf is the injury and health issues he has faced over the years. He appears to be getting to a stage where he is managing those issues perhaps better than previously.
"To be honest, when you sit there and you're always getting these questions asked, how is your body, how is your back, it starts to like go into the mental side of things, and you actually start thinking about it.
"The more you think about it, the more it hurts. I'm trying to get past that in regards to my body which feels great at present. I've been doing a lot of work with my trainer, and I haven't had a pain whatsoever. It's been nice to be able to — I think since 2014 I've had like — I've had 16 MRIs on my back. It's been a long journey, but now I feel pretty good about it.
"I think I've always been kind of a hard worker anyways, and I think that's why my body has broken down the way it has. I've just got to do things differently now. I'm not 21 anymore. I've just got to do things differently, prepare a little bit differently.
"I think it has to be more on the mental side now than anything else. I'm doing a lot more visualization off the golf course than I've ever had in previous years, just due to the fact that the mind is probably the strongest thing that you'll have out on the golf course, and if I can't put in the work as much as I used to, then I'll have to do it off the golf course and with my mental game."
Cameron Smith – Getty Images
Cameron Smith arrives at Augusta National with the memories of just five months ago when he finished joint runner-up behind Dustin Johnson in one of the grittier performances ever shown at the Masters.
The 27-year old Queenslander produced some remarkable up and downs throughout that week but perhaps more so over the weekend to produce a remarkable finish.
Smith has continued on with some solid form including a 4th place finish at the Riviera Country Club a month ago and he will no doubt carry a lot more confidence into this week's Masters than was the case twelve months ago.
Not only does he own a runner-up finish but in one other of his four previous starts he finished 5th so his record is very impressive.
The pandemic issues have prevented Smith from seeing his long-time coach Grant Field and he is missing the opportunity of getting first-hand feedback from a man who knows his game as well as anyone.
"Yeah, it's been tough. Obviously sometimes it's nice to be hands on. I know Grant likes to be here, obviously, so he can see everything.
"I send him videos and we do a Face-Time session with Pinner (caddie), myself and Grant probably once or twice a week, so it's good in the sense that we've stayed in contact through that, but I know I want him here, as well, just so he can see kind of everything how I've been playing. He hasn't seen me play. That's probably the biggest thing."
Smith played yet another practice round with his fellow Queenslander, Scott, today and relished the opportunity to again pick his brains.
"We play practice rounds most weeks. Just have a bit of a laugh. Obviously Scottie, I think, has been here about 20 years, so he knows a lot more about the course than what I do. Obviously pick his brain a little bit here and there, but yeah, just a good time really."
Marc Leishman finishing 4th in Hawaii in January – Getty Images
Marc Leishman's record in the event has been a roller coaster of sorts, three missed cuts in eight starts but there has also been a fine 4th place behind Scott in 2013 and a 9th place in 2018.
Leishman's game has been below his best since an encouraging 4th place in Hawaii early in the year having missed two cuts and not made it out of the round robin stage at the recent Dell Match Play.
He did play well here last November when 13th so a turnaround is not beyond the realms of possibility.
Matt Jones win in Palm Beach Gardens – gains him his second Masters appearance – Getty Images
Matt Jones is playing the Masters for the second occasion and in 2021 he gets the chance to prepare a lot better than was the case in 2014 when his win in Houston the week before made him the last man to qualify for the event.
His rushed preparation that year resulted in a missed cut that year but having qualified three weeks ago when winning the Honda Classic he is enjoying more time to absorb the subtleties of Augusta National.
"Honestly I really can't remember that much," said Jones when comparing this year and 2014. "I won the week before, flew in that night, had nowhere to stay, stayed on Kevin Stadler's couch. I think he had a house here. Monday was a wash-out, so I didn't get to go out on the golf course, and then I got to see the golf course — 18 on Tuesday, nine on Wednesday, and then I've got the par-3. It was a blur."
"It's awesome," added the Sydney born and raised golfer when asked of his impressions now. "Been seven years since I've been here. I came out last week for a couple of practice rounds, which was great, but it's a little different than it was last week already. The surrounds have tightened up a lot, and the green speeds picked up one or two feet easily."
Realistically, it would seem that Australian chances lie with Scott, Smith and Day.
Jones is still on a learning curve with Augusta National and Leishman's most recent form is below that when arriving here in previous years.
Amongst the favourites defending champion, Dustin Johnson's record is hard to fault. Five top tens in his last five starts here including his win last year tell the story of his comfort zone with the golf course although it must be said that despite being world number one his most recent form is a little concerning.
If I was looking for a player at longer odds to do well it might just be Sungjae Im.
The Korean golfer shared second place with Smith while on debut in the event last year and continues to play with great consistency on the PGA Tour.
What ever the outcome, it is just great to have The Masters back in its regular times slot.
Let's hope an Australian again gives us something to shout about on Monday morning our time.
https://www.bruceyoungmedia.com.au/wp-content/uploads/2021/03/adam-scott-Rd-2-Torrey-Pines.jpg
1280
1920
Bruce Young
https://www.bruceyoungmedia.com.au/wp-content/uploads/2017/01/logo.png
Bruce Young
2021-04-06 02:43:41
2021-04-13 03:35:04
Australian hopes at the Masters