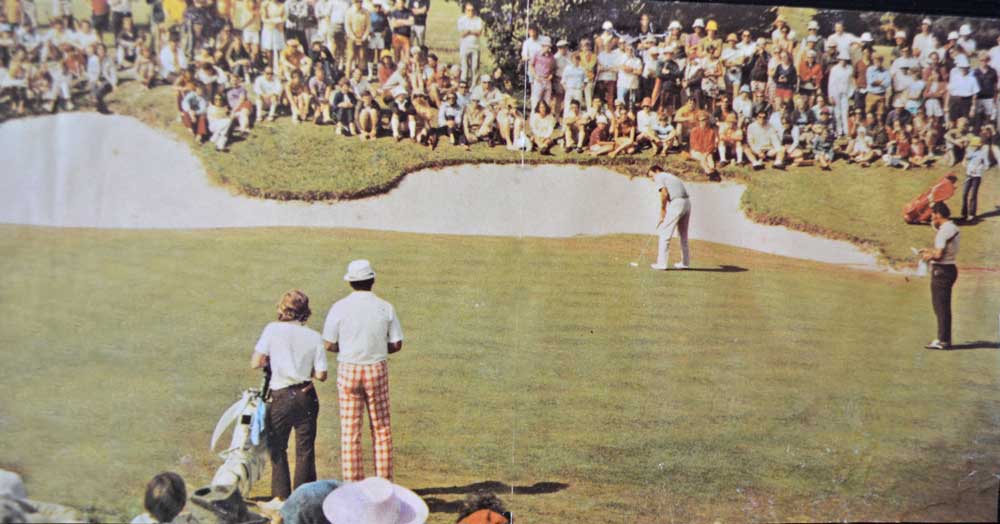 This photo shows Jumbo and I standing together with Peter Thomson (putting) and Frank Malloy
Having tasted my first caddying experience late in my last year of high school (1970) and really enjoying what professional golf provided, even as a caddy, I began almost immediately to think how best I could be involved again.
The New Zealand golf circuit back in 1971 was restricted to five or six tournaments over a two-month period between November and January and so there would be a wait of nearly twelve months if I was to enjoy what I had in Dunedin and Hastings.
My parents moved to Rotorua from Dunedin in late January of 1971 and before leaving I experienced my first real job (as a 17-year-old) while digging graves for the Dunedin City Council for six weeks at the Anderson's Bay Cemetery. Funnily enough it was a job I enjoyed (there were never any complaints from the clients).
I left for Rotorua with my parents as my father had a new role with the government there and my mother also continued her teaching career.
Having decided not to go to University I needed a job and eventually got one working for a plumbing firm which mainly involved driving plumbing products across to the paper pulp mills at Kinleith about an hour's drive away.
Again, it was an enjoyable job as I was left to my own devices to a large extent but it was never one I imagined I would stay at. As the year progressed I put plans in place to caddy once again in Dunedin where there would be two events in 1971 (the NZ Open and the Otago Charity Classic) and, for the first time for me, the Garden City Classic in Christchurch.
I had earlier developed a close friendship with the outstanding Golf Course Superintendent Bob Bradley who was in charge at the Russley Golf Club at the time and in October he invited me down to join his team as they prepared the golf course for the Christchurch event.
Both Bob and his wife Dorothy had me stay at their house on the golf course at Russley for six weeks or so further enhancing the experience and the learning curve it provided.
That experience became invaluable as my caddying and career in golf generally progressed, becoming aware of the issues involved in peaking a golf course for an annual tournament. Never would I be critical of the preparation of a golf course as that time in the preparation of Russley opened my eyes to why things are and are not done.
I again caddied for John Lister in Christchurch, the two events in Dunedin, one at Paraparaumu and one in Auckland without winning success but I was learning all the time and my great working relationship with John grew further.
Lister had advised, however, he had a friend to caddy for him at the NZ PGA Championship at Mt Maunganui over the New Year of 1971/72 and while I was disappointed, John had won the previous year at the venue and his decision to stick with his friend was typical of his loyalty and integrity.
Being only an hour or so away from my home, I was keen to caddy at Mt Maunganui and after spending Xmas at home I and a new found friend from Australia, Stephen Donaldson, who had caddied with me in events down south and stayed with my family for Xmas, headed for the fabulous seaside resort town in the Bay of Plenty.
Jumbo and I
Word was out that several Japanese players had been invited to the event by the head of the Stars Travel Group Bob Owens and Steve and I decided to investigate the possibility of working for one of those players.
We met with the head professional at the Mt, George Attrill who gave us a couple of options Takaaki Kono and Jumbo Ozaki.
Steve won the toss and went for Kono and so I was left with Ozaki. I was cursing my luck to some extent when Kono led after the opening 36 holes but things would change dramatically over the weekend with Ozaki eventually winning by seven shots over Bob Charles and another of the Japanese contingent, Takashi Murukami.
Ozaki had already established his credentials in Japan having won a dozen events in just his first two seasons as a professional after a brief career in professional baseball. He was an imposing figure, especially for a Japanese, and his powerful hitting with the then small ball was to become legendary.
Ozaki and I soon developed a rapport, despite the obvious language difficulties, and he asked for yardages on nearly every shot. He had an unnerving habit of getting over the ball and just before takeaway would take one last look at me and ask the question – "OK"?
It took a while to get used to it and to be honest I don't think I changed his mind once and think he was just looking for final confirmation.
One shot sticks in my mind with Ozaki. The 11th hole at Mt Maunganui is a relatively straight par 4 and in the second round of the event Ozaki had walked back to the tee as I walked ahead to the landing area for the tee shot.
His drive found the trees on the right and arriving at the ball a few minutes earlier than Ozaki I had concluded that he had no option other than to chip out sideways. When he handed me back the driver, he asked how far he still had to which I looked at him quizzingly, wondering just what he had in mind. In fact, I gestured to him that his only option was to hit it out sideways.
He was adamant, however, that he wanted to attempt the hero shot through a small gap in the trees which, for the life of me, I could not even see never mind work out how he could negotiate his way through it.
I rushed out into the fairway and got a rough yardage following which Ozaki hit a miracle shot through the gap only he could see to 3 feet and made the putt for birdie. I never questioned his judgement again that week.
Ozaki took control of the tournament on Saturday and won as he liked on Sunday.
I will never forget the thrill of that day, the rush of caddying for the leader of a tournament throughout the final day as he slowly but surely demolished a field that included several of Australasia's best. I would caddy for the winners of 17 events during my time in that role in professional events but that first win in the role of caddy gave me perhaps my greatest thrill.
Before he headed out for the prizegiving he gave me some money as payment but when I looked at the amount I felt it was well below what I imagined would be the case. I felt I had done a really good job and while his first prize was admittedly small in an event which carried considerable prestige but little in the way of financial reward, I still felt I deserved more.
I spoke to the most respected of the Japanese delegation, Sugimoto, about my situation and expressed my disappointment and pointed out that I was a professional caddy (which was probably a stretch) but he obviously spoke to Ozaki as the big man came over to me after the prizegiving and more than doubled the money he had originally given me.
It was my first experience of a win as a caddy and although Ozaki would go on to win over 100 tournaments in Japan and find himself in the world top ten during the mid-1990's, the 1972 NZPGA Championship was his only win outside of his homeland.
To have been involved in the legendary star's only win internationally and for that to have been my first winning experience made that week in early January of 1972 one of the more memorable of my time caddying.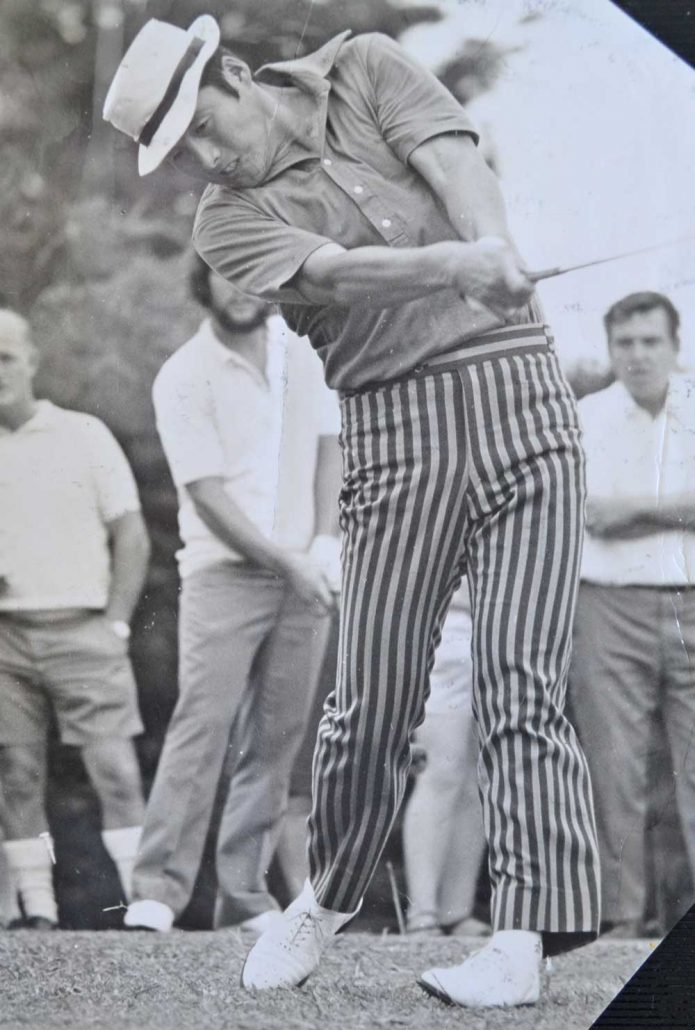 The imposing Jumbo in full flight at Mt Maunganui
https://www.bruceyoungmedia.com.au/wp-content/uploads/2020/04/1972-NZPGA.jpg
524
1000
Bruce Young
https://www.bruceyoungmedia.com.au/wp-content/uploads/2017/01/logo.png
Bruce Young
2020-04-02 11:26:49
2021-02-27 03:58:12
Jumbo Ozaki – The Thrill of Winning