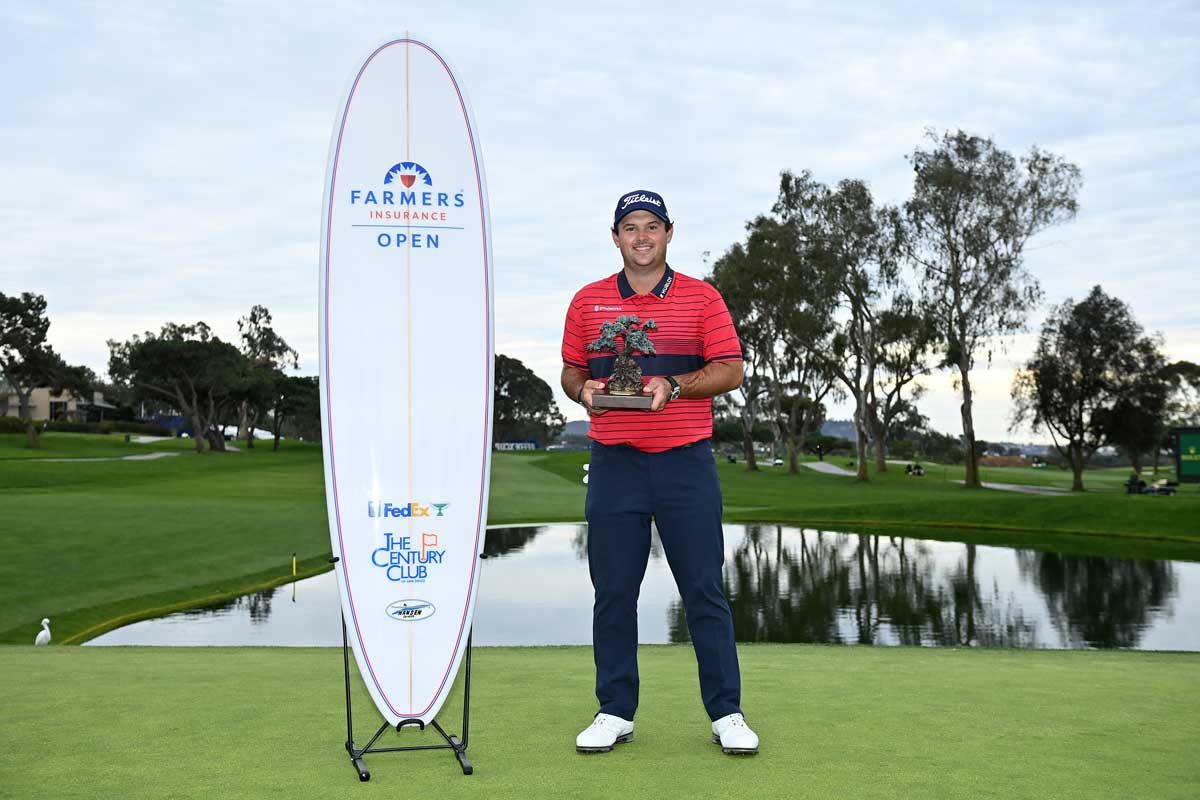 Reed with his trophy – photo Katelyn Mulcahy Getty Images
Patrick Reed has come under the greatest of golf course scrutiny this weekend at the Farmers Insurance Open at Torrey Pines but in an amazing display of deflecting the criticism he copped as a result of a ruling incident during Saturday's third round, he has won his 9th PGA Tour title.
Whatever the golfing world thinks of Patrick Reed, and there are many who are questioning his integrity, the one thing that can't be questioned is his amazing capacity to ignore the many who have attacked him and focus on the job at hand.
Reed's seemingly dubious action from what he perceived as an embedded lie at the 10th hole during yesterday's play was brought under severe question on social media and elsewhere but his actions were defended by the PGA Tour's rules officials and armed with that knowledge he put the controversy aside and set out today with a share of the lead.
Just as he had in Melbourne during the 2019 Presidents Cup when local golf fans and others paid out on his 'bunkergate' incident a few weeks earlier, Reed used the criticism then as motivation and played a key role in the comeback of Tiger Woods' team to win the event on Sunday.
Today, displaying similar resilience, he began the day tied in the lead with Carlos Ortiz but when he holed a 45-foot eagle putt at the 6th and then added another lengthy putt for birdie at the 7th he established a lead that grew over the closing nine despite playing those holes in just one under.
It was an impressive display of golfing skill and dogged determination in so many respects, under the greatest of scrutiny and on one of the PGA Tour's toughest tests to not only hold on to the lead but to extend it and win by five.
As many of his nearest chasers fell victim to the demands of Torrey Pines closing stretches, Reed played the homeward nine in 1 under and sealed the victory with a ten-foot birdie putt at the last.
He won by five over Tony Finau, Henrik Norlander, Ryan Palmer, Xander Schauffele and Viktor Hovalnd
His media conference was always going to be another test for him and like his display on the golf course he was ready for it.
"Actually, when I'm in tournament weeks I don't ever look at anything," Reed told the media conference after his round. "I can get in my own kind of world and that's stuff that my coaches and team work on, I can kind of go out there and just kind of improve each and every day and work on what we're supposed to do.
"I think that was the biggest thing is I was allowed to kind of put it behind me when the head rules official comes up and says you did everything you were supposed to do. When you do everything you're supposed to do, at the end of the day that's all you can control.
"Going into today, I felt good, I felt confident and really went to the golf course, plugged in my headphones and just kind of got in my world with my coach and got to that first tee."
Reed has been working on his game and swing with David leadbetter and was asked how today shaped up given the work he has been doing.
"I think that was the biggest thing is today was — I had more nerves today than I did during the final round at Augusta because I was in a different spot; still working on the swing, still not fully where we want it to be.
"But the hard work that my team is going through and working with me on trying to dial it in, get it where it is right now is amazing.
"The good thing is, Led's always told me, he's like, hey, you're working towards something, there's no reason why you can't go ahead and win. Because of that I had that kind of attitude going into today that, hey, even though the swing's not 100 percent, you know how to get it around this golf course, you can go out and shoot a number and put up a fight."
Adam Scott was unable to take advantage of his 3rd place position through 54 holes and eventually finished tied for 10th after a final round 73. Two late birdies saw a late recovery from an overall disappointing day for Scott.
Defending champion, Marc Leishman, was the next best of the Australians, his final round of 70 improving him to a share of 18th.
https://www.bruceyoungmedia.com.au/wp-content/uploads/2021/02/Reed-trophy-1.jpg
800
1200
Bruce Young
https://www.bruceyoungmedia.com.au/wp-content/uploads/2017/01/logo.png
Bruce Young
2021-02-01 01:29:05
2021-02-03 02:50:11
Patrick Reed Deflects Controversy To Win 9th PGA Tour Title