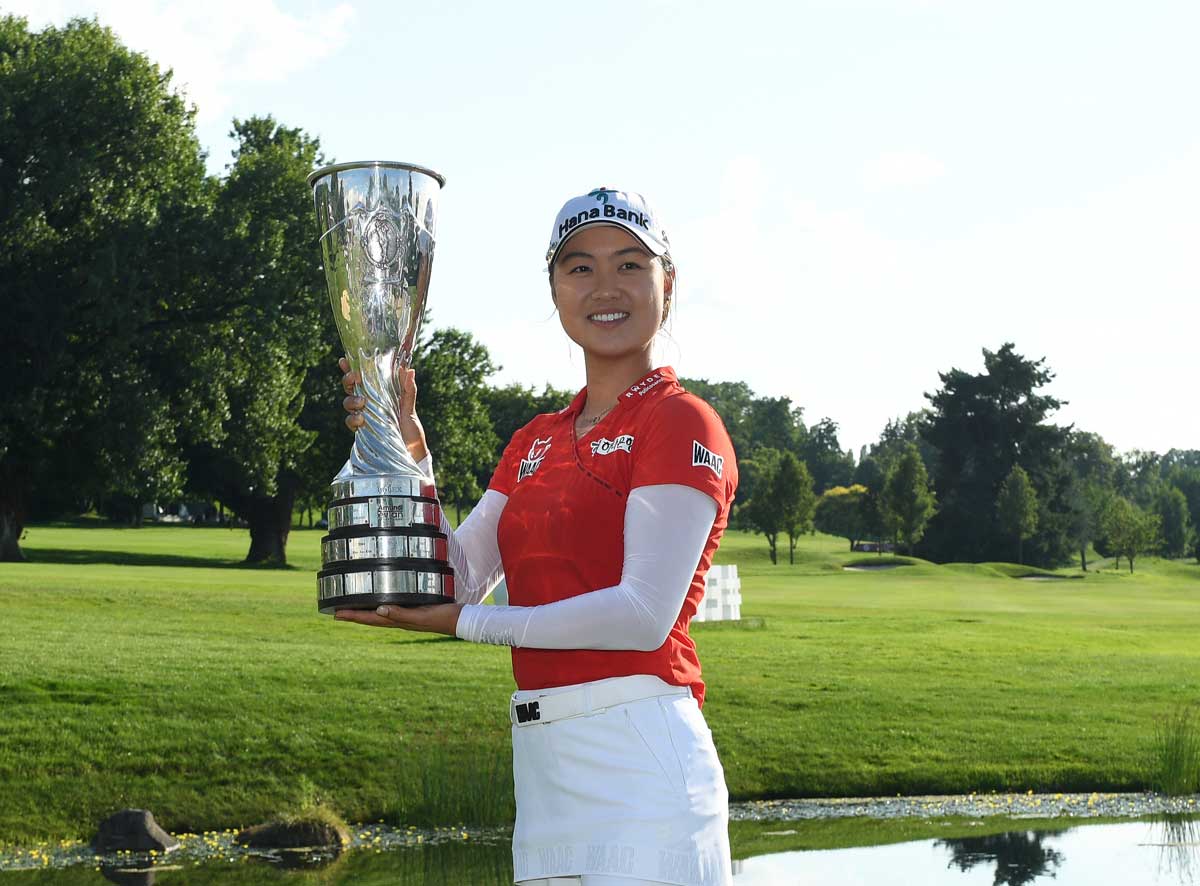 With a first major (Evian) now to her name, can Minjee Lee become Australia's first Olympic Medal winner? – photo LET
Following the impressive debut Olympic showing of Cameron Smith at last week's men's Olympic golf competition, two further Australians have their chance to become the first Australian to win a medal of any colour when Minjee Lee and Hannah Green tee it up at the Kasumigaseki Country Club, in Saitama, north of Tokyo.
Lee, fresh from her breakthrough major victory at the recent Evian Championship, gets the chance to improve on her 7th place finish in Rio in 2016 while for Green she debuts in the event.
With the confidence and knowledge that her significant win in France has created, Lee must now enter the event as one of the favourites while Green, who also has a major title on her resumé, has played nicely in 2021 with three top three LPGA Tour finishes in 2021.
Green, who has just returned form a five week break from competitive golf, replaces Australia's second representative in Rio, Su Oh, Oh now outside the top 100 in the Rolex rankings while Green stands in 17th place and Lee 8th.
Both Lee and Green are feeling upbeat about their current form and their chances this week.
"I think we have great chance, we're both in form," said Green in a Tuesday media conference. "Minjee obviously won in her last event and I feel like my game is as good as it has been, I just need to make sure that I can score. So I don't see why we can't have a good week and we're looking forward to it.
"I think the course is great. I had the chance to watch the men on Sunday for a few holes, so it was good to see them how they play it. But I've seen all 18 now and I think the biggest thing will be getting used to the heat as I have come back from Australia and it's getting pretty chilly there."
Lee was equally enthusiastic about what lies ahead; "I think I'm probably in the best place that I've been in terms of golf and mentally and just seeing the confidence place I think I'm in a really good place coming off the major championship," said golf's latest major championship winner.
"It was nice to have a week off to see my brother (Scottish Open champion Min Woo) and just kind of regroup. I'm just really excited to be here. We have such a great team with us and it's been a lot of fun so far and just really looking forward to getting tournament started."
Lee was asked how she felt so soon after her breakthrough major victory and how that might impact on her performance this week.
"After I won Evian that was just, like obviously I had a celebration last week and I sort of — I let myself rest a couple days and things like that. But I think in terms of preparation the last couple days I practiced like normal and sort of put that behind me.
"Obviously I'm taking the positives out of that week, but I feel like every week I go in it's like a new week, a new opportunity, so I'm just going to take it as a new week. So I'm not — yeah, I'm pretty focused, yeah.
Due to Covid issues and an enforced quarantine period back in Australia it has been five weeks since Green last played (she did not play the Evian won by Lee) which is perhaps not the ideal preparation but the success of fellow Australians in both men's and women's golf of late has kept her motivation high.
"I guess that's probably the hardest thing," she said. "I had two weeks in a hotel and so about two and a half weeks back in my hometown, Perth. And, unfortunately, I didn't get to play at all while I was home because the weather was so bad, which is something I didn't really factor in as we are usually pretty lucky in Australia.
"So yeah, in the five weeks we have had winners on PGA TOUR, European Tour, LPGA, so seeing everyone win really motivated me and I wanted to get back out here as soon as possibly.
"So it's been nice. Kind of felt like an off-season almost coming back and seeing everyone again. So I'm definitely motivated and I hope that I haven't collected too much rust in these past five weeks but, yeah, we'll see what happens."
Australasia's other representative is the world number ten, Lydia Ko, who won the Silver in Rio and whose form in 2021 has included a victory in and two runner-up LPGA finishes.
The New Zealander was also 6th at her most recent start at the Evian so she brings realistic expectations of an improvement on her second place finish behind Inbee Park in Rio.
"Obviously, with everything that's happened in the last year and a half I think as athletes we're all grateful for the opportunity to be able to represent our country and be here in Tokyo.
"I know that this wasn't an easy decision or process for the games to be on itself, so, yeah, I'm super excited.
"Shanshan, Inbee and I (the three medal winners in Rio) actually played together at the U.S. Women's Open earlier this year and after that I didn't think that we would have the first two days' parings as the gold, silver, and bronze medalists all playing together. Which is exciting and hopefully we'll be able to represent the Rio medalists well and kind of start off the games in a solid way."
Ko relishes representing her country and the chance to play the Olympics.
"I always say that technically the silver medal, I came second to Inbee, is probably the most prestigious and honourable silverware that I got.
"It meant like a win for me and I think the great thing about being here at the Olympics is no matter if you end up standing on the podium at the end of Saturday or not, just being here and to be able to represent your country and to say that you're an Olympian – a select few athletes are able to say that and that's a win itself.
"So I think we're all champions just being here, so I'm just trying to enjoy and be grateful for my second opportunity at the Olympics."
https://www.bruceyoungmedia.com.au/wp-content/uploads/2021/08/Minjee-Lee-Evian-LET.jpg
886
1200
Bruce Young
https://www.bruceyoungmedia.com.au/wp-content/uploads/2017/01/logo.png
Bruce Young
2021-08-03 05:30:27
2021-08-03 22:29:03
Lee, Ko and Green amongst Olympic favourites