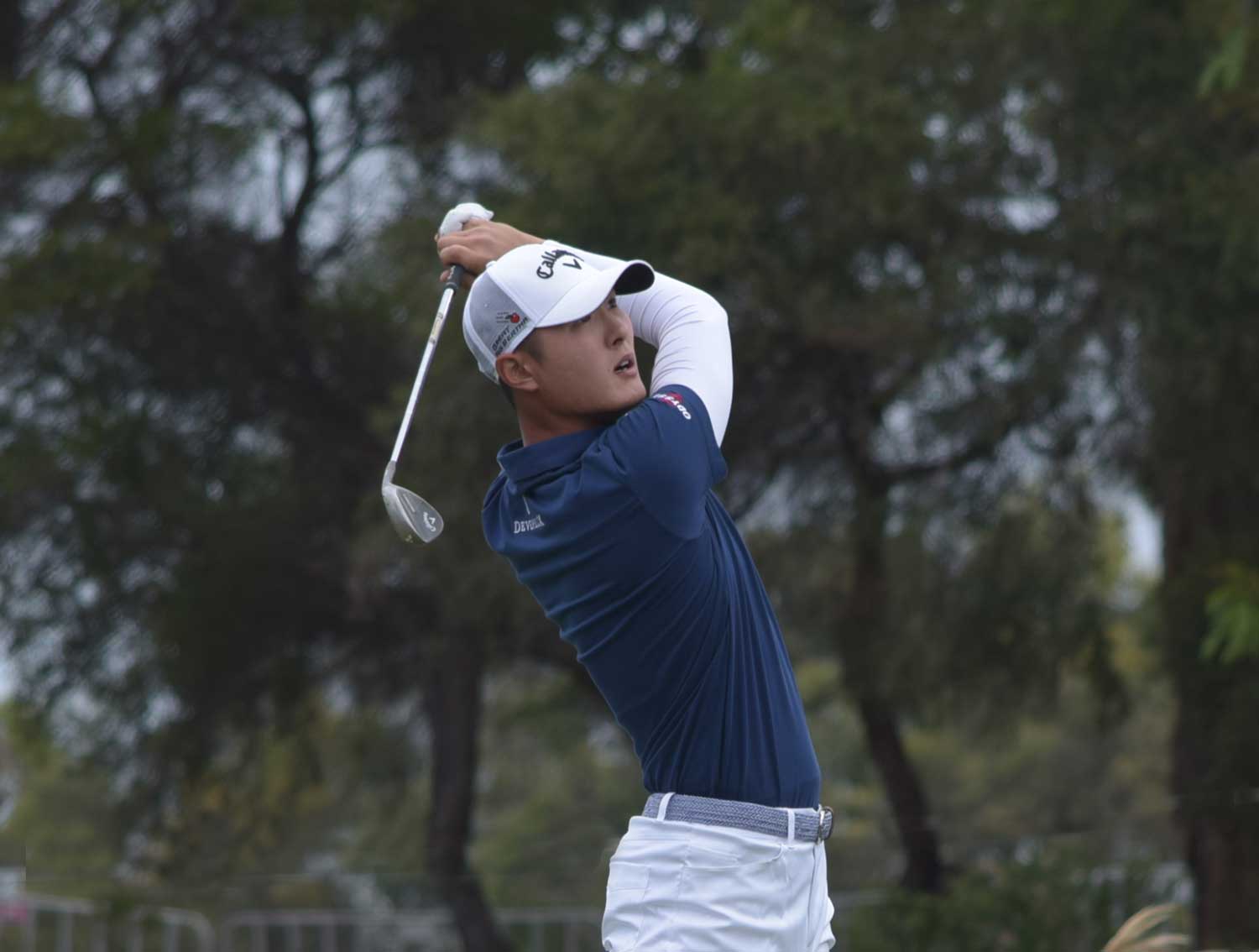 Danny Lee – file photo Bruce Young
New Zealand's Danny Lee is currently playing the PGA Tour on a Minor Medical exemption having missed out on regaining his full status via the Korn Ferry Tour Finals, but today he made just his 9th cut in 24 starts in 2021 when adding a second consecutive 67 at the Butterfield Bermuda Championship.
Lee finds himself three shots from the lead held by Canadian Taylor Pendrith and in a share of 4th place as the field heads into the weekend in Southampton in Bermuda.
Another shot back is Australian Lucas Herbert who is now playing as a full-fledged member of the PGA Tour, the Victorian's second round of 65 sealed with an eagle birdie finish to have him tied for 6th.
For Lee it is an encouraging return to the sort of form he is known for after a rib injury curtailed much of his progress in 2021.
"I just pulled out at the John Deere Classic this year, I just couldn't play anymore," said Lee after his opening round yesterday.
"I finally took an x-ray with a doctor and he saw a fracture on my last right rib, so I guess I had that for a while, I just didn't know about it. I had to take a couple months off and I'm injury-free now."
Given the time away from the game Lee was granted a minor medical exemption for early events this season and after missing the cut at the recent Fortinet Championship he has improved sharply to contend this weekend.
"To be honest, I haven't really made the cut in a while and I haven't played in a while, so I was just trying to make it to the weekend. I was just grinding it out.
"Definitely where I'm at is a very good spot to be in after first two rounds. It was definitely a lot more gettable today than yesterday. Yesterday was — it was hard to walk on some of the holes," added the 31-year-old former US Amateur Champion referring to the strong winds that prevailed on Thursday.
"It was definitely a lot easier today, I just made a couple silly mistakes on the first nine holes and I wasn't — I was hitting a lot of good putts, I just didn't make anything until I holed it out from 90 yards on No. — it was my back nine, so No. 5. I was just grinding it out out there. I haven't seen the weekend in a while, so I was just trying to make the cut and all of a sudden after that hole-out on No. 5, everything just went smoothly."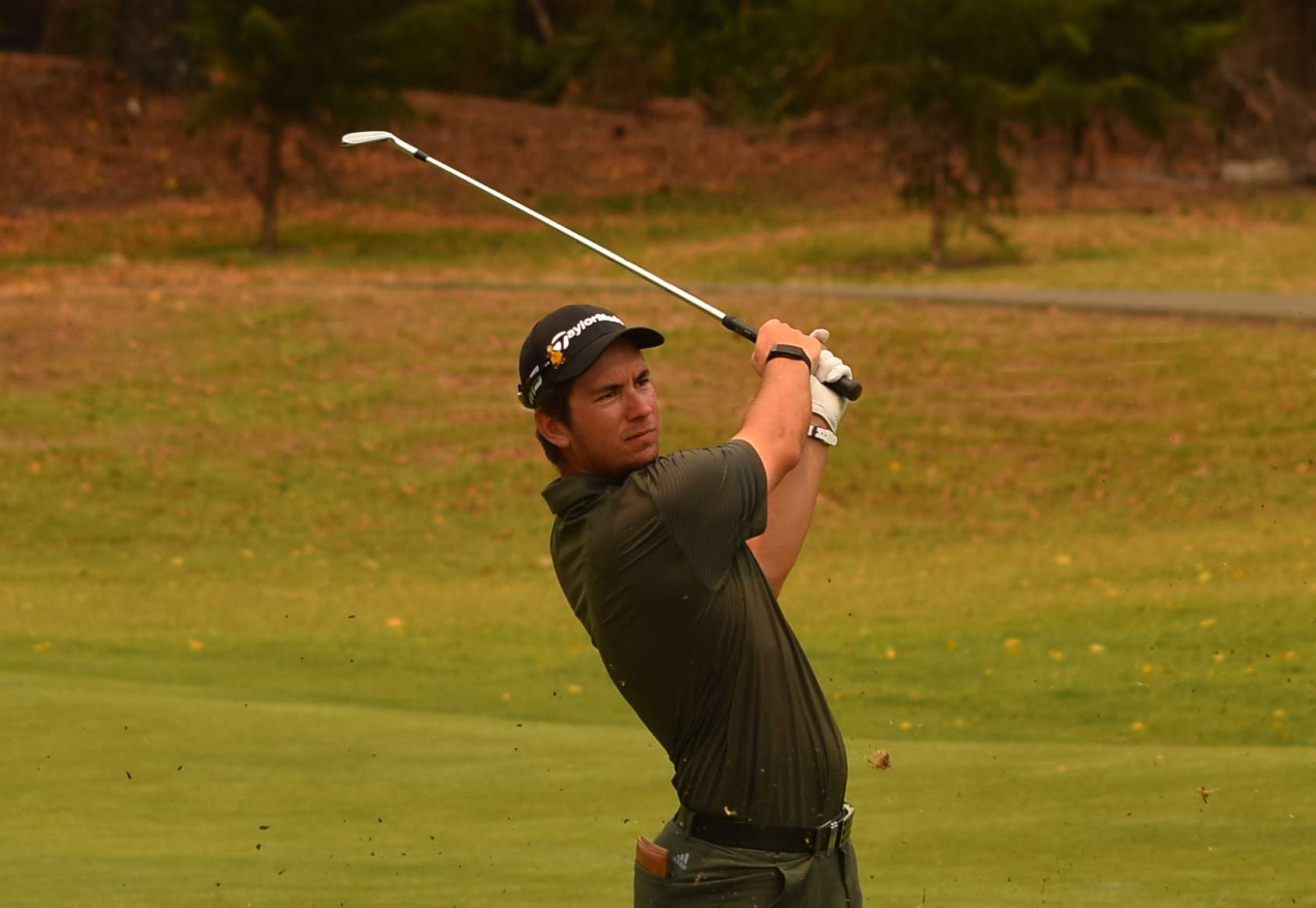 Lucas Herbert
For Herbert, who already has two European Tour titles to his name including this year's Irish Open, his is nicely placed in just his third start as a PGA Tour member after missing the cut in his first two.
"I've always wanted to play on the PGA TOUR, so the opportunity to go to Finals was perfect," said Herbert.
"Essentially you play well at one event and that's a PGA TOUR card locked up. So yeah, it was obviously a great opportunity and we were fortunate to sort of take advantage of that straightaway and get somewhat of a schedule out here.
"It looks like it's pretty tough for the Fall Series there to get some starts out of our category, but that's kind of the way it is. I think for your first year out here as a rookie, you've just got to take what you get.
"Weeks like this where we do get a start, we have to take advantage of it. Sort of look forward to playing a lot of the venues through the year as well. Sort of watched them on TV since I was a kid, like it would be cool to sort of stand in some of those spots actually hitting the shots rather than watching on TV."
Herbert now has the luxury of full status on both the European and PGA Tours and intends to play both where possible in the  remainder of 2021 and 2022.
"I want to try to play a bit of a combination. Europe have been great to me. I played out there as an affiliate member in 2018 and everyone's welcomed me really well out there and I made a lot of good friends out there as well.
"I enjoy playing a few of the courses out there, so where the schedule permits, I want to try to play some of the bigger events back there, for sure. It's going to be tricky I think this year. As I said, being a rookie, you're probably going to be on the edge of whether you're going to get into some of the events over here or not. Sort of just have to, you know, take it week by week in a way and just see what we can play.
"I mean even the PGA TOUR of Australia, I want to keep supporting Australian golf back home, too, where I can. So the world's opening up a little bit more now, people are — obviously everyone's getting vaccinated and countries are making it a little bit easier to travel, so it's making it possible to play more of a worldwide schedule I think, too."
https://www.bruceyoungmedia.com.au/wp-content/uploads/2021/10/Danny-Lee-WC-18th.jpg
1134
1500
Bruce Young
https://www.bruceyoungmedia.com.au/wp-content/uploads/2017/01/logo.png
Bruce Young
2021-10-29 23:56:31
2021-10-30 00:05:40
Injury Free Danny Lee improves sharply in Bermuda