Cameron Smith – file photo Bruce Young
Queenslanders, Cameron Smith and Katherine Kirk, have recorded impressive finishes in their respective PGA and LPGA Tour events in the US this weekend.
Other Australians have also performed with their own share of distinction in the same events.
For Smith, his share of 4th place at the Zozo Championship behind Patrick Cantlay at the Sherwood Country Club in Thousand Oaks in California, was his best finish in sixteen starts since his win in Hawaii earlier in the year.
With the Masters now just three weeks away the finish has Smith finding his best form at the right time ahead of the Masters where he finished 5th two years ago.
Smith will not play competitively ahead of Augusta National and explained the reason why soon after his final round of 67 today.
"I've got two weeks off to freshen up. I feel like I've played a lot of golf the last probably two or three months, so it will be nice to have a couple weeks off and get ready for the Masters and maybe one more after that. I'm pretty spent, to be honest."
"It (this week) was pretty good all week. Over the weekend, just played probably a little bit smarter and hitting the right shots rather than trying to go at everything, which is hard to do when the course is playing pretty easy. It was really solid and the putts went in over the weekend, which is nice.
Smith was without his regular caddie, Sam Pinfold and instead utilised the services of a good friend this week. Pinfold will return for the last couple events of the season.
"One of my mates is just filling in caddying these last three weeks. My main caddie, I guess you could say, went home to New Zealand to have a little bit of R&R. Yeah, he'll come back for those towards the end of the year."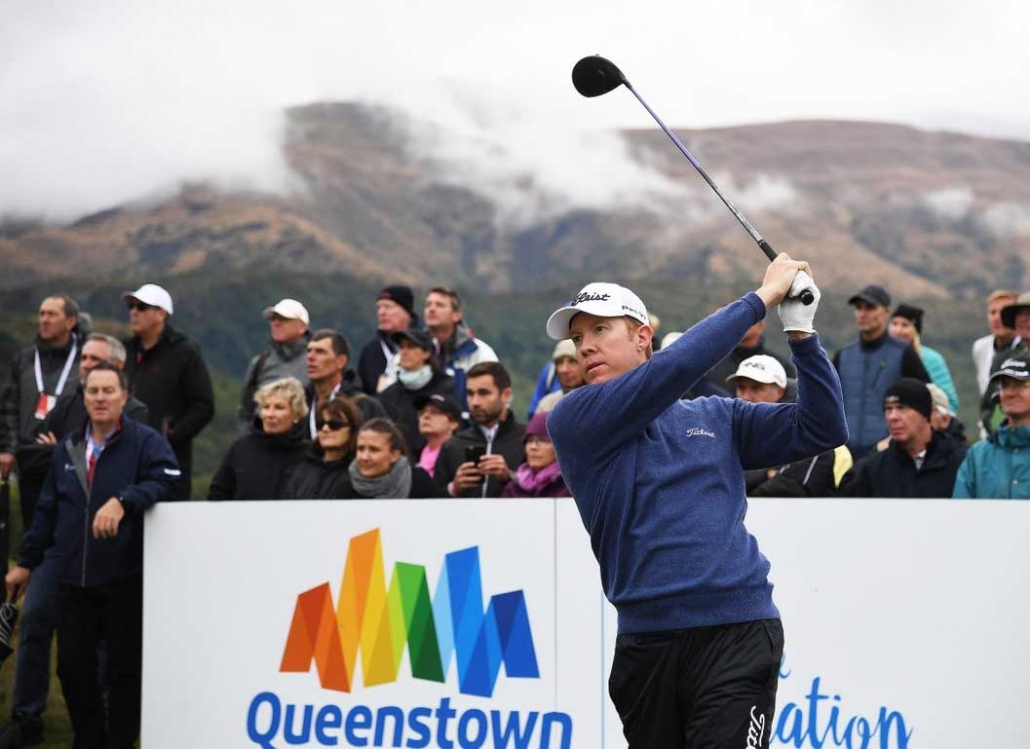 Brad Kennedy – photo courtesy of NZ Open
Another Queenslander to perform with distinction in the same event was Gold Coaster, Brad Kennedy. In many respects the effort of Kennedy was the equal of that of Smith.
Kennedy has not played a competitive event since winning the New Zealand Open in early March but put together some impressive golf to finish 41st including rounds of 66 and 67 in the middle of the event.
Kennedy earned a start in the event as a result of his efforts on the Japan Tour. Japanese company Zozo are tournament sponsors this week and allow several places in the field to some of the better performers in Japan.
Katherine Kirk – file photo Bruce Young
For Katherine Kirk, her 6th place finish at the LPGA Drive On Championship at the Reynold Lakes Oconee in Georgia was her best finish of the year but continued a fine run of late during which she has now finished inside the top ten in four of her last five starts.
Kirk's form in recent years has not been a true indication of her capabilities but the 38-year-old explained during the week a change of direction in technique is beginning to pay dividends.
"I've got to give my coaches credit. Dana Dahlquist out in California and Josh Cook. I mean, I honestly wouldn't be here without them. 2015 and '16 were rough years for me and I almost gave the game up, so full credit to them.
"They got me on the right track. Mechanically I was just going down the wrong path. Thankfully, yeah, got some good instruction and it's just taken a little while to kind of implement. And I'm still not there. That is the crazy part.
"They're going, hey, we're asking for a foot but we're okay with an inch. Golf is just goofy like that.
"Yeah, always trying to exaggerate and get better. Always learning. So, thankfully, I've got a good team of people that are patient with me and supported me through the ups and downs."
The other notable effort from an Australian in the LPGA Tour event this week was that of Victorian Su Oh. Oh has missed eight of nine cuts on the LPGA Tour in 2020, the last eight of those consecutively, but her share of 13th this week, including a very strong weekend, provides hope for a player who appeared to be losing her way.
Su Oh – file Getty Images – much improved performance.
https://www.bruceyoungmedia.com.au/wp-content/uploads/2020/10/Cameron-Smith-PGA-2018.jpg
1512
1924
Bruce Young
https://www.bruceyoungmedia.com.au/wp-content/uploads/2017/01/logo.png
Bruce Young
2020-10-26 00:21:29
2021-02-03 01:02:06
Impressive weeks for Australians in the US