Alejandro Canizares – photo Kirsty Wrice GA

The opening round of both the men and women's ISPS Handa Vic Opens has been completed at the 13th Beach Golf Club on the Bellarine Peninsula in Victoria, both fields recording an impressive run of scoring on the Beach and Creek Courses being used for the opening two days.
Spain's Alejandro Canizares was out in one of the last two groups of the day in the men's field and put together ten birdies in his round of 63 to lead by one over long-time leaders on day one, Matthew Griffin, Travis Smyth, Justin Warren and Jake McLeod, all from Australia.
29 players however are within four shots of Canizares' lead and 99 players broke par amongst the men and so no player has stamped their mark on the event at this early stage.
Canizares has been a two-time winner on the European Tour but the last of those came more than five years ago and he admits things have been tough over the past few years.
"Yeah, just surprised I played so crap the last three years," he responded when asked if his play had surprised him. "It's been complicated.  I got injured three years ago and it took a while, then some other things, and I became a dad a year ago.  Life changes, but I'm getting back to it, I'm starting to work harder.
"I'm still motivated, I still want to play.  I've been on tour for 13, 14 years and I still really want to do it.  Still got half of my career ahead of me, I think."
The son of four-time Ryder Cup player, Jose Maria Canizares, Alejandro mentioned after his round that his father, who was amongst the group of continental Europeans to turn the tide of success for European against the USA, has had a significant impact on his own career.
"If he wouldn't have been who he was, if I would have been here, so I've got to be really thankful for having a dad that has played four Ryder Cups and has played such a high level of golf.  Grew up watching him, motivated, wanting to do the same thing and here I am, so really thankful for all that."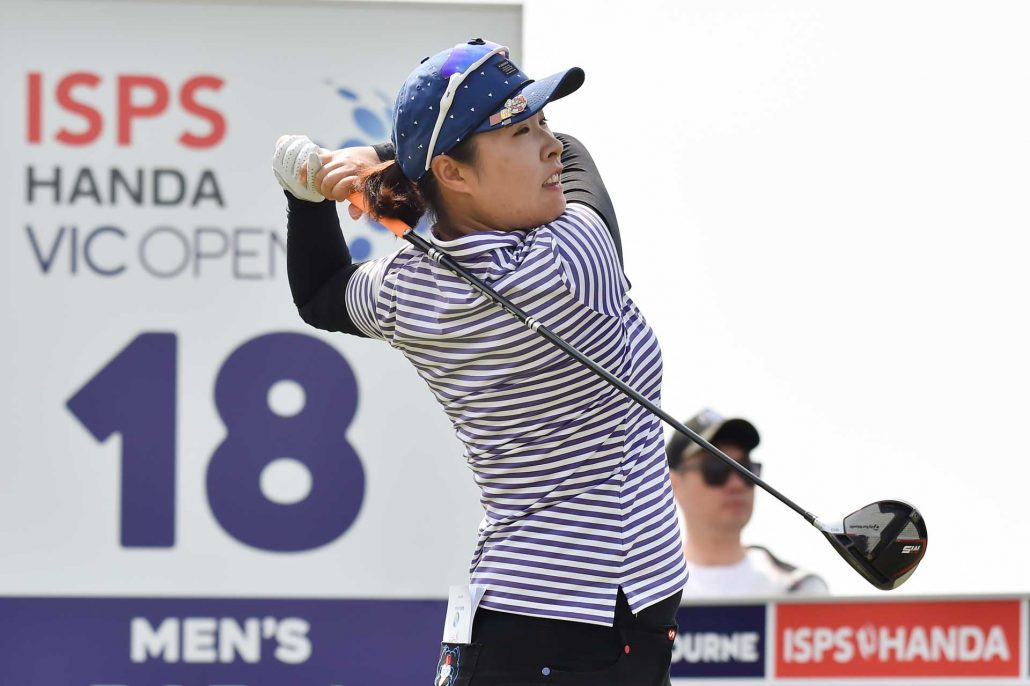 Haeji Kang – one of leaders in women's field
The women's field is headed by recent LPGA Tour first time winner, Madelene Sagstrom of Sweden, and former Australian based Korean, Haeji Kang, who lead by one over Taiwan's Peiyun Chien, American rookie Hayley Moore and Sweden's Linea Strom.
Kang spent three years on the Gold Coast at High School there in the mid 2000's and won the Australian Junior Championship during that period. She was a contemporary of the very successful Amy Yang.
Sagstrom won her first LPGA Tour title in Boca Raton in Florida recently and credits a new found confidence for her continuation of that form.
"Yeah, I think after my first win there definitely added confidence to everything, just knowing that I can compete out here, knowing that I can win on tour.  I think that is definitely helping me out.  It's also created kind of a little bit of a calmness; just okay, it's going to be fine, it will all work out, it's the beginning of the season."
Sydney amateur Stephanie Kyraciou leads the Australians after her round of 68 left her in a share of 15th place.
79 players broke par in the women's field.
Those who played the Beach Course today will play the Creek Course tomorrow and vice versa before the final 36 holes of both events are player over the Beach Course.
https://www.bruceyoungmedia.com.au/wp-content/uploads/2020/02/Alejandro-Canizares.jpg-Vic-Open-Kirsty-Wrice.jpg
1258
1920
Bruce Young
https://www.bruceyoungmedia.com.au/wp-content/uploads/2017/01/logo.png
Bruce Young
2020-02-06 09:52:38
2021-02-03 01:03:42
Hot Scoring Feature of Day One at Vic Open