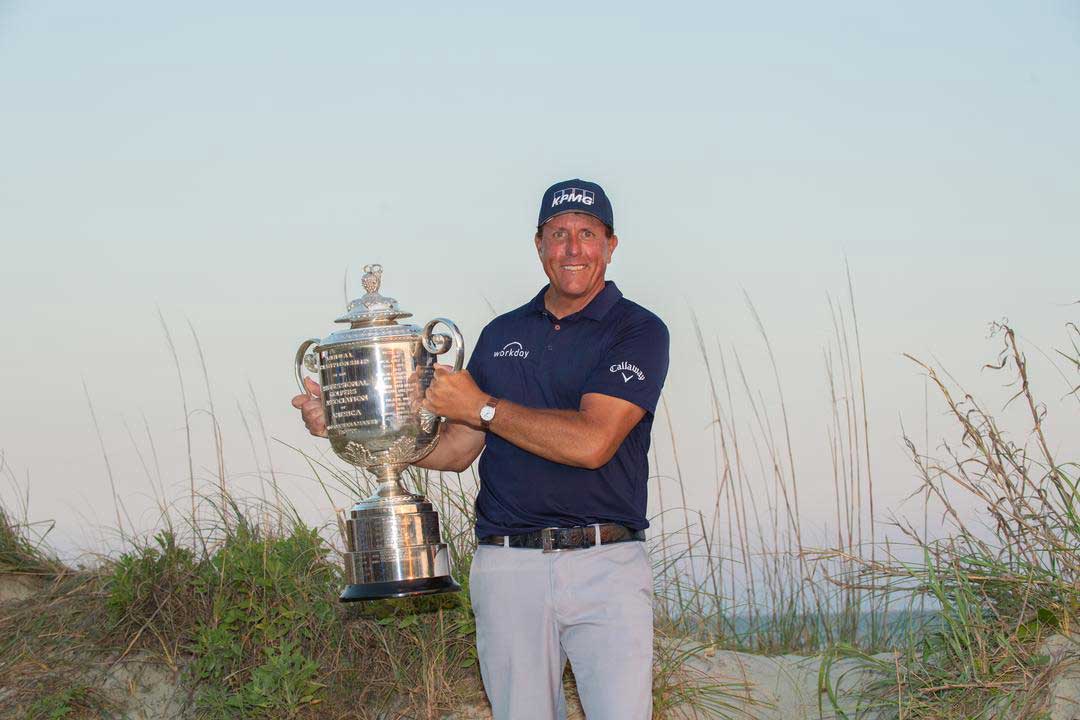 A very proud Mickelson with his 6th major championship trophy – photo Darren Carroll PGA of America
What a start to the 2021 major championship season in tournament golf.
Not only have we witnessed the first Japanese golfer to win a major championship but even topping that achievement today was the remarkable and stirring PGA Championship victory by Phil Mickelson.
Mickelson's two shot win over Louis Oosthuizen and Brooks Koepka on Kiawah Island might well have been considered one of the great major championship wins irrespective of his age, but that he was able to do so at the age of 50 (three weeks short of turning 51) and become, by three years, the oldest in the game to do so added a whole new dimension.
Beginning the day with a narrow one shot lead, the opening few holes exposed a Mickelson, perhaps a little tentative with the situation, and that was confirmed later when he acknowledged the help of his brother Tim in getting back to the committed approach he had adopted over the opening three days.
It was perhaps understandable given the magnitude of the task he faced, but the pep talk from his caddie had him refocused on what he needed to do and he paid credit to him.
"I'll tell you a perfect example, and this is an intangible that makes him relatable or understand me, get the best out of me and makes him a great caddie is I'm walking off 6, I had made some uncommitted swings the first six holes.
"I had been striking the ball awesome the first three days. I had a wonderful warm up session, like I was ready to go and I made some uncommitted swings the first six holes. He pulled me aside and said, "If you're going to win this thing, you're going to have to make committed golf swings."
"It hit me in the head, I can't make passive — I can't control the outcome, I have to swing committed. The first one I made was the drive on 7. Good drive on 7 gave me a chance to get down by the green and make birdie. From there on, I hit a lot of really good shots because I was committed to each one."
Mickelson traded blows with, initially, Koepka early on with bogeys, birdies and a double bogey constantly changing the margin between the pair but by the turn Mickelson was two ahead.
Despite finding the water with his approach at the 13th Mickelson was able to save bogey and had actually extended his lead to 4 and although the margin was reduced to two by the time he reached the dangerous 17th he had two holes between he and history.
His tee shot at the 17th was both unlucky and lucky. It took an enormous bounce forward and found the heavy rough at the back of the green but he was lucky to find a lie where he could at least get at the ball and the bogey save kept him two ahead.
Playing the last with a two shot lead, he fought both the golf course and massive crowds who engulfed area in which his tee shot came to rest and after a 9 iron to 18 feet he was swamped by the crowd which he described as both awesome and unnerving.
"It's an incredible experience. I've never had something like that. It was a little bit unnerving but it was exceptionally awesome, too. So that was kind of a special moment that I'll be appreciative of the way that people here have supported me and the entire tournament."
Mickelson – battling the crowds at the 18th – photo PGA of America
While outwardly controlling the emotions it is hard to imagine Mickelson was not gushing with pride over his magnificent achievement.
"Certainly one of the moments I'll cherish my entire life. I don't know how to describe the feeling of excitement and fulfillment and accomplishment to do something when — you know, of this magnitude when very few people thought that I could. But the people that believed in me, my wife, Amy, Tim and Andrew Getson, those are the people that continued to inspire me to get the best out of me."
Mickelson has worked hard for his inspiring victory and given what he has contributed to the attraction of the game he deserves everything he gets. He understands that golf at this level is as much part of the entertainment industry as it is golf and his capacity to engage and relate to fans is as much part of his legacy as his on course achievements.
Koepka too was battling the crowds and later described his concern for his safety given he is still in recovery from knee surgery.
"I don't think anybody really understands until you actually you're coming out of surgery how — I mean, even when I was doing rehab and there's five people kind of standing by your knee, you get a little skittish.
"Like I don't mind waiting or being in that crowd but getting my — I don't know, it felt like somebody tried to, I don't know what the deal was, but it's what it is. Be putting it in ice today. It feels like s— right now.
"Right now, no, I'm super disappointed, pretty bummed," said Koepka. "I'm not happy. I don't know if there's a right word I can say on here without getting fined, but it hurts a little bit. It's one of those things where I just never felt comfortable over the putts. I don't know why, what happened.
"I'm super happy for Phil. Like I said, it gives you hope that you can — or it gives me hope that, you know, I mean, I hope I'm still playing at 50, but to be able to come out and compete and actually win, that's a whole another thing. So kudos to him but it was really cool to see."
Amongst the Australians, the standout was Jason Scrivener, not only because he finished 23rd and as the leading Australian, but it was the South African born West Australian's second appearance in a major.
Scrivener's final round of 69 included four birdies in his first ten holes and further highlighted the slow but sure progress the late blooming 32 year old is making as a professional.
Matt Jones was 30th, Jason Day was 44th, Cameron Davis 59th and Lucas Herbert 71st.
Now it is on to the US Open in three weeks' time. How can it possibly match the heroics of the Masters and the PGA? Perhaps it can.
https://www.bruceyoungmedia.com.au/wp-content/uploads/2017/01/logo.png
0
0
Bruce Young
https://www.bruceyoungmedia.com.au/wp-content/uploads/2017/01/logo.png
Bruce Young
2021-05-24 00:59:48
2021-05-24 07:17:50
Historic major championship year continues with Mickelson victory