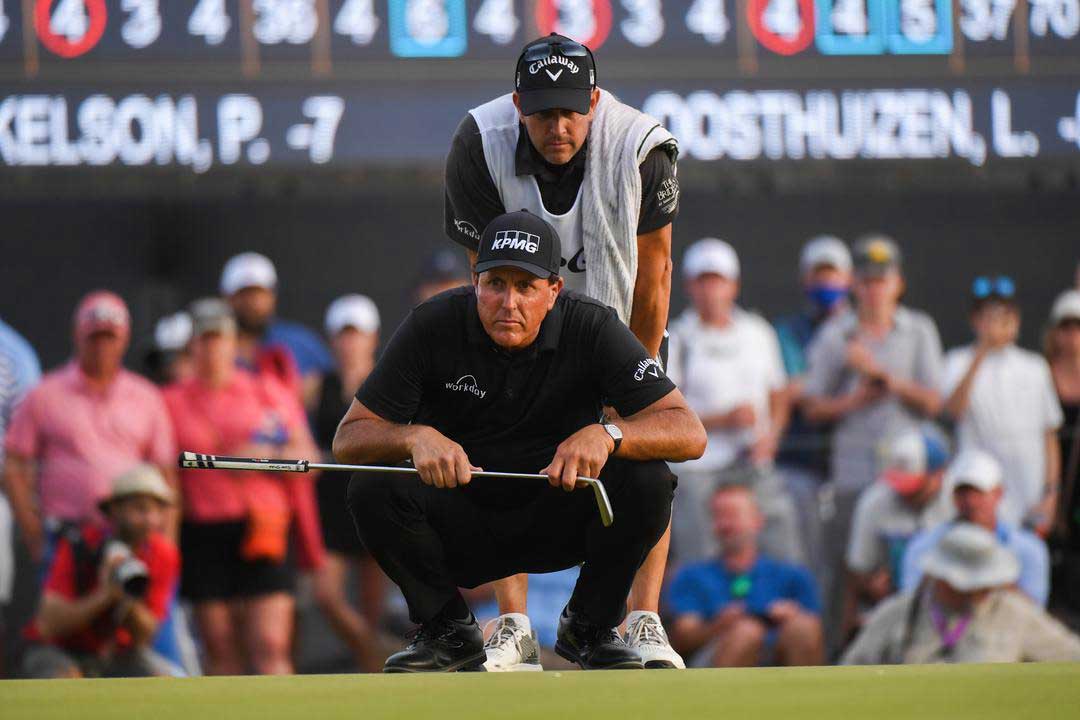 Phil Mickelson and brother Tim grinding over a par saving putt at the last – photo PGA of America
Phil Mickelson stands on the threshold of one of golf's great milestones after his third round of 70 at the PGA Championship on Kiawah Island left him one ahead of two-time champion, Brooks Koepka, and two ahead of his joint 36-hole leader, Louis Oosthuizen.
If Mickelson is able to hold on to his narrow lead through another 18 holes he becomes the oldest player in the history of the game to claim a major title and given the popular figure Mickelson is with the golfing public (he is the true entertainer) then the reaction to such success might well equal the heights of those of Hideki Matsuyama and his achievement at Augusta National six weeks ago.
If Mickelson played rugby, he would be describing his third round as one of two halves, an opening 'masterclass' of 32 followed by a closing nine of 38.
Despite the slowed pace after making the turn, however, he continued to display some outstanding shot-making and strategic thinking and tomorrow promises one of the more intriguing final rounds in recent major championship history.
Highlights of Mickelson's opening nine were his second shot to the par 5 2nd hole which finished 20 feet from the hole and, my particular highlight, the 2nd from a fairway bunker at the 3rd which spun back from behind the hole for a near kick in birdie.
The momentum the 50 year old (he is 51 next month) had built continued with further birdies at the 6th and 7th but perhaps an equally important moment was when he hit a superb bunker shot to save par at the 9th and made the turn five ahead of the field.
Mickelson's worst shot came at the 13th when he pulled hooked his tee shot and followed Oosthuizen into an adjacent watery grave but after teeing up again (as he had not crossed the hazard line at any point further up the fairway) he almost made bogey after an iron to 12 feet.
The double bogey, however, along with a bogey on the previous hole was bringing him back to the field and when Koepka, playing in the group ahead, birdied the 16th, the pair were tied at 7 under.
Mickelson's wild drive at the 16th cost him an almost obligatory birdie there although he made an excellent recovery from the sandy area well left of the fairway to get himself back in play and made par.
He faced the final two holes tied with Koepka although when Koepka bogeyed the last from the middle of the fairway, he was one ahead. He safely negotiated the 17th after an excellent tee shot created a birdie opportunity he was unable to convert, then produced a text book 'Phil Mickelson' up and down at the last to hold on to his one shot lead.
It was vintage Mickelson although the quality of some of his shots over much of the round perhaps even surpassed his previous best.
"Even though it slipped a little bit today and I didn't stay as focused and as sharp on a few swings, it's significantly better than it's been for a long time," said Mickelson
"So, I'm making a lot of progress, and I'll continue to work on that and hopefully I'll be able to eliminate a couple of those loose swings tomorrow. Because I'm playing a lot better than the score is showing and I think if I can just stay sharp tomorrow, I'll post a score that is — that better reflects how I'm actually playing.
"I think that because I feel or believe that I'm playing really well and I have an opportunity to contend for a major championship on Sunday and I'm having so much fun that it's easier to stay in the present and not get ahead of myself
"I think certainly my brother has played a big part in kind of keeping me present and in the moment and not letting a couple of bad swings affect me here or there, and so I think we're having so much fun that it's easy to stay present."
The battle between four-time major winner, Koepka and the five time champion Mickelson promises much on day four although the chances do not stop there.
Oosthuizen remains very much in touch despite an ordinary day and any improvement from the South African could well see him win a second major title to go with his 2010 Open Championship.
There was some discussion over whether Oosthuizen's tee shot at the 13th had also not crossed the hazard line further up the fairway which might have required he also to re-tee the shot but Mickelson was having none of it.
"His ball clearly crossed over the hazard. I didn't think that was an issue. It flew down there, it had a big cut to it. There was no question in my mind from where we were at that it crossed way up there.
"Mine was on the edge, and I just didn't feel good about it. I thought it was — I just didn't think it was — as much as it hooked, I just didn't think it crossed it there."
Twelve players are under par (see scores below) and any one perhaps still considers themselves a chance to take the title with a strong finishing round.
The weather on day four promises a significant change in the wind direction and so many will face a new look Ocean Course at Kiawah Island.
This is a final round of a PGA Championship that promises so much more than in many of the previous stagings.
Of the Australians, Cameron Smith retained his lead amongst the six who made the cut.
Smith is in 33rd place at 2 over par, Jason Scrivener is at 4 over in his very first PGA Championship, Jason Day made ground with his round of 72 to be in 51st place, Cameron Davis is 68th and Lucas Herbert 75th.
https://www.bruceyoungmedia.com.au/wp-content/uploads/2021/05/Phil-Mickelson-PGA-of-America-Darren-Carroll-1.jpg
720
1080
Bruce Young
https://www.bruceyoungmedia.com.au/wp-content/uploads/2017/01/logo.png
Bruce Young
2021-05-23 00:24:27
2021-05-24 01:21:42
18 holes between Phil Mickelson and a place in golfing folklore