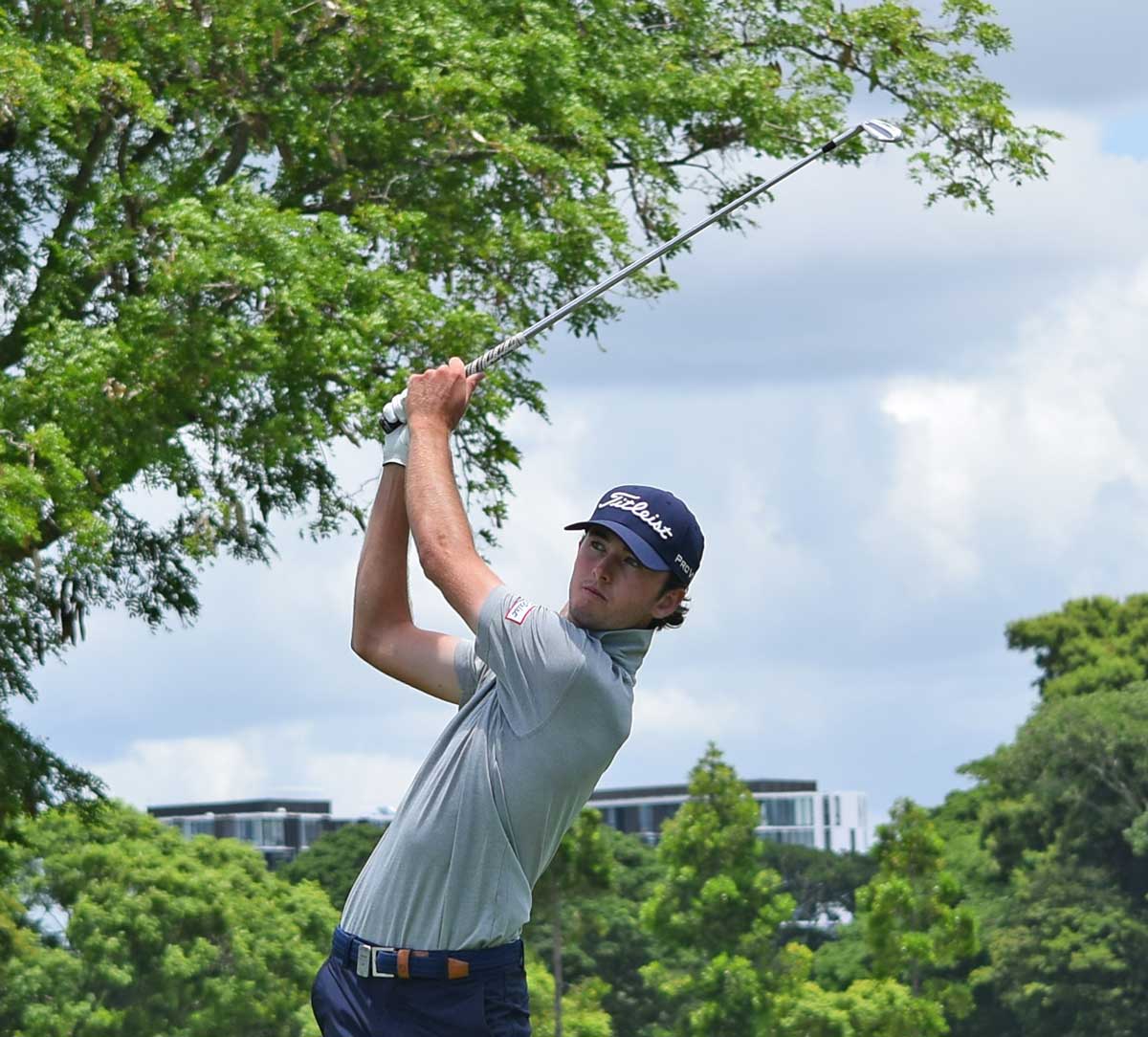 Elvis Smylie plays the pro-am at Royal Queensland today – photo Bruce Young
The scarcity of highly world ranked golfers in this week's Fortinet Australian PGA Championship field opens the door for a young Australian golfer to step up and claim not only one of Australian golf's most coveted titles but the first prize cheque of $180,000 which would provide a major boost for an emerging young golfer.
One such player is the highly talented 19-year-old Elvis Smylie who just nine months after turning professional comes into calculations as a possible contender this week.
Smylie turned professional soon after finishing runner-up to Brad Kennedy at a Tier 2 Australasian Tour event at the Rosebud Country Club on the Mornington Peninsula in late January and followed that up with a 3rd place finish at the TPS Sydney event and a runner-up finish at the NSW Open in March.
Smylie set out on a campaign in Europe but he did so with only a limited amount of guaranteed starts on a tour which he had no status and it was a tough tough but learning time for him.
Harnessed by the pressure of having to play well in whatever events he could get a start in order to earn the right to play ongoing events, he struggled to build momentum and was eventually bought undone by a dislodged disc in his back.
"Going back to the middle of 2021, I played the NSW Open in late March and then I had about a month off and then I headed over in about June to Munich and played off a couple of sponsor exemptions on the European Tour and learnt a lot about my game there," said Smylie at a press conference for this week's Australian PGA Championship at Royal Queensland.
"Obviously, it was very unfortunate with what happened with my back.  I had a minor dislodge in my lower right back, which was – I mean, to be honest, it was probably just a bit of overuse.  It's very hard going from Australia to Europe where your routines aren't the same.
"I think that's the number 1 thing I learnt, was you have to adapt and adjust as well as you can.  Obviously going back over there in May after I play all these Australian events, I'll have a very good understanding of what I need to do better and I'll just know how to handle my business a little bit better.  So, I'm grateful to have that experience."
"I'm 100% fit now and rearing to go," he added today, no doubt looking to pick up where he left off in Sydney in March.
"You know, it's just keeping it simple," he added when asked how he felt about the year ahead.
"I mean, not getting in your own way, I've got such a great team behind me.  Obviously, my coach, Ian Triggs, I've been with since I was about 8 years old and I'm still working with him and he's great for me.  Then yeah, I mean, it's just keeping it simple, just staying out of my own way.
"I know what works well for me, I know what doesn't.  Obviously, I'm focusing more on what does work well for me, but when things don't go well, I learn from them pretty quickly and I know how to make that not happen again."
The former Australian junior champion comes with an outstanding sporting pedigree, his mother (Liz) a multiple doubles champion in Grand Slam tennis events and his father (Peter) also a former tennis pro but who now manages the career of his son.
Smylie has the presence and demeanour of a classy and confident golfer on the golf course and the results he has shown in his very short professional career to date suggests that there is an exciting future ahead for the 19 year old Gold Coaster.
To assist his cause this week will be the architect behind the redesign of Royal Queensland's design, Mike Clayton, who has developed a close friendship with the youngster, the pair together as player / caddie in Smylie's impressive run at the Australian Open two years ago and his good performances in Australia in 2021 and the Australian veteran will be on the bag again this week.
"Yeah, it means everything to be able to have a little bit of an inside scoop with the course's own to be on your bag. This place is what you see is what you get around here and yeah, it's very hard to be able to be flabbergasted when you're off the tee.
"It's very clear right in front of you, but around the greens it can get pretty tricky with all the undulation and slope, so being on the right side of the hole is quite important around here. But yeah, Clayts and I will have that down pat, so we'll be fine."
This week's Australian PGA Championship might be drawing a long bow in terms of securing his first win but the wins will come before long and having beaten many in this week's field in events already there is no reason to believe he can't at least perform well.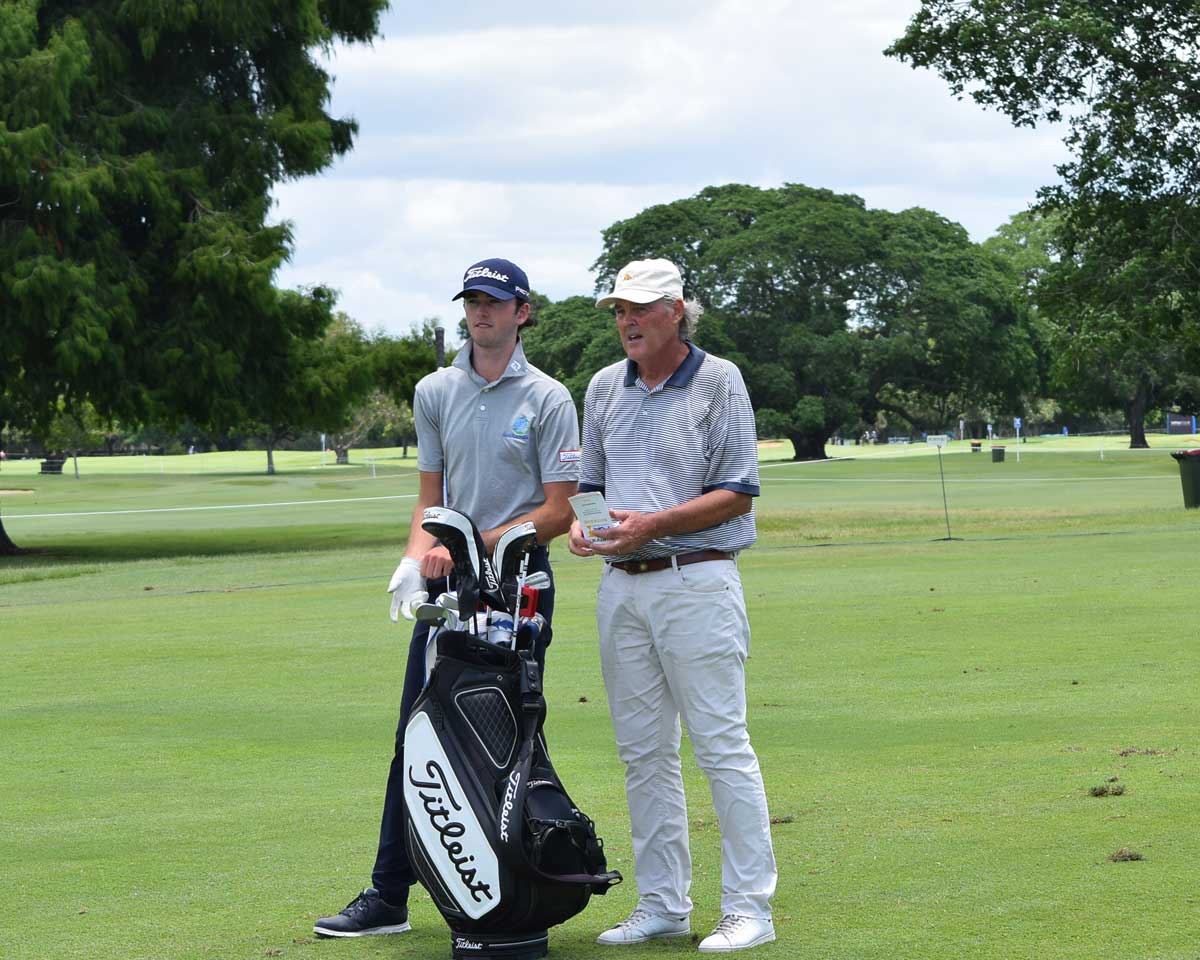 Smylie and Clayton doing homework in today's pro -am – photo Bruce Young
https://www.bruceyoungmedia.com.au/wp-content/uploads/2022/01/Elvis-Smylie-PGA-2022.jpg
1084
1200
Bruce Young
https://www.bruceyoungmedia.com.au/wp-content/uploads/2017/01/logo.png
Bruce Young
2022-01-12 03:26:37
2022-01-12 20:20:34
Elvis Smylie enters calculations at Royal Queensland