Elvis Smylie – photo Bruce Young
One of Australian golf's most exciting golfing prospects in some years, Elvis Smylie, begins his international professional career in late June when he takes advantage of an invite to play the European Tour's BMW International Open in Munich in Germany.
The event is one of at least four European Tour starts the 19-year-old left-hander is hoping to gain over the next couple of months, with other opportunities beyond those likely to present themselves, dependent on how he performs in the early events.
Smylie set Australian golfing tongues wagging when, soon after turning professional at the age of 18 earlier this year, he finished runner-up and 3rd in two of three PGA Tour of Australasia events in Victoria and NSW. Those efforts came just a few weeks after finishing runner-up in yet another PGA Tour of Australasia event at Rosebud on the Mornington Peninsula after consecutive weekend rounds of 63 in what was his last event as an amateur.
His world ranking jumped from outside the top 1500 to just inside the top 500 currently but it would appear there is a lot more upside to come.
Those performances immediately confirmed much of the promise he had displayed as an amateur when winning the Australian Junior Championship, twice winning one of Australia's more significant amateur events, the Keppera Bowl, in Brisbane and contending at various stages of the 2019 Australian Open.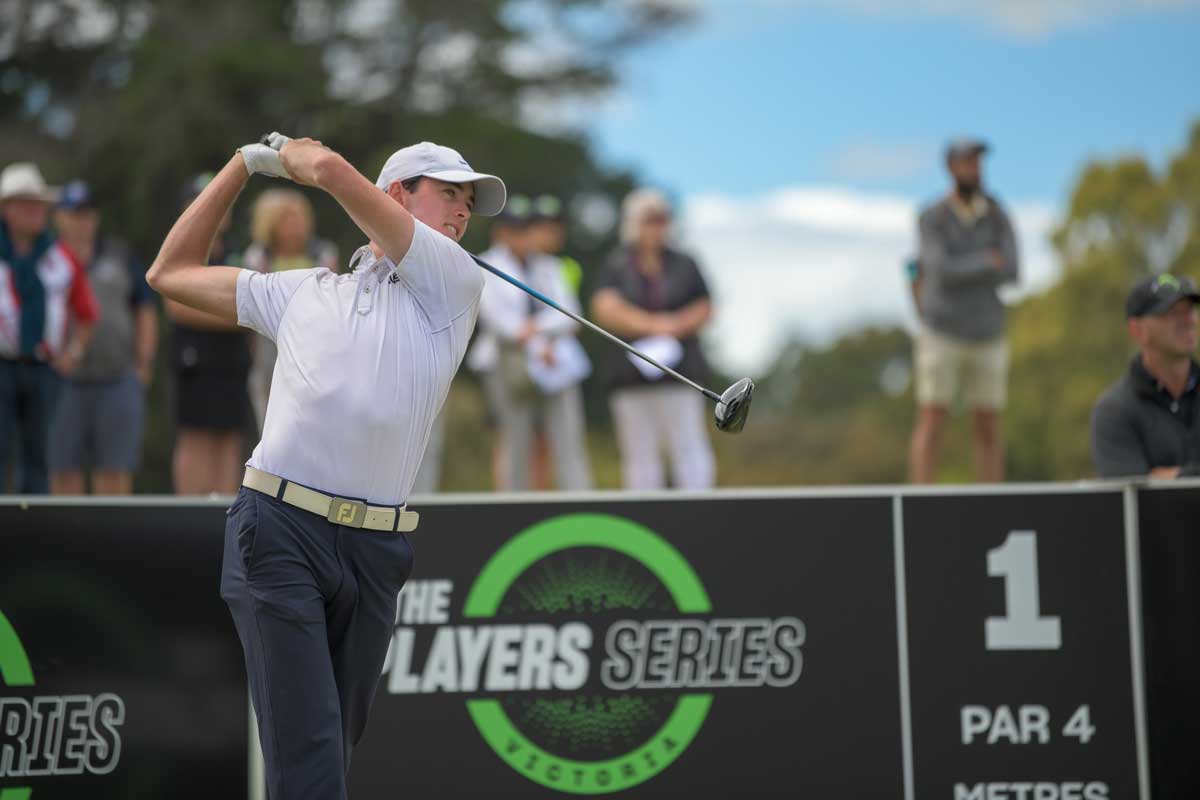 Smylie during this year's early season events on the PGA Tour of Australasia – photo PGA Tour of Australasia
The fast start to his professional career further justified the decision to turn professional at the age of 18 and provides the youngster with the belief he can mix it in the hurly burly world of professional golf.
Not that self-belief is lacking in Elvis Smylie. He has a nice balance of just that without the arrogance sometimes associated with such.
His innate capacity to handle a stage much bigger to that on which he had been playing since beginning the game at the age of 8 when his then and still coach, Ian Triggs, took him under his wing, is hardly surprising also.
Smylie's pedigree involves a father and mother who were both tennis professionals, his mother, Liz, in particular, the winner of four Grand Slam Doubles titles and still a commentator for the BBC during Wimbledon.
Elvis, Liz and father, Peter, will leave for Germany in mid-June and although his schedule is not totally confirmed beyond his initial start at the BMW, he is all but guaranteed those four European Tour events and, courtesy of his performances in golf to date, he will gain access to the final stage of qualifying for the Open Championship at Royal St Georges in July.
Smylie will base himself in England where he has two sisters Jordi and Laura to provide a solid and familiar base for his campaign.
The US and European management company CAA (Creative Artists Agency), with whom Smylie has recently signed, have been instrumental in Smylie gaining a start in Germany and are working hard on other opportunities for him.
CAA have not had a large involvement in golf although they were managing the interests of Patrick Reed until recently. They do however have many high-profile entertainment and sporting clients and a family connection (Smylie's brother-in-law Ash Simons) works for the company.
Given his already disclosed talent, Smylie had been the subject of several approaches from management companies but the family connection along with CAA's proven track record in the talent management industry proved the deciding factor.
Peter Smylie will handle much of the day to day management of his son while CAA will attend to sponsorships and invites. CAA have a role in event sponsorship and commercial arrangements on both the European and PGA Tours.
"They got out of golf management as such when the arrangement with Patrick Reed finished but we were talking to Ash to get some general advice and that's how it came about," said Smylie.
CAA are currently working on invites to events around and after the Open Championship but there are other events beyond those which may also be possibilities. Obviously, if Smylie can play well in the events he can earn an invite to it will make ongoing opportunities more forthcoming.
That he wants to begin his international professional career in Europe is encouraging for the young man who appears to have a very strategic approach of his career path.
Traditionally, the means of young Australasians getting their careers established before heading to the US was to play in Europe first before even contemplating earning their right to play the PGA Tour.
In more recent years, more and more Australasians are heading directly to the US, many of them because of playing collegiate golf or when the Nationwide Tour visited here in the 2000's several earned enough money through co sanctioned events in Australia to play their way onto the secondary tour and then the PGA Tour.
Some, like Jason Day, Rod Pampling and Stuart Appleby, headed direct to the US and succeeded but Greg Norman, Adam Scott, Robert Allenby, Ian Baker Finch, Nick O'Hern and others cut their teeth in professional golf through Europe first.
Smylie is aware of the importance of rounding out his game and skills with the variety European countries and golf courses provide and further highlights his measured approach to the development of his career.
"I think the European Tour allows you to learn so much about your game with changing conditions every week so I think the first couple of years would be great for me before I think about the US. I could then make the step to the PGA Tour when I think my game is ready."
In some respects Covid has worked in Smylie's favour as it has forced him to stay at home and play PGA Tour of Australasia events, gain experience at that level and earn enough money to have the security of his card on that tour when he returns from Europe.
"I think the good thing that I have done so far in my professional career is that I had the opportunity to play events here rather than just jump into possible invitations in Europe. Those events early in the year have provided me a great grounding and a chance to assess where I am at. Ironically, it has been because of Covid."
"Not that I necessarily wanted to put myself in the position I did down at Rosebud as I had to make four birdies on the back nine to even make the cut. I knew if I didn't do something I was going home so I was happy I was able to dig in and do it.
"I think I have the capability of doing something special early on and that exposure in Victoria, even though I was playing my last event as an amateur there, and at the NSW Open has helped that belief."
Smylie won several titles as an amateur but points to his second Keperra Bowl victory and of course his win in the Australian Junior Championship in 2019 as the highlights.
"I think winning your national championship with the sort of names on that trophy kick started things for me and winning the 2020 Keperra Bowl for the second year running really displayed to me that I had taken my game to the next level when I shot 25 under there after winning by just two shots in 2019."
The win at the Australian Junior Championship earned Smylie a start at the Australian Open at the Australian Golf Club in 2019 and not only did he make the cut there he was inside the top ten heading into the weekend before eventually finishing 33rd.
Smylie holds his 2019 Australian Junior Trophy – photo Bruce Young
Understandably, Smylie and his father have been putting all the pieces together for this first European campaign and one of the issues he will need to address is the appointment of a caddie which is made a little more difficult because of the uncertainty of his schedule.
"It is still up in the air at present. Obviously Clayts (former professional and respected golf analyst Mike Clayton) worked for me in those early events here in Australia, but he is busy with his golf course design work but hopefully he might be able to do something in the events back here in Australia later in the year.
"Mike is very calm and doesn't talk a lot on the golf course either unless he has something to say. He keeps me distracted when the timing is right however by providing plenty of history tit bits on events also.
"I like to do my own yardages in conjunction with Clayts but will have to get more focused on that aspect as I used range finders throughout my amateur career and in the events early in the year we were also allowed to do so so that will be an adjustment I have to make."
Smylie suggests the strength of his game are his short game and his capacity to get it round in a decent score even when things aren't 100%.
"Being able to put a score together even when I don't have my A game. It is almost like a never give up mentality as there is always something to play for.
"I remember I was 6 over through 14 holes in the event at Rosebud and it would have been easy to chuck it in but I dug in and finished at 4 over and then finished strongly to make the cut and eventually nearly won the event. I think being able to turn a 75 into a 72 is a great asset in this game."
Smylie is a member at both Southport and Sanctuary Cove Golf Clubs on the Gold Coast and over the last few months has played with several others who are members at Sanctuary Cove including the likes of Anthony Quayle and Dylan Perry who are both members of the Japan Tour and on occasions with Brad Kennedy who, interestingly, beat him by one shot in the event at Rosebud.
"Southport is my home club but the practice facilities here at Sanctuary Cove are brilliant and have allowed me to work very hard on my game since my last event a few weeks ago at the NSW Open."
So Smylie heads to Europe with the golfing world at his feet. An already proven capacity to play well in the paid ranks, a catchy name, a left-hander to boot and a tall elegant young man provide several points of difference and if he can achieve success at the next level again he could well go on to great heights in the game.
There is a lot to like about the way Elvis Smylie goes about his business and his upbringing will go a long way to keeping his success or otherwise in perspective.
https://www.bruceyoungmedia.com.au/wp-content/uploads/2017/01/logo.png
0
0
Bruce Young
https://www.bruceyoungmedia.com.au/wp-content/uploads/2017/01/logo.png
Bruce Young
2021-05-28 07:10:48
2021-05-29 00:38:05
Elvis Smylie Begins International Professional Journey