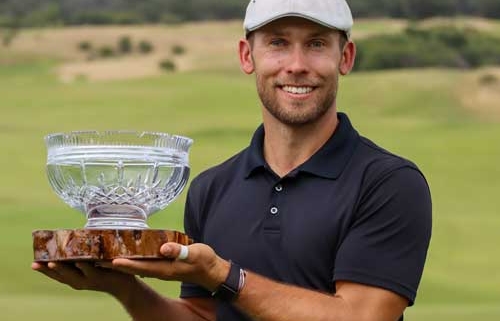 Photo courtesy of PGA of Australia
30-year-old Victorian, Bryden Macpherson, has claimed his first PGA Tour of Australasia title by producing a stunning final round of 64 including four birdies and an eagle over his closing six holes at the Moonah Links PGA Classic at the Moonah Links Open Course on the Mornington Peninsula.
Macpherson came from three shots off the third-round pace to defeat the 54-hole leader Justin Warren from Picton on the outskirts of Sydney.
Macpherson, a former British Amateur champion, a collegiate golfer and winner of events on the China Golf Tour, has competed in two majors (the Open and the Masters) as a result of his win at the 2011 British Amateur and also played the 2014 Open Championship but his win today signals a continuation of some very good form of late.
He finished 4th at the recent Gippsland 6's and the TPS Victoria and put together a brilliant final round on the demanding Peter Thomson designed layout. It was by two shots the best round of the day and swept him to victory by two shots.
Macpherson earned $22,500 for his win and the talent that saw him as one of Australia's best amateur golfers in the late 2000's appears now on the way to being realised.
"As I've grown up and spent time around lots and lots of people in lots and lots of places I've learned that, as cliche and terrible as it sounds, you've just got to stay with what you're doing," said Macpherson.
"It's my fourth professional win and it's starting to look a little bit more like a career.
"Winning at home is awesome, and on the Peninsula even better, but there are much bigger events on this tour.
"I look forward to trying to compete in them over the next few years."
Macpherson paid credit to rapidly emerging Australian former player and now coach Bradley Hughes who won the Australian Masters on two occasions.
Hughes has been responsible for the turnaround in several PGA Tour players most notably, Brendan Todd, and Macpherson spoke glowingly of what his involvement with Hughes has done to his game.
"When I was 15 I was this little arrogant shit who would hit it hard, hit it kind of far and putt OK sometimes and I'd win stuff. And it feels like I'm back to that," said Macpherson.
"'Hugo' has given me that, he really has. He is the reason why I have it and I'm so thankful for it.
"It's very simple what we work on. It's all about post-impact and ground connection, that's all it is. The control that gives you is incredible.
"I can focus on the same thing for 72 holes – which I've never been able to do before – and be on the golf course hitting shots instead of making swings. That's huge.
"My game right now is the best it's ever been. If I can work over the next little while at tidying things up – because it still is a little untidy – then I would think there will be some more solid results in the pipeline."
Interestingly, both Macpherson and Warren were successful in their collegiate careers in the US although Warren is five years the junior of the man who defeated him today.
New Zealand's Michael Hendry a winner of the New Zealand Open in 2017 finished alone in third place, one behind Warren while Dimi Papadatos, another New Zealand Open Champion, was 4th.
The event was played over 72 holes but contained within three days, 36 holes played today, in order to avoid any issues with border closures as a result of COVID 19.
The events is the 4th in a series of Tier 2 events being staged by the PGA Tour of Australasia in Victoria in January and February, three further events to be played in NSW and Queensland in March.
https://www.bruceyoungmedia.com.au/wp-content/uploads/2021/02/Bryden-Macpherson-trophy-PGA-of-Australia.jpg
460
500
Bruce Young
https://www.bruceyoungmedia.com.au/wp-content/uploads/2017/01/logo.png
Bruce Young
2021-02-11 09:14:23
2021-02-11 22:55:45
Bryden Macpherson Credits Brad Hughes For Game's Turnaround