photo: Adam Scott with his second PGA Championship trophy – PGA of Australia

Adam Scott has won his second Australian PGA Championship title at RACV Royal Pines on the Gold Coast with an impressive and, at times, clinical final round display, edging clear of several rivals who dared to dream during the course of today's finale.
Just as had been the case in Saturday's third round, Scott gave his rivals plenty of hope through the front nine on the final day but a brilliant tee shot to 8 feet at the demanding par 3, 14th was followed soon after by yet another outstanding 5 iron approach to 10 feet at the 15th.
They had come on top of a crucial par save at the par five 12th when he found the trees from the tee and was forced to get up and down from 80 metres or so to save par.
The putts at 14 and 15 were converted, however, and the birdie, eagle stretch had swept him past the then leader Mike Hendry and into the lead by one. When Hendry bogeyed the 17th and 18th holes, the win would be by two over Hendry who finished alone in second place after Wade Ormsby and Nick Flanagan produced very costly bogeys at the last.
Ormsby and Flanagan shared 3rd place with Carl Yuan, Minwoo Lee and Cameron Davis, one shot behind Hendry.
Scott was obviously delighted to have won for the first time in 45 months.
"Pretty stoked, actually," he said after his win. "I kind of grinded it out this week and I feel like I outsmarted the golf course a little bit, which feels good, and it was good enough to beat everyone.
"So it's been a long time between drinks for me and maybe only once or twice did the thought cross my mind that I'll never win again. It feels very good to win here, especially to finish the year off kind of winning at home."
Scott still retains a home at Sanctuary Cove on the Gold Coast but spends more time when in Australia at a relatively new home on the Sunshine Coast along with other residences in Switzerland and the Bahamas.
So, was he really serious when he questioned his ability to win again?
"Well, I mean, fleeting thoughts. You don't know. I think it's very difficult to win. I'm on the wrong side of this age thing now where these young guys are really good and I played some pretty good golf a couple weeks this year and fell short.
"You know, record‑setting scores.  I think the courses are getting tougher, guys are playing good. Just being all right doesn't really get you in, you've got to be pretty much sensational."
It might not be the biggest win in his career but Scott is fully aware of the importance a win so late in the season can do for his chances of a big year in 2020
"Well, it's big for the confidence. I mean, I've seen what it's done for me in the past; a win, you feel like you're just never going to lose again, so you want to run with that while the confidence is up. Somehow I'll have to think that in seven weeks when I step back in L.A.
"You know, there's a lot of confidence from a win and I'll look forward to enjoying that."
Adam Scott is a very private person and keeps his private life exactly that but today he made mention of his family and how the win might be received when he returns to his home this evening.
"Well, that will be fun for my daughter because she's asked all year for a trophy, so I've not been able to deliver.  So that will be fun for me tonight, see if that makes her happy."
Scott paid credit to his playing partners but had special mention for Nick Flanagan who would eventually finish 3rd after sharing the lead at various stages throughout the final round.
Flanagan and Scott enjoying each other's company today – Bruce Young
"We reminisced just a couple weeks ago about playing golf with Ernie when he shot 60 at Royal Melbourne.  Nick was in the group with me, so that's 15 years ago, so we've known each other a long time.
"We've been on surf trips together and I'm really happy to see Nick playing golf like that today. You know, not just up there, but he's playing really good and I hope he takes a lot out of the last couple weeks and gets himself back to where he wants to be.  He's obviously very talented, but he looked good out there today, I liked it."
Flanagan, a former US Amateur Champion and the first Australian to win that coveted title, has struggled in more recent times after getting to the PGA Tour earlier in his career.
He showed a lot of emotion in his post round conference and had mixed emotions about the day.
"I mean, if somebody told me I was going to finish third at the start of the day, I probably would have taken it, to be honest with you.  To put myself in a good spot there with a few holes to come, you know, I'm pretty gutted.
"But, at the same time, it was one of those weeks where I haven't done something like this in a while, probably since this event last year, really.  So I'm pretty pumped, but at the same time definitely a little disappointed I couldn't ‑‑ just that one shot really kind of cost me.
"It's been a tough few months. I thought I was going to do well there in Europe, at European Q‑School.  That was tough not to get through there. Yeah, it's huge.  I haven't felt ‑‑ like I haven't been able to play a stress‑free round of golf – kind of wanting to make money.
"And obviously with the baby on the way, this is huge for us.  Over Christmas I'll actually feel like I can sit down on the couch for a couple weeks and actually relax and not think about where the next check's coming from, at least for the next two or three weeks. That's kind of why I was getting a little emotional there for a second."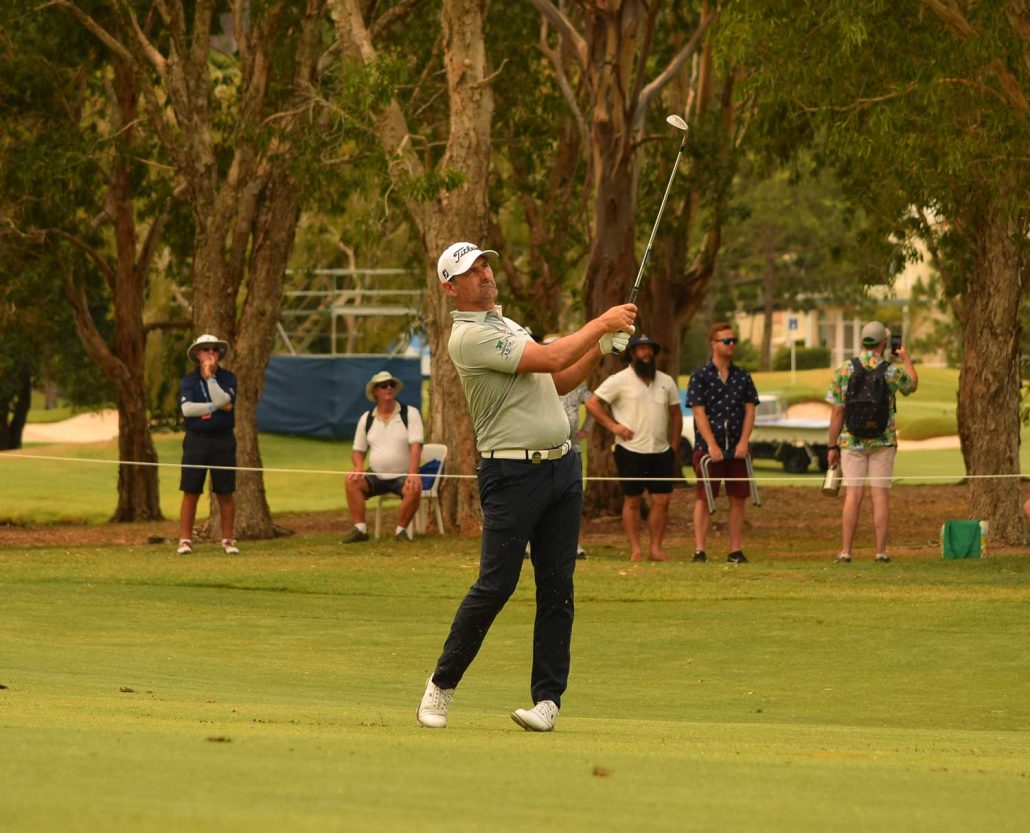 Photo: Mike Hendry pitches to the 6th – Bruce Young
Michael Hendry is another who might have felt he let an opportunity get away but, despite getting to the lead, holding off Scott was always going to be a difficult task and so it would prove.
Hendry was also forced to contend with painful rib issues all day and was thankful not only to finish where he did but to get through the round.
"The warm‑up was terrible," said the New Zealander. "I honestly thought I wasn't going to get through the round. So quite honestly, my goal today was just get through 18 holes and finish the event regardless of what the score was.  Lo and behold, I hit it really well.
"It was painful all day and I just kept trying to basically man up and hit the shot.  Maybe that was the thing that I needed to take my attention away from what was happening on the golf course.  It was more about trying to make good swings under a little bit of pain, and I made a lot of good swings.
"I've never been in the situation physically and been in contention at the same time as today, so like I said, it was an odd one for me today.  I kind of ‑‑ like I say, anything above and beyond 72 holes to me was a bonus today, and to go out and shoot 69 in pretty tricky conditions, just get through was great."
Hendry has not has a great season by his more recent standards but to have finished runner-up this week not long after narrowly retaining his Japan Tour card is a great way for a rather ordinary year to finish.
He earnt $158,000 for his efforts.
The tournament not only completed the golfing year it completed the PGA Tour of Australasia Order of Merit. The winner of that was New Zealander Ryan Fox who earnt most of his A$307,000 when successful at the ISPS Handa Perth Super 6's.
The leading player on the money list and not otherwise exempt on the European Tour and therefore earning the right to play the European Tour in 2020, goes to the New Zealand Open Champion Zach Murray who finished the year $9000 ahead of Brad Kennedy.
But the honours of the week got to Adam Scott, not only for his classy display on the course but for making a commitment to the event as long as eight months ago and therefore allowing the event to promote his presence in the field as a cornerstone for pre-event publicity.
"I hope they're happy with the result," Scott joked after the round. "But, you know, some of these things, for me it's important to commit to early, but also I can really plan my whole year so that I'm here ready to play.
"You know, sometimes as the year drags out, you're kind of fading, but with the Presidents Cup here, I knew I was going to be motivated to be in top form for these three weeks.  I was a little rough there at the Aussie Open, but we turned it around and made the most of it, which I want to do every time I play."
Adam Scott began the year 41st in the world ranking – he finishes it in 13th place.
https://www.bruceyoungmedia.com.au/wp-content/uploads/2019/12/adam-scott-Aust-PGA-2019.jpg
800
1200
Bruce Young
https://www.bruceyoungmedia.com.au/wp-content/uploads/2017/01/logo.png
Bruce Young
2019-12-22 08:39:42
2021-06-18 05:51:28
Adam Scott's Class Prevails At RACV Royal Pines