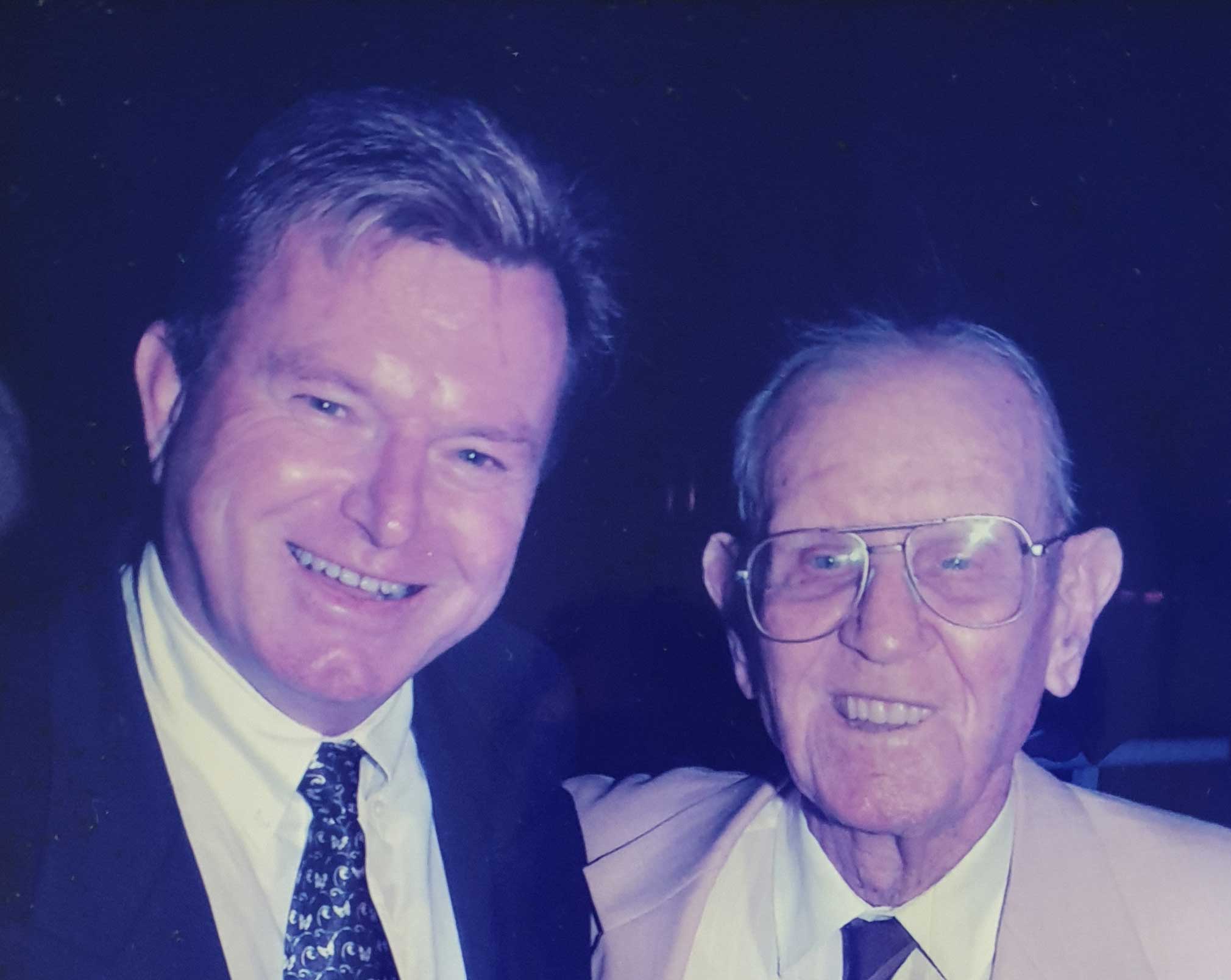 It was July 2000 and, on the eve of what would be Tiger Woods' first of three Open Championship victories, I was preparing to head to Brisbane for my then regular radio spot on the Radio TAB network.
18 months earlier I had made the decision to leave Graham Marsh's golf course design company and head into the unknown world of golf media and one of the earliest gigs I secured was as golf betting analyst for the Radio TAB network's morning sports show which had been established to cater for, and capitalise on, the growing sports betting market.
The role involved twice-weekly appearances (normally ten minutes and by phone) assessing likely chances in professional golf events along with wider golfing issues but if a major such as the Masters or Open Championship was being played I would venture to the Brisbane studio for a longer segment.
Just as I was to leave home on the Gold Coast for Brisbane on the Thursday morning of the Open Championship at St Andrews that year, the producer of the show, Graham Rigby, called to inform me that Australian golfing icon, Norman Von Nida, would be joining us by phone to discuss his thoughts on the event and relate some of his experiences at The Open.
I was delighted that such a figure would be included in our discussion and was quickly onto the net which was still in its infancy at that stage to research just how Norman had played at the Open Championship and how he had done at St Andrews. He actually finished 4th behind Sam Snead there on debut in the event in 1946.
I was a little concerned as I had never met Norman and I felt sure he would be unfamiliar with just who the hell I was. I had a perception of Norman as a feisty character and expected to receive a cold shoulder when introduced to him on air. How wrong I was to be.
When Rigby, who was hosting the show that morning in the absence of regular host, Mark Forbes, introduced Norman to our audience on the phone he also introduced me to Norman.
I expected a vague acknowledgement by Norman of my role but to my absolute shock he spoke in very favourable terms of what had been my role on Radio TAB to that point as he had been a regular listener.
Immediately on finishing our half hour segment I called Norman to thank him for his kind words which he reiterated and suggested we should get together for a game at Royal Queensland some time soon.
At that stage of his life (86) Norman was legally blind but thrived on regular games at Royal Queensland where, of course, some 75 years earlier he had developed his passion for the game by caddying for members at that same course.
We did play that game in August of 2000 and for the next seven years of his life Norman Von Nida and I became great friends. I look back now as being blessed to have gotten to know so well one of Australian golf's greatest players and characters and perhaps its most significant trailblazer.
Until his death in May of 2007 at the age of 93, Norman and I attended numerous functions, golf events, luncheons or just coffee chats (not that he drank coffee) with he and his wife Elva. My then partner Marilyn and I enjoyed being able to accompany them as they sought to escape an increasingly routine lifestyle in an Aged Care facility on the Gold Coast.
Norman's regular exposure to actually playing the game in his twilight years had been thwarted by an accident he experienced in 2001 while still living at Scarborough in Brisbane's bay-side suburbs. It denied him the great pleasure he had of playing at Royal Queensland with his mates and anyone else who wanted to sound him out about his great knowledge of the game.
He had been crossing the road to post a cheque (he told me it was to his bookie) one day when a car struck him and broke his arm. At that stage of his life the injury would effectively prevent him from ever playing again other than the occasional few balls he would hit. (more on that later)
Norman in 1952 – Courtesy of Getty Images
So moved by what I was learning of this very special man and his achievements (three Australian Opens, four Australian PGA Championships and countless European titles), the latter during a period when he was blazing the trail for players such as Peter Thomson and others to follow, that I made the decision in 2003 to put together an audio tribute to him.
I collated, narrated, and essentially produced (with a little help from the aforementioned Graham Rigby) the 38-minute piece. I contacted many of those who were players of his era and those who had benefited from his willingness to help his fellow golfer and fellow man.
Included in the piece were contributions from Norman himself, Gary Player, Peter Thomson, Bruce Crampton, the fine Welsh player, Dave Thomas, and even figures from outside golf such as jockey great Scobie Breasley and legendary Australian boxer, Johnny Famechon.
They all spoke at various lengths on what Norman Von Nida had meant to them. The piece won an award and given my relative inexperience in the production of such things I was very proud that I had been able to capture and record such a significant piece of Australian history from such a wide ranging line-up of Australian sporting greats.
For those interested the piece may be listened to by clicking on the audio bar below. I would encourage you to do so.
There were many outings enjoyed by Norman and I during those seven years wherever we went, whether it was to the Carbine and Tattersalls Clubs in Brisbane, to the launch and playing of golf events on the Gold Coast or Ipswich, or to any golf related function. Norman was always the centre of attention and he loved the chance to have his say and to assist those who sought his help and advice.
As the time between his accident and his gathering years grew, however, Norman was becoming increasingly frustrated by not being able to play his beloved game.
One day in the winter of 2005 it came to a head and he called to ask if I could find somewhere where no-one would know but where he could have a hit to see if there was any possibility of him playing again at any level.
I arranged to take him to Lakelands Golf Club on the Gold Coast one lazy Sunday mid-winter afternoon. We stood on the first tee and his deteriorating eyesight would mean that I needed to guide him in the right direction.
He struggled down the first fairway and it was clear he was embarrassed by the experience. I tried to make him aware of how long it had been since he had actually hit a ball and suggested things weren't really as bad as he might have thought.
Norman was, however, a very proud man and like all of us golfers we all want to play to the best level we can. Imagine, therefore, how it must have been for him, given the great heights he had reached in the game.
I convinced him to play another hole but after his tee shot on that hole he declared he had had enough and to my knowledge that would be the last time he would attempt to play golf on a golf course.
That final tee shot in 2005.

''I'd never contemplated being a good player again, but when I've been a reasonably good player it was embarrassing to see an old geezer trying to do what I did,'' he told a local newspaper at the time.
The drive back to he and Elva's aged care facility was an awkward one. Clearly, he was feeling the impact of being resigned to bringing to an end of his love affair with playing the game. Anything I was about to add was not going to make any difference to an incredibly poignant moment.
In May of 2007 Norman Von Nida passed away peacefully in his rest home on the Gold Coast. It was the end of one of the greatest stories in Australian golf, from a childhood caddie at Royal Queensland in the 1920's to the illustrious career which saw him win nearly fifty professional titles.
I was extremely proud to be asked, by his daughter, Kerry, to speak at his funeral, attended by hundreds of Australian golfing dignitaries and others. My role was to finish proceedings and I immediately thought of the last minute or so of the audio tribute I had created on him four years earlier.
In that segment (which I introduced on the day of his funeral) I had asked Norman what it was that had made him so keen to help others in his amazing life. His voice, speaking over the speakers in the church to close the celebration of his life, was a surreal moment.
His response (below) captures the essence of Norman Von Nida beautifully. He certainly backed his own judgement and was never afraid to voice it but, perhaps because of his upbringing, he knew that there were people out there he could help because of his success.
I feel blessed that his friendship and encouragement helped me also.
I pose (L) with the fabulous 'Von Bronze tribute' at Nudgee Golf Club in Brisbane having hosted the unveiling several years earlier (R)

https://www.bruceyoungmedia.com.au/wp-content/uploads/2020/06/The-Von-3.jpg
1600
1920
Bruce Young
https://www.bruceyoungmedia.com.au/wp-content/uploads/2017/01/logo.png
Bruce Young
2020-06-28 21:58:34
2021-05-17 08:31:32
A Friendship With Norman Von Nida