The USA side enjoying the moment – photo Darren Carroll PGA of America
Ultimately it was the weight of numbers that counted in the final analysis of the 2021 Ryder Cup, those numbers involving the world rankings of the USA side as they tackled and comfortably defeated a European side who were not the dominant force they have been in recent years in the biennial event.
Heading into this week's event, all but one of the US side were inside the top twenty in the world ranking, the highest ranked being Scott Scheffler who was only just outside that group in 21st place.
The Europeans on the other hand boasted only four inside the top twenty with a lowest ranked player at 63rd in the world.
While such disparity has regularly been the case in the past and allowed a David and Goliath mentality for the Europeans to feed on, the US side appeared very much united as they took on a European side which perhaps should have been more at home on the windswept and exposed Whistling Straits layout than their opponents.
After all, in the two most significant events held at Whistling Straits previously, the winners have been non-Americans but, despite many thinking differently, the Americans have historically shown a capacity to handle windswept layouts far more than they are given credit for.
The USA won by 19 points to 9 after an 8 points to 4 victory in Sunday's singles in which only Rory McIlroy, Ian Poulter and Lee Westwood were able to stem the tide of an even greater winning margin by the rampant US side.
Matthew Fitzpatrick and Viktor Hovland also recorded a half point each for the European side today.
McIlroy was up against Olympic Gold Medallist, Xander Schauffele in the opening match of the day, European captain Padraig Harrington no doubt keen to provide some momentum for the almost impossible turnaround needed for the Europeans to claim the improbable nine points they required to retain the 94-year-old trophy.
McIlroy somehow found the resolve to turn around a horror week for him personally, having earlier lost all three of his team matches, and raced to an early lead against Schaufelle and remaining in front to win 3&2. It gave the Europeans a brief glimmer of hope but the out on the golf course the reality of the situation was kicking in.
Slowly but surely the inevitable became reality and when Collin Morikawa tied his match against Viktor Hovland the Americans had officially put Europe out of their misery, the Americans then with the 14.5 points they needed to secure the victory.
Harrington perhaps summed up the week and the gap between the two sides.
"The U.S. were very strong," he said. "They got it right, whatever their plan was, they got it right this week, and a strong team, played well. Kept the momentum. And they would have been tough to beat at the best of times, let alone when they are at top form. It's a great win for them.
"I can't say we were surprised by it. I think we were as prepared as we could be. It's maybe difficult to come to a golf course that the players haven't played for a few years in that sense, but I think the players knew the course well enough. The U.S. were well-prepared. Good team. Played well."
Steve Stricker has been low key but thorough and diligent throughout his reign as the US captain and the players responded.
"Speechless," he said when asked for a response. "Everything about it, these guys all came together. Two weeks ago they came together. Showed me a lot about this group of guys. They all showed up for the practice rounds, all the assistant captains showed up at the practice rounds (tearing up).
"They had a mission this week and you could tell, they played great and they came together. I just can't tell you — I mean, Brooks and Bryson wanted to play together; that's how much it came together. That shows a lot about this whole team.
"From day one, it was about out-preparing, right, getting the guys here, getting them on the same page. This is a new era for USA golf. They are young. They come with a lot of passion, a lot of energy, a lot of game. They are just so good. So it's exciting to see these guys and exciting for us in Wisconsin to experience this."
Stricker's success had double meaning for him given he is a native of Wisconsin.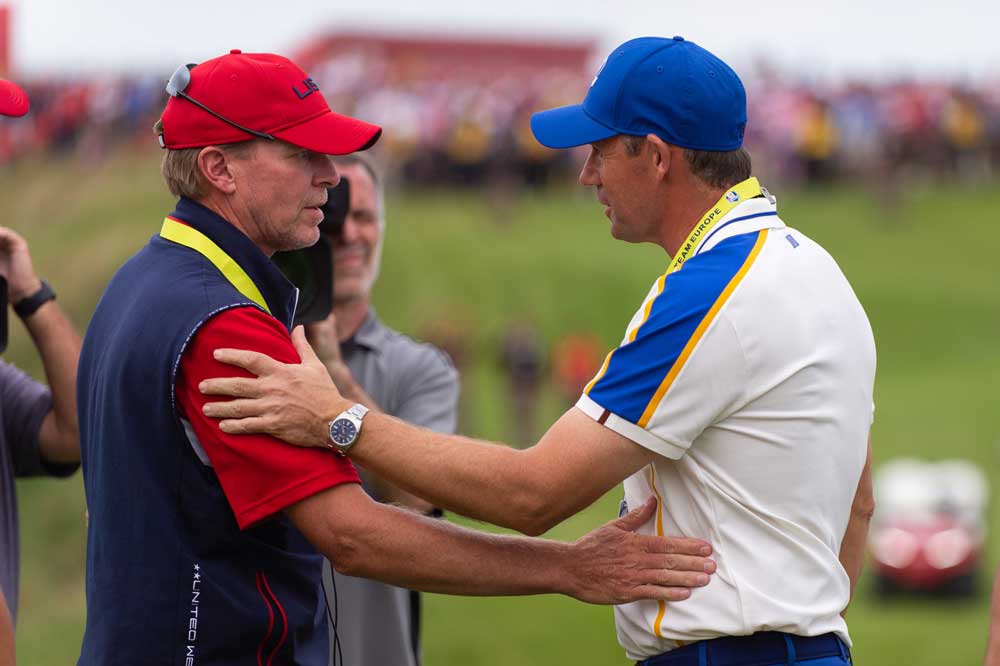 Foes but friends, Ryder Cup captains Steve Stricker and Padraig Harrington photo PGA of America

Perhaps, though, it was Rory McIlroy, who, in an emotional interview, so aptly described just what golf's greatest and arguably one of sport's greatest contests means to those involved despite being on a losing side.
"Yeah, incredibly proud to be a part of this team, to be a teammates of all these guys, the captain, the vice captains, said the man playing in his 6th Ryder Cup.
"We've had a great time. You know, it looks like it's not going to pan out the way we want on the golf course. I've been extremely disappointed that I haven't contributed for more the team. I'm glad I got a point on the board today for them.
"It's been a tough week. And the more and more I play in this event, I realize that it's the best event in golf, bar none. I love being a part of it. I can't wait to be a part of many more. Yeah, it's the best. (Tearful).
"Yeah, I don't think there's any greater privilege to be a part of one of these teams, European or American. It's an absolute privilege. I've gotten to do this six times. They have always been my greatest experiences of my career.
"I have not — never really cried or got emotional over what I've done as an individual. I couldn't give a s—. But this team, and what — and what it feels like to be a part of, to see Sergio break records, to see Jon Rahm come into his own this week, to see one of my best friends, Shane Lowry, make his Ryder Cup debut.
"All that, it's phenomenal and I'm so happy to be a part of it. As I said I'm disappointed that I didn't contribute more this week, but you know, in two years' time, we'll go again and try to, obviously it's not over yet but we'll give it another go again. Sorry for swearing, as well.
"I love being a part of this team and I love my teammates so much I should have done more for them this week. I just can't wait to get another shot at this. It is by far the best experience in golf, and I hope little boys and girls watching this today aspire."
The respective teams will reassemble in two years time in Rome where the Europeans will be effectively on home soil and enjoy the luxury of a partisan crowd to urge them on just as the US fans had this week.
Rory McIlroy sets out today. His emotional interview (below) tells the story of what the Ryder Cup means to those involved – photo PGA of America
https://www.bruceyoungmedia.com.au/wp-content/uploads/2021/09/2021-US-Ryder-Cup-side.jpg
667
1000
Bruce Young
https://www.bruceyoungmedia.com.au/wp-content/uploads/2017/01/logo.png
Bruce Young
2021-09-27 03:37:16
2021-09-28 07:23:27
USA Outguns Europe in Landslide Victory