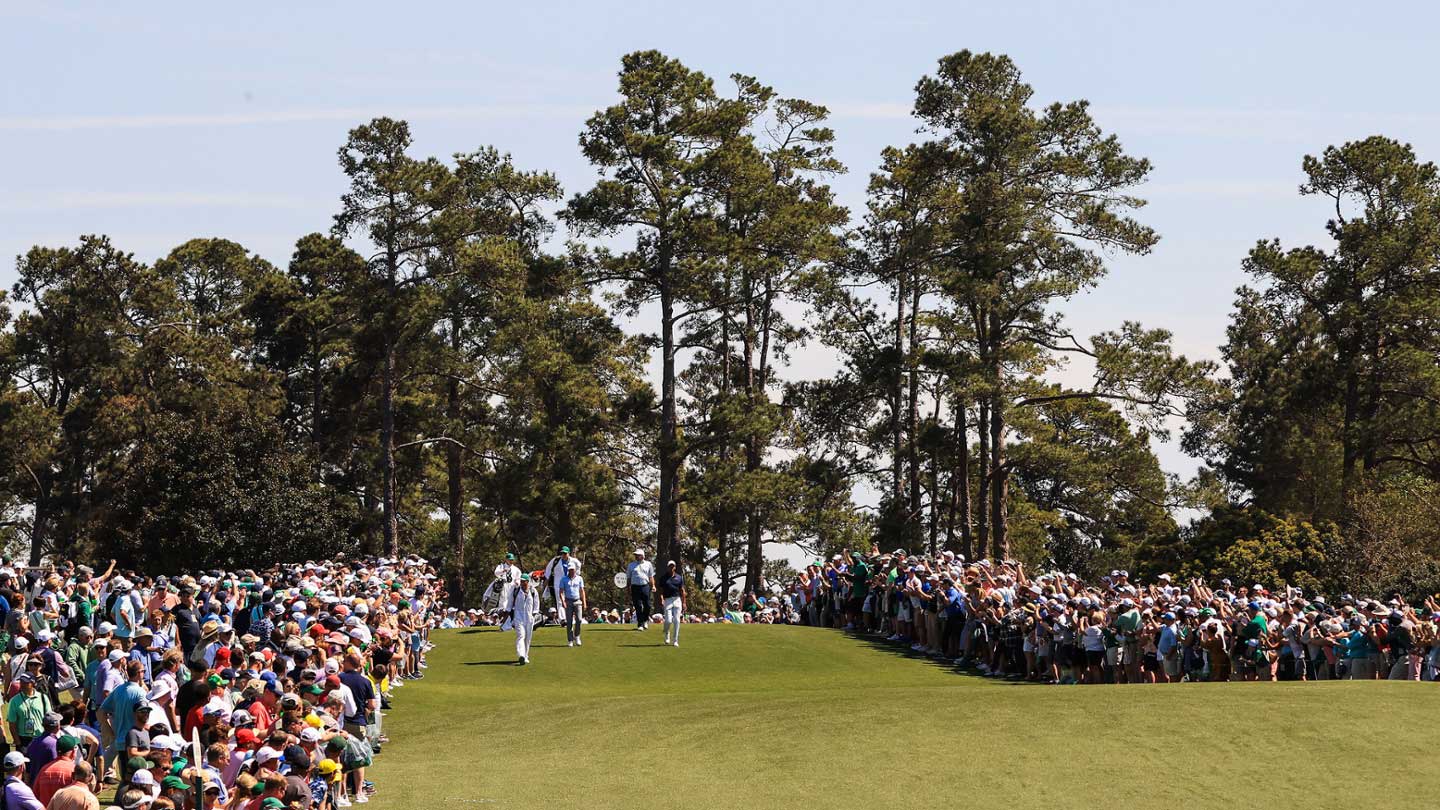 Even on Monday, huge crowds could not resist witnessing history – photo Sam Greenwood Masters
It was understandable that the hype surrounding Tiger Wood's appearance or otherwise in this week's Masters would dominate proceedings leading into the event and the crowds that flocked to witness a comeback equal to that of Ben Hogan following his life threatening injury in 1949 bore testament to that.
Monday's practice round saw crowds up to twenty deep following Woods, Justin Thomas and Fred Couples and while there is yet no lay down guarantee that Woods will take his place in the field on Thursday, all the signs suggest it will be the case.
Woods indication in his Tuesday media conference gave every hope that his involvement in the tournament would be sealed although he has left the door open for a last minute withdrawal. If he feels that his leg, which has undergone a miraculous recovery since the near death accident 14 months ago, is not capable of handling the intensity of four rounds over one of golf's more deceptively undulating layouts, he will withdraw.
"Well, as of right now, I feel like I am going to play, as of right now," said Woods. "I'm going to play nine more holes tomorrow. My recovery has been good. I've been very excited about how I've recovered each and every day, and that's been the challenge. That's why I came up here and tested it out for 27 holes because we play the par-3 course. Charlie couldn't help himself. I was able to play 27 holes that day and at home testing it.
"But it's the recovery. How am I going to get all the swelling out and recover for the next day. My team has been fantastic and worked very hard. So we've got another day of nine more holes and then – game time."
While Woods mania prevailed, six Australians, three of them debutantes, were going through their paces as they prepared for one of the game's most eagerly anticipated weeks.
Cameron Smith, Adam Scott, Marc Leishman, Lucas Herbert, Min Woo Lee and Cameron Davis represent Australia's challenge for a second Masters title for their country, Adam Scott's dramatic playoff win in 2013 giving hope that the seemingly impossible is not beyond the realms of possibility.
Jason Day is not in this year's field having been unable to play his way into the field but his runner-up finish on debut in 2011 gives hope to those inexperienced at Augusta National that a great week is not beyond them.
Cameron Smith begins the event as the favourite amongst the Australians to do well, not only because of his current form which saw him prevail in the PGA Tour's flagship event, The Players Championship three weeks ago, but because he and Augusta National seem to get along just fine.
Three top tens in five previous starts, including a 5th place in 2018 and a runner-up to Dustin Johnson in 2020, highlight the Queenslander's capacity to negotiate his way around a golf course layout that requires imagination and the short game to back it up. Smith's phenomenal run of par saves to keep himself in the mix in 2020 had to be seen to be believed.
"I think it (Augusta National) just allows me to be creative," said Smith on Monday. "Reminds me a lot of home, the sand belt courses, kind of firm and fast. You know, you have to be smart around here, too."
If he was to win this week Smith would become just the second player in history to win both the Players Championship and the Masters in the same year – not bad company.
"I mean, it's a pretty good name to have yours up against, isn't it, really. So I'm really looking forward to it. Course is magnificent. It's as good as I've seen it. I really can't wait for Thursday."
Scott will play his 21st consecutive Masters, beginning with an impressive debut of his own when 9th in 2002 and highlighted by the historic win in 2013.
"I'm not a bookmaker, but I think I've been playing generally well, and I really like playing here," said Scott when asked what odds he would be at if he was laying odds on his chances.
"I'm comfortable here. I've addressed a few things in my golf game that are moving in the right direction. At top level anything, it's fine lines between contending, winning, and being one of the top players in the world. There's no reason why, if I find a nice rhythm out on the golf course this week, I can't be right there at the end on Sunday."
Scott took time on Monday to show his fellow countryman and first time Masters entrant Min Woo Lee around but he reminded the press that he was not about to complicate the West Australian with information.
"No, far from it," added Scott. "I told him I showed up here (on debut) didn't know anything, and finished ninth. It's not that hard. Just go out and play golf.
"I get it is an overwhelming experience being here. Today is the first kind of day of Masters week, and Min's played a couple times already. It's good. He's got the next three days to kind of get comfortable, and that's all I can really tell him to do.
"I don't know his game, so that's about it. He's just got to figure a way to get comfortable for Thursday. I'd be surprised if he's not the most nervous he's ever been on the tee on Thursday."

Adam Scott playing his 21st Masters and Min Woo Lee on debut practice on Monday – photo Sam Greenwood Masters 
Marc Leishman has also enjoyed some good results at the Masters, more especially in recent years although he did finish 4th behind Scott in 2013. His 5th place last year was also impressive and he arrives at Augusta National with solid if unspectacular form in 2022.
"Who knows if I will or not (win), but I just love the moment of when you're here and you're on that back nine on Sunday and you've got a chance to win," said Leishman. "I feel like I thrive in that moment.
"I've played well in that position before, just haven't played well enough to leave here with that green jacket. I enjoy it. I have fun with it, and I don't put too much pressure on myself, and I think that's important for me.
"My driving has improved a lot, which I think it had to to contend in these consistently. So I'm driving it, hitting it a little longer and a little straighter, which is always nice. Just all around it's been good, my putting's been good. My iron play is sort of the same as how it has been.
"Yeah, I'm excited about what could potentially happen this week, and hopefully I can play good and see how it goes."
Lucas Herbert gets his chance courtesy of his world ranking and as a result of his win on the PGA Tour late last year. His progress in world golf over the last eighteen months has been staggering and he appears ready to take the next step.
Herbert's recent 7th place finish at the Arnold Palmer Invitational suggests his game is in good shape and, as a player prepared to back himself against the highest level of the game, he may well surprise with a very good week.
Min Woo Lee is in the field as a result of finishing just inside the top 50 in the world at the end of 2021 and although he has now slipped to 59th he is one of the most exciting prospects for the future of Australian golf.
Lee's form in PGA Tour events in 2022 has been well below his capabilities and he has a big task on debut here this week but he will feature in the years ahead especially with the experience he gains on debut.
Cameron Davis is in the field courtesy of his PGA Tour win in mid 2021 and the former World Amateur and Australian Open champion oozes class.
Davis began 2022 well when 10th at the Sentry Tournament of Champions but there has not been much to get excited about since and like Herbert and Lee, he will be better for the experience of a debut appearance at Augusta National.
"I've been out yesterday and today, and it's so nice to see the course set up like this," said Davis. "I had a hit a couple of weeks ago, and it was a little slow, but seeing it at tournament speed has really brought the course alive. It's a lot of fun."
If Davis gets nothing else out of the week, that he got to play with Tiger Woods in a practice round on Sunday is an experience he will never forget.
"Yeah, yesterday. He ended up behind me and just joined up with me because it was a little slow in front of us. Yeah, trying to pick his brain a little bit, but at the same time, just enjoying being in his presence. I've met him a couple times. It was the first time I've played any golf with him.
"That was an enjoyable first go round here tournament week. No fans or anything, just quiet. I hit with Tiger. It was nice."
In summary, Smith, Scott and Leishman all have a chance of contending on Sunday with Smith's Augusta National record and his current form making him the best chance of the Australians, on paper at least. Herbert appears the best of the Australian debutantes.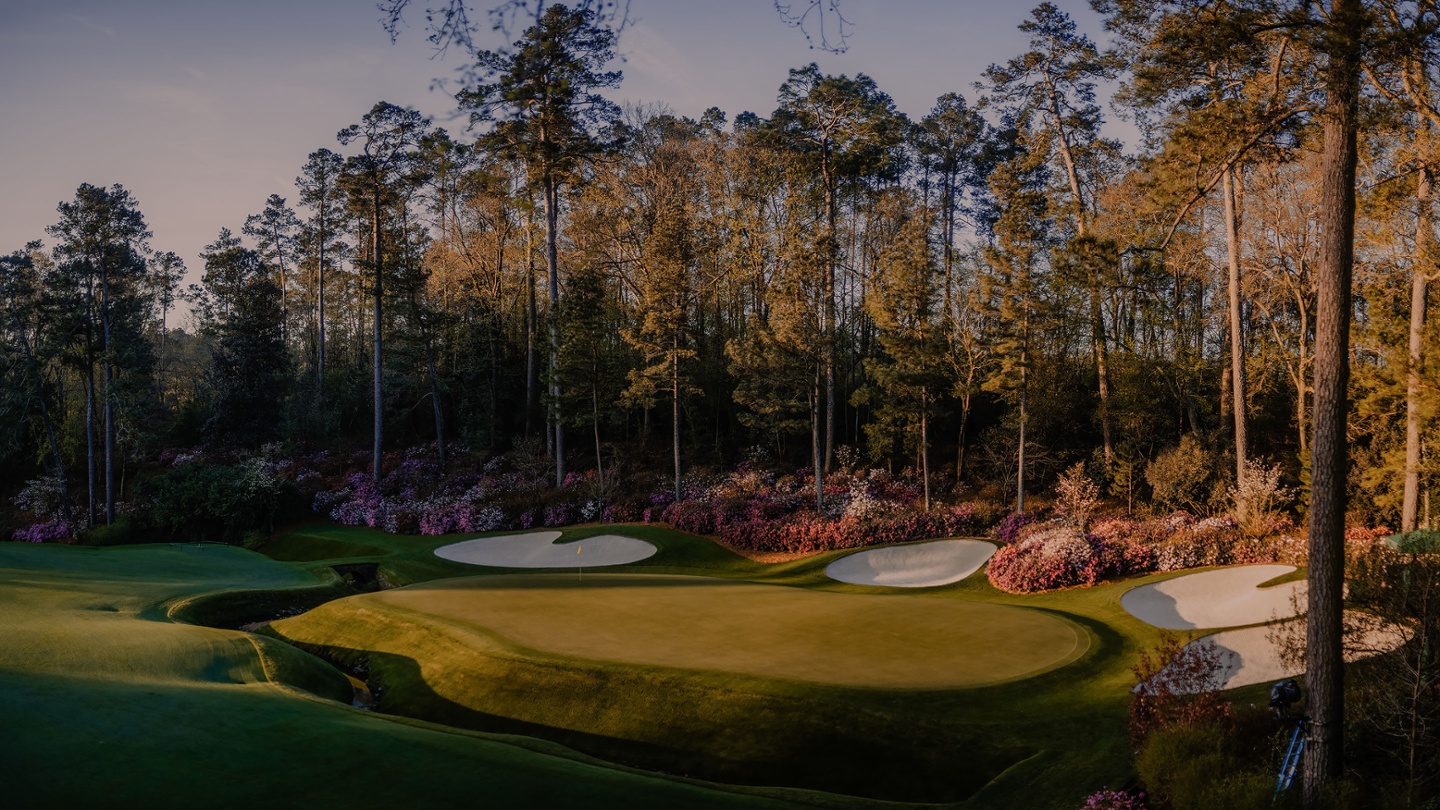 The iconic 13th hole earlier this week – photo Sam Greenwood Masters
https://www.bruceyoungmedia.com.au/wp-content/uploads/2022/04/Monday-crowd.jpg
810
1440
Bruce Young
https://www.bruceyoungmedia.com.au/wp-content/uploads/2017/01/logo.png
Bruce Young
2022-04-05 23:30:18
2022-04-06 03:23:52
Tiger factor dominates as six Aussies prepare at Augusta