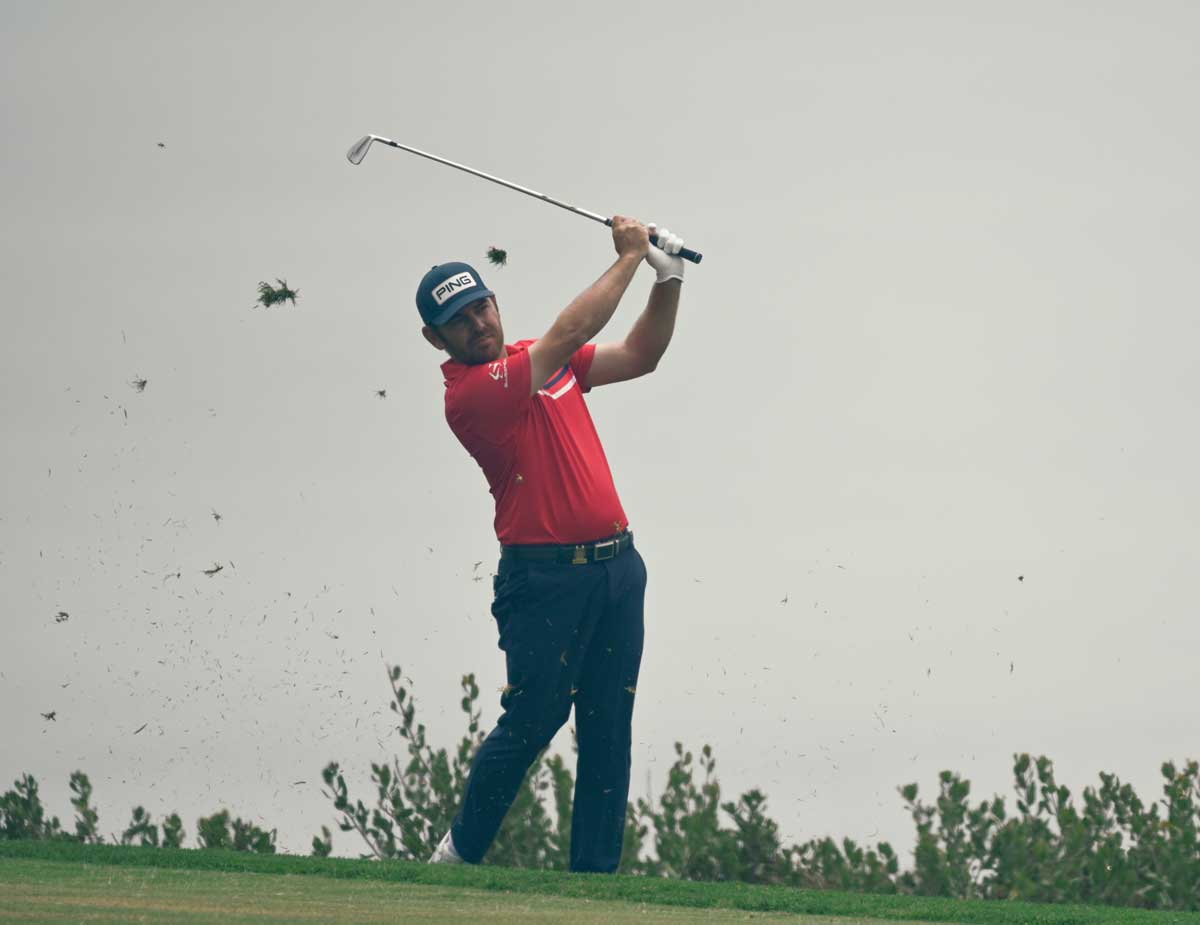 Louis Oosthuizen – photo USGA Kohjiro Kinno
20 players are within five of the 54-hole lead at the US Open at Torrey Pines and as they head to their various hotels rooms ahead of tomorrow's final round, each and every one of them will feel that they are just one low round from a possible US Open title.
South Africa's Louis Oosthuizen, Canadian McKenzie Hughes, and the man who has either led or shared the lead after each of the three rounds to date, American Russell Henley, share the lead at 5 under, two shots clear of previous US Open champions, Rory McIlroy and defending champion, Bryson DeChambeau.
But, with the likes of major champions, Collin Morikawa, Dustin Johnson and Brooks Koepka all within a maximum of five of the lead then tomorrow promises much for anyone capable of fashioning a round in the mid 60's to come from behind and win.
Oosthuizen, the 2010 Open Champion, holed a 50-foot putt for eagle at the final hole today to join Henley and Hughes in the lead and although Henley might well have stolen the outright lead over his final two holes, he eventually did well to save par at the last to remain in a share of the lead he has held since his opening round of 67.
Oosthuizen had also shared the opening round lead, but he entered today's final round one behind the pairing of Henley and England's Richard Bland. Although he was four off the lead of Henley through ten holes of his round, the South African's powerful finish saw him join the lead.
Perhaps buoyed by his experience in finishing runner-up on five occasions in major championships since his win at St Andrews in 2010, Oosthuizen explained his ongoing approach to major championships.
"Definitely a lot more patient than what I was when I was young," said Oosthuizen. "I think I was too dumb really when I won the Open to get nervous and to know what was going on. I was playing great golf in 2010, and I love St. Andrews, and the golf and the golf course sort of — I took a lot of it — that week had a lot of confidence that week.
"Playing it in 2015 five years later (he lost a playoff) I was a little bit more cautious around the golf course knowing where you shouldn't go and how to play the course. So you definitely grow playing major championships. The more you play, the more you learn something about how you play in those tournaments.
"I mean, look, the two that really hurt was the playoffs. That's so close to winning. I lost to a great golf shot in 2012, and in '15 I probably had an opportunity. I missed a short putt on the 17th in the playoff. Those ones take a little longer to get over.
"You know, the other ones, just good weeks and good results. Could have been better but taking more positive out of it than anything else.
"But I need to go out — there's a lot of great players up there that's got a chance of winning this, and I just need to go out and play as good as I can tomorrow."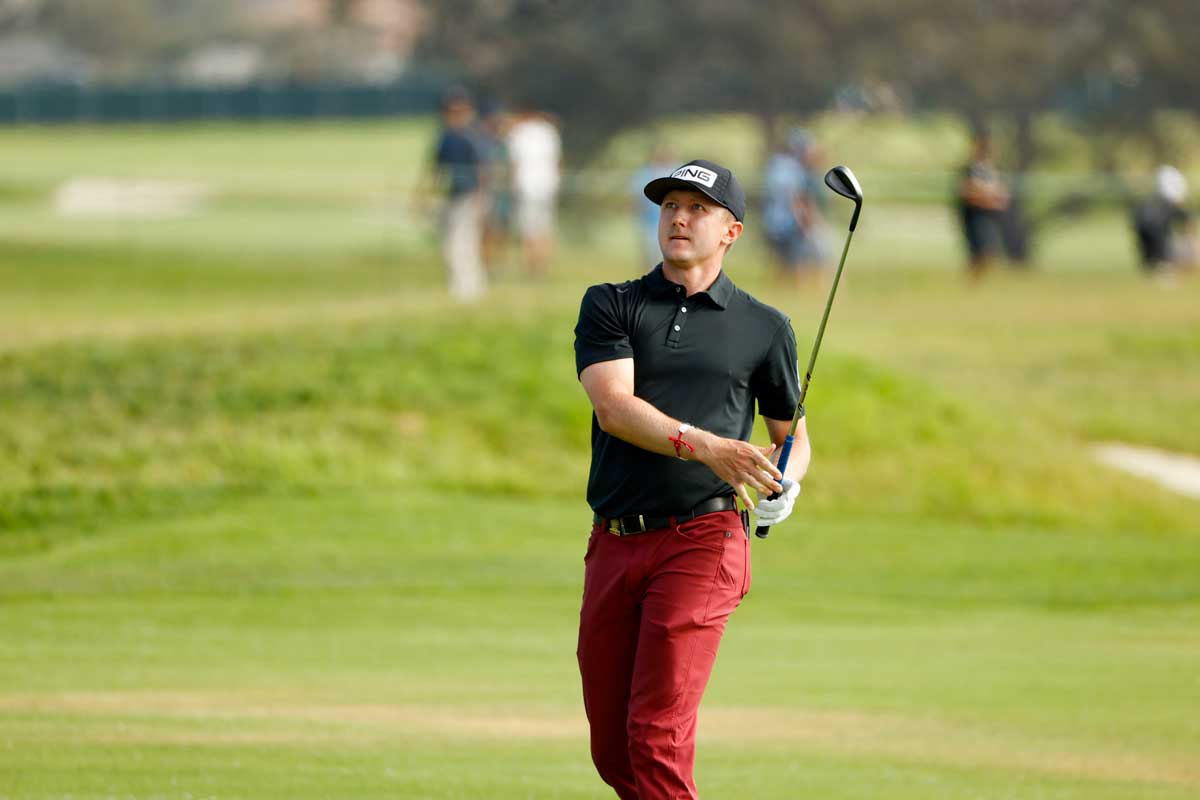 Mackenzie Hughes – photo USGA Chris Keane
You could be forgiven for thinking there were question marks over the form reversal of two of the joint leaders, Henley and Hughes, Hughes having missed his last five cuts on the PGA Tour and Henley finishing no better then 70th in any of his last four starts.
Hughes has won once and been runner-up twice on the PGA Tour, but that victory came more then five years ago. He wasn't letting his recent form slump get in the way of his attitude for tomorrow's big test and his form reversal was not as surprising to him as others.
"I wouldn't say surprising. I don't think I'm ever surprised when I play well. I wouldn't say I necessarily expected to be in the last group this week, but I know that my game is good enough to win on the PGA TOUR. I've done it before.
"This is a bigger stage, but again, it's the same — you do the same things. It's an 18-hole golf course and 72 holes, so I just need to do a lot of the same things I did to win that tournament, and I'll draw back on some of those experiences, but yeah, I'm excited for where I'm at and for the round tomorrow.
"You get goosebumps thinking about it, so I know I'm going to be nervous tomorrow. I essentially played today around the lead all day. I think I was only ever a few back the entire day, so it felt — I think it'll feel different tomorrow being in that last group, but you do the same things. You mentally tell yourself the same things, and I'll be referencing my yardage book and my notes a lot."
Russell Henley – photo Jeff Haynes USGA
Henley's round of 71 was impressive given the circumstances and that he hit only 43% of fairways in round three.
"I didn't hit it quite as well on the back, but never been in that situation before, so overall I felt pretty comfortable and excited to play tomorrow," said Henley.
"It definitely wasn't a perfect back nine, but hit a lot of good shots, a lot of good recovery shots. Felt like I was thinking well. Just a little better execution. Definitely capable of playing better, and I think I can do it, and we'll see.
"I think my ball-striking has gotten progressively better since I've been on Tour, and my putting had gotten worse. And so I've started working with Ramon Bescansa on my putting, and I think I was like 190-something in putting a couple years ago in '19, and this year — I'm not as good now, but about four or five tournaments back I think I was around the top 50.
"So, my putting is better. I feel like I'm still hitting it pretty well, and I feel like I've just spent a lot more time on my short game, chipping and just bunker shots, everything. Just spending a lot of time doing it. I spend a lot of time at home with Larry Mize in Columbus, Georgia. We do a lot of chipping contests and I've learned a lot from him out of the bunker.
"I would say just a combination of everything. I've gotten a little bit stronger in the gym. I've been working with trainer the last year and a half and feel like I'm playing with no pain in my back like I kind of was a little bit in '19. Everything feels a little bit cleaner, and I feel a little bit more confident about everything. We'll see what happens."
Adam Scott took over as the leading Australian with a round of 71 to be tied for 31st, three ahead of Wade Ormsby and Marc Leishman and now six ahead of the 36 hole Australian leader Matt Jones who slumped to a round of 79.
Adam Scott leads the Australians – photo USGA Jeff Haynes

https://www.bruceyoungmedia.com.au/wp-content/uploads/2021/06/Louis-Oosthuizen-USGA-Kohjiro-Kinno.jpg
925
1200
Bruce Young
https://www.bruceyoungmedia.com.au/wp-content/uploads/2017/01/logo.png
Bruce Young
2021-06-20 01:54:15
2021-06-20 08:02:32
Three way tie for US Open lead