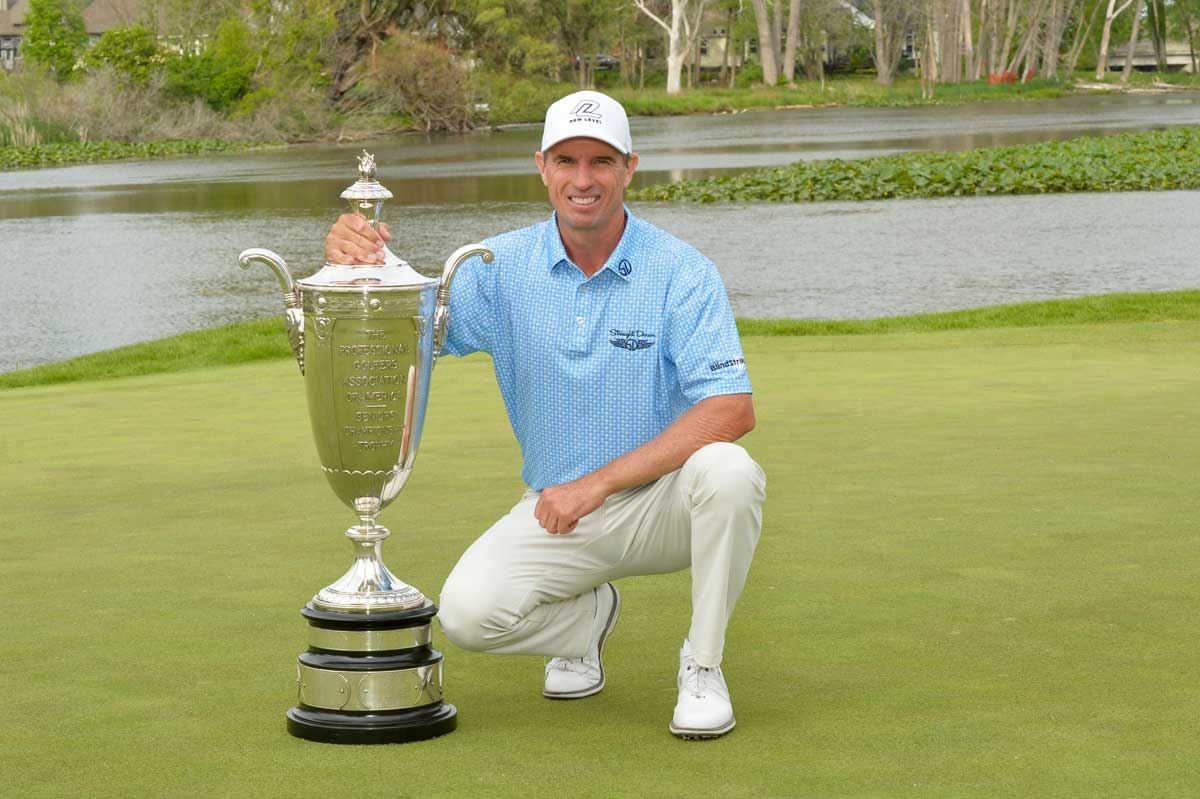 Steve Alker with the trophy for his biggest win in the game – photo PGA of America
New Zealand's Steve Alker today won his 4th PGA Tour Champions event in his last eleven starts, the difference this week being that this win was a major and the cheque for US$630,000 takes his earnings in just nine months on the PGA Tour Champions to a massive US$2,615,000.
Alker's earnings in 2022 alone total US$1,820,000, more than US$700,000 ahead of the next best, Miguel Angel Jimenez.
Alker's final round of 63 at the Senior PGA Championship at the Harbor Shores Golf Club in Benton Harbor in Michigan was set up with seven birdies in his first eleven holes and, despite a bogey at the 7th, when he added further birdies at the 15th and 16th he had a comfortable cushion to carry him to a three shot victory.
Alker began the final round four shots off the lead of Canadian Stephen Ames but just as he has in nearly every event he has played since joining the PGA Tour Champions as a Monday qualifier in August of 2021 he was relentless as he chased down not only Ames but also Bernhard Langer and Mike Weir.
After his round Alker was asked as so many have asked in recent months just were he had been all of his career.
"How long you got?" responded Alker, jokingly. "Basically, you know, I played a lot of different sports growing up and I love soccer and I wanted to play soccer about you golf just took over time-wise. Dad played. That's going to be my career, that was it. I decided when I was young that was it.
"But started in the islands and Australasian Tour and did my heart yards down there and then I decided to do go Canada and try my luck there and went to America, as well, tried some qualifiers and things like that. Then got some BUY.COM status and nearly got my card in 2002, I think it was. BUY.COM and straight on the PGA Tour.
"It happened really quick, those two or three years, like wham. I had some pretty good form and feeling good. And then, you know, I just didn't get it done out there. So just perseverance. That's all I can say. Just perseverance with a capital P."
"I can't put my finger on one thing exactly," he added when asked the reason for the success. "You know, I look back and I go, geez, did I really have the game or did I have the attitude? You know, certain courses suited me out there. But I couldn't really put my finger on it exactly.
"I think right now, I've matured and it's a second wind. That's the biggest thing, I've had these 18 months, two years, 50s coming up, so let's stay in shape. Let's keep playing. We have a second career. Let's go for it. Let's go."
The question of the money was raised and how nice it is to be picking up such big cheques now.
"It helps. You just think of — I've got a couple teenagers, college coming up, just take a deep breath and relax a little bit. There are so many people that have helped along the way and the support I've had has been amazing.
"But yeah, it's nice to have a few dollars. For me, ultimately, to be out here and just challenge for golf tournaments, there's no better feeling than winning.
"It's a full field this week. Got a mix of PGA players and four rounds, players from all over the world, and just very honored. It's an amazing trophy, you see the names and you choke up a little bit. It's pretty cool."
Australian Mark Hensby recorded his best finish on the PGA Tour Champions when he stormed home over the weekend with consecutive rounds of 67 to finish in a share of 8th.  Hensby, a former PGA Tour winner and Presidents Cup team member, actually recorded three rounds of 67 but a second round 75 cost him dearly although he still earns a cheque for US$85,000
Mark Hensby – impressive 8th place – photo PGA of America
https://www.bruceyoungmedia.com.au/wp-content/uploads/2022/05/Steve-Alker-trophy-Sr-PGA-Mopntana-Pritchard.jpg
799
1200
Bruce Young
https://www.bruceyoungmedia.com.au/wp-content/uploads/2017/01/logo.png
Bruce Young
2022-05-29 23:40:11
2022-05-30 09:25:43
Steve Alker adds major title to his impressive record