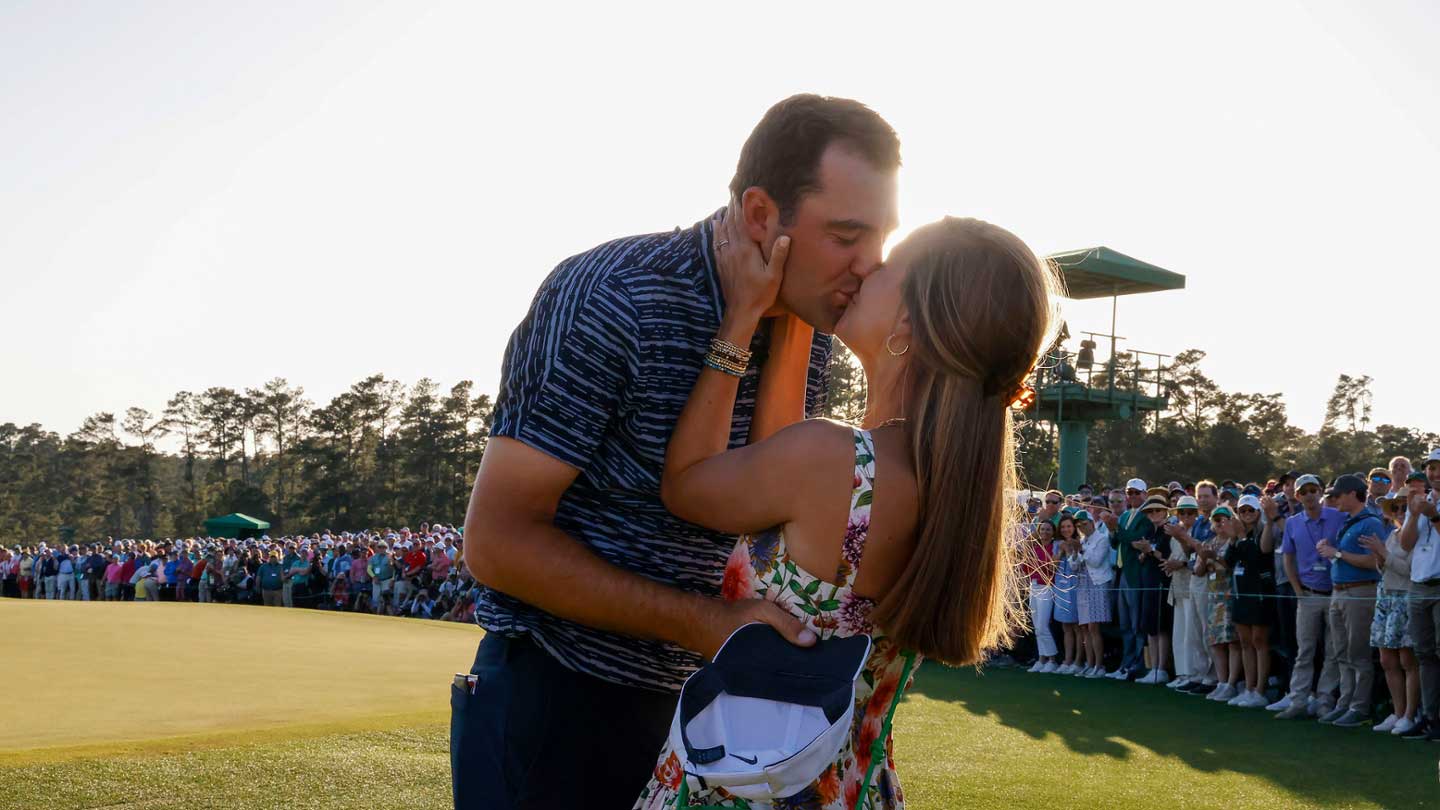 Scheffler and wife Meredith embrace after his historic win – photo Hunter Martin Augusta National
Scottie Scheffler has confirmed and consolidated his standing as the number one player in men's golf with a three-shot win over Rory McIlroy at the Masters to win his fourth PGA Tour event in his last six starts and claim his first major title.
Scheffler took a three shot lead into today's final round and although that lead was reduced to one when his nearest rival, Cameron Smith, opened with two birdies, a stunning hole out for birdie from below the green at the 3rd, re-established the cushion when Smith took bogey from a similar position.
Smith lost further ground but birdied the difficult 11th to reduce the margin to three once again but there is a fine line between pleasure and pain at Augusta National and Smith was about to experience the worst of pain when he dumped his 9 iron into the water at the 12th, pitched long after taking a drop and then took three more to get down.
"Just a really bad swing at the wrong time," said Smith when asked the reason for the poor shot at the 12th. "It was actually a really good number. It was a really nice 9-iron. Wasn't even trying to go near that pin, and, yeah, just a really poor swing.
"I was obviously very frustrated after the 12th hole today, but just hung in there and tried to finish off on a positive."
The triple bogey was a stab to the heart and, all of a sudden, Smith was five behind the leader. Failing to get up and down for birdie at the par 5, 13th was another missed opportunity to regain lost ground for the Queenslander."
Smith would drop a further shot at the 14th but to his absolute credit he hit a fine 7 wood second to the 15th and two putted for birdie then holed from 25 feet behind the hole at the 16th for another.
Scheffler, though, was making no mistakes and ahead on the golf course, it was McIlroy who was completing a final round of 64, one of the finest bunker shots of all time rounding out a finish that would see him leap into outright second place.
Scheffler birdied the 14th and 15th and when he arrived at the 18th tee he was five ahead of McIlroy who had finished 50 minutes earlier.
When the leader found the green with his second from the right hand rough, a huge winning margin appeared assured. Almost inexplicably he would four putt the last for a double bogey six and, although the winning margin was reduced to three, it flattered the chasers to a large extent and Scheffler was a comfortable winner.
He was asked whether he had allowed himself to imagine walking up the last with the lead he responded;
"Definitely throughout the round today when I built up a little bit of a lead, I didn't want any stress towards the end of the day, and I didn't break my concentration until we got on to the green on 18. Once we got on to the green, I was like, all right, I'm going to enjoy this, and had some fun with it.
"I really don't know what to say. It was definitely nice to build up a lead. Nothing is safe out there on the back nine on this golf course. I've heard all the things that everybody says, it doesn't start till the back nine on Sunday, anything can happen, don't hit in the water on 12, all the stuff. You know, I just blocked most of that out and tried to execute and hit good golf shots.
"I don't think anything has sunk in at the moment. My head is skill kind of spinning. I was so focused for so long this week. Major championship golf is brutal and especially around a golf course like this and the conditions we played it in; you can see the scores, this golf course was not playing easy this week.
"It was such a mental grind and you know winning this golf tournament, I'm so humbled to be here. I was just — I'm just glad to be a part of the field. I'm glad to be able to come out here and have a chance to compete. To be able to win this tournament, I can't say enough about it."
For Smith it was a disappointing finish to what at times appeared a possible first major title but he would add to his already fine record at Augusta National where he has now recorded a runner-up, a 3rd a 5th and 10th place finish in six starts.
"I feel like I've played some of my best golf around here," added Smith. "It's quite frustrating, I guess, to not walk away with a win yet, but at the same token, I look forward to the challenge of coming back here next year and trying to do it again.
"I feel like I hung in there tough a couple of days. Friday, I feel it probably could have got away from me a little bit, and then again this afternoon, so it was good, mate. My game feels really good. I feel really confident in my game. I feel really comfortable around here.
"I love this place. I'll be back here next year and trying to put up another one."
He might not have won today but his record speaks for itself and a Green Jacket must surely be part of his future.
Smith is likely to improve two places to 4th in the world ranking when the revised standings are released later today.
McIlroy has seldom been more excited on a golf course than he was after holing his bunker shot at the last.
"It's what you dream about, right? You dream about getting yourself in position. I wasn't quite close enough to the lead, I don't think. Scottie is playing really, really well. To play as well as I did today and then to finish like this, I mean, it's just absolutely incredible.
"This tournament never ceases to amaze. Yeah, that's as happy as I've ever been on a golf course right there. Just having a chance, and then with Collin, we both played so well all day, and for both of us to finish like this, I was just so happy for him too.
"That was an incredible — I've never heard roars like on the 18th green. It was really cool.
"I gave it a great go, and I can't ask any more of myself. I went out there today, shot my best ever score at Augusta, and I'm probably — it's going to be my best finish ever. Probably not quite good enough, but I'll come back next year and keep trying."
Min Woo Lee was the next best of the Australians when finishing tied for 14th on debut following an even par round. It was a very impressive start to his Masters' career and irrespective of what happens over the next twelve months he is assured of a return to the Masters in 2023 because of his top 16 finish.
"Yeah, coming into this week I wasn't, obviously, playing that well," said Lee. "So this place gets you on another level just because you're in front of millions of people and you need to play good. There's some demanding shots out here, and it makes you kind of reverse psychology and tell yourself you just have to commit to it. If you have a bad swing, you have a bad swing, but you just have to commit to every shot out here.
"I guess I didn't feel that good with the putter, and the last couple of weeks I think I improved strokes gained on the putter a lot. So really positive vibes there. I'll take a few weeks off now and work on a couple of things, but maybe a little celebratory drinks with the team tonight."
Marc Leishman shared 30th, Cameron Davis 46th and Adam Scott 48th.
Scheffler arrives at the 72nd hole – Scott Brown Augusta National
https://www.bruceyoungmedia.com.au/wp-content/uploads/2022/04/Scottie-Scheffler-and-wife.jpg
810
1440
Bruce Young
https://www.bruceyoungmedia.com.au/wp-content/uploads/2017/01/logo.png
Bruce Young
2022-04-11 00:50:23
2022-04-13 05:03:24
Scheffler claims first major with three shot victory