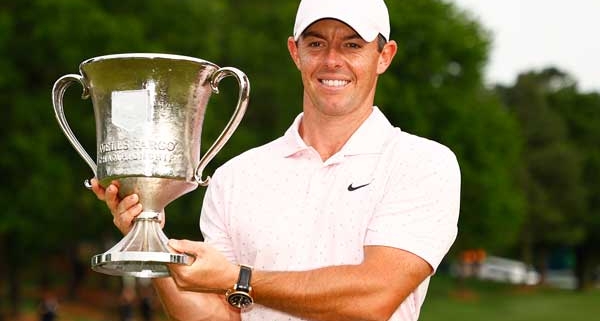 Rory McIlroy – with a much awaited 19th PGA Tour trophy – image Getty Images Jared Tilton
32-year-old Rory McIlroy has won his third Wells Fargo Championship eleven years after his first, with a narrow one shot victory over Abraham Ancer at the Quail Hollow Golf Club in Charlotte in North Carolina.
McIlroy managed to secure the title despite a possible disaster at the final hole, being forced to take a drop from the penalty area to the left of the fairway before hitting a magnificent recovery shot from an awkward lie to 40 feet and two putting for bogey and his 19th PGA Tour title.
It was McIlroy's first PGA Tour victory and his first anywhere in eighteen months and the relief he displayed was palpable.
"I mean, yeah, relief that I've won again," said McIlroy. "Relief that my season I feel is sort of back on track, and more just satisfaction at the journey that I'm on and the process that I've been going through to try to get back to this point.
"There's been a lot of hard work. I've put my head down, I haven't really looked too much in either direction, I've just tried to do what I need to do. You know, for a couple of months there, all that hard work seemed like it was not really getting anywhere, wasn't providing me with much.
"I didn't even think I was going to tee off in this tournament Wednesday night," said McIlroy referring to an injury he incurred on Wednesday.
"Then even if I had had a morning tee time on Thursday, I probably would have pulled out because I hurt my neck on Wednesday afternoon and couldn't make a backswing. It just sort of, everything aligned.
"I was off on Thursday afternoon, so I got enough treatment so that I could play and then progressively got a little bit better as the week went on. Yeah, it's just amazing how these little things, they all add up. Yeah, it's so cool to be able to win here again, see some of the hard work that I've put in over the past couple of months finally start to pay off.
"This place has been good to me. Ever since I first set eyes on this golf course, I loved it from the first time I played it, and that love has sort of been reciprocated back. I've played so well here over the years.
"I think this is the first time I've ever won an event for the third time, so that's pretty cool to do it here."
McIlroy looks ahead to the PGA Championship at Kiawah Island in two weeks' time, a title and at a venue where he just so happened to win by a massive eight shots in 2012.
"Obviously I played really well there last time. I'm honestly not sure whether they've made any changes to the golf course since, but I'll go up there and try to do my homework and re-familiarize myself with the layout a little bit.
"But yeah, it's certainly great timing. This is obviously a huge confidence boost going in there knowing that my game is closer than it has been. So it's still — I mean, I'll be able to poke holes in everything that I did today, it's certainly far from perfect, but this one is validation that I'm on the right track."
As one of the more charismatic and exciting golfers to watch in world golf, having Rory McIlroy back winning events is a great boost for the game as he looks to add to his total of four majors, all of which were achieved by the age of 25.
Mexico's Ancer recorded his 4th runner-up finish on the PGA Tour and while yet to win, the former Australian Open Champion keeps knocking on the door.
He too is looking forward to the PGA Championship. "It gets me pumped up knowing I'm performing well on golf courses that are big venues," said Ancer. "You've got to hit it out there. Tournament or sorry major kind of venues, Kiawah's just a couple weeks from now and that's a big golf course as well. I'm pretty pumped to see how my game stacks up out there. This gives me a lot of confidence, for sure."
Cameron Davis did best of the Australians when he tied for 26th but four dropped shots in his last three holes cost him a lot of money having been in line for a potential top ten finish prior to that.
https://www.bruceyoungmedia.com.au/wp-content/uploads/2021/05/Rory-mcIlroy-Wells-Fargo-2021-Getty.jpg
497
600
Bruce Young
https://www.bruceyoungmedia.com.au/wp-content/uploads/2017/01/logo.png
Bruce Young
2021-05-10 00:02:00
2021-05-10 00:25:52
Rory McIlroy wins again at Quail Hollow