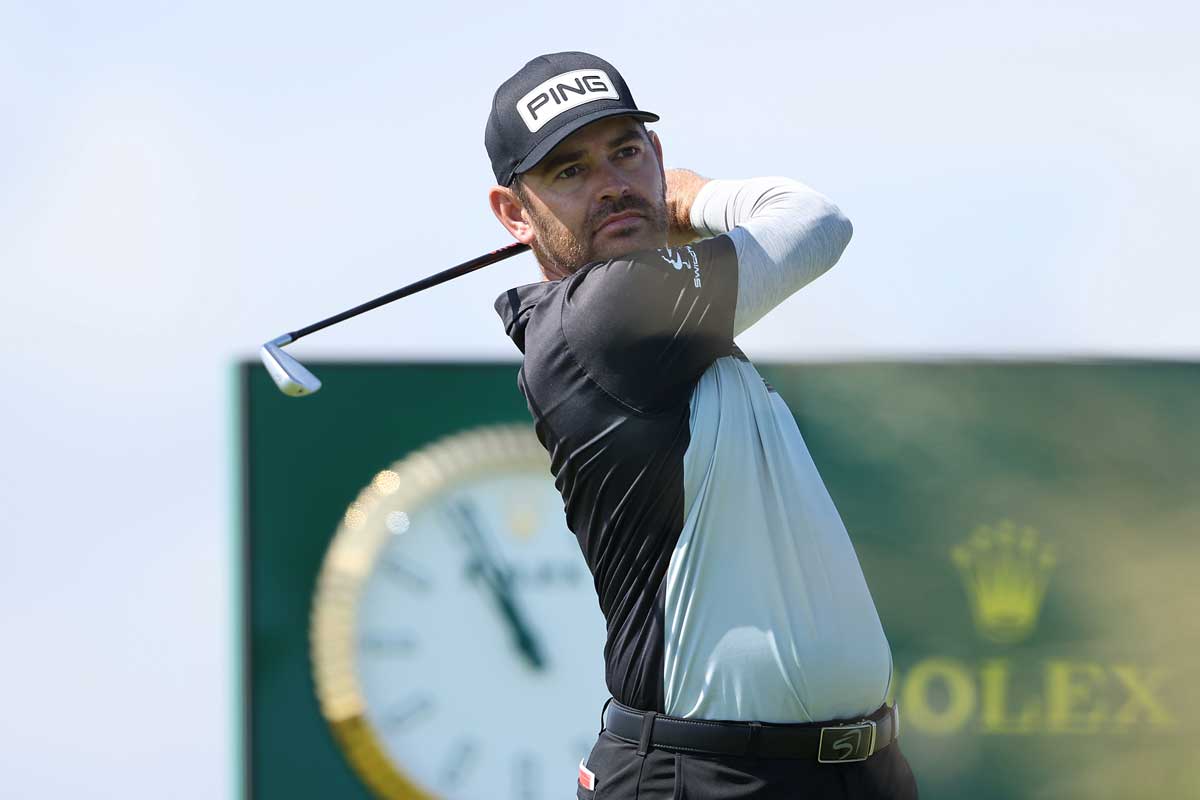 Louis Oosthuizen – his brilliant start has him one ahead – photo Warren Little R&A via Getty Images
South African and 2010 Open Champion, Louis Oosthuizen, birdied six of eleven holes through the middle of his opening round of 64 at the Open Championship at Royal St Georges and leads after day one by one shot over Americans Jordan Spieth (2017 champion) and Brian Harman.
Oosthuizen suggested after his round that his performance was near perfection, not only because of the number of birdies but because it had also been near mistake free.
"It was probably in my mind the perfect round I could have played," said the 38 year old who served notice of a potentially great week with runner-up finishes at the recent PGA and US Open Championships.
"I didn't make many mistakes. When I had good opportunities for birdie, I made the putts. So yeah, just a very good solid round.
"I was just very patient. I was trying to just hit my shots and didn't really hit anything close enough to make birdies those first few holes, and then all of a sudden just made two good putts on 8 and 9 and got the ball rolling. It happened quickly, but you still need to put yourself in those positions, and I felt definitely the last 10, 11 holes I gave myself a lot of opportunities."
13 Australasians teed it up on Thursday and it would be New Zealander, Ryan Fox, who did best. His round of 2 under 68 including four birdies and two bogeys. Fox has played just nine European Tour events to date in 2021 although he did play well in several lesser events in New Zealand earlier in the year and his most recent form in Europe had been encouraging enough.
Fox is playing Royal St Georges for the first time this week but he does boast some good results on links golf courses in Britain and performed well at the last Open Championship in 2019 at Royal Portrush.
Earlier in the week Fox suggested his lack of knowledge and previous experience at Royal St Georges was not a real concern.
"Me personally, no. I just play it how it comes. Obviously, we get very, very good yardage books, and I might talk to a couple of people that have played the course and ask what they think of it or what stands out in their mind about the golf course, but in terms of actually doing proper research, I've tried it a couple of times, I've found it never really did anything for me, so I didn't bother."
Cameron Smith leads the eleven Australians after day one but was required to build on a relatively slow start to finish the day at 1 under and five from the lead.
For Smith he struggled through his opening few holes but he was doing enough to make the turn in even par before adding birdies at the 12th and 15th and a bogey at the 15th.
Playing with Rory McIlroy and Patrick Reed Smith again showed his capacity to fight his way to a good score.
"Yeah, it was a bit scratchy at the start I guess," said the Queenslander. "Just awkward wind for me, that down and off to the left kind of wind has always been a struggle of mine. I knew going into the first hole that those first four holes are that wind, and to get through those four level par I thought was a pretty good effort.
"From there it was just really solid stuff, not many silly mistakes. Bogey there on 15, bit of a poor drive leaked to the right. But that's just links golf. Hit a lot of good shots coming in and probably wanted one more, but that's how it is.
Lucas Herbert is at even par and the second best of the Australians to date. Herbert's morning round started with a double bogey at the first and by the turn he had dropped one more shot so needed to regroup and that he did with four birdies in his first five holes of the back nine to be in red figures before a bogey at the 15th and eventually a round of even par 70.
"It was good," said the recently crowned Irish Open Champion. "I felt like I was half asleep the front nine. Just three weeks in a row now playing, and then not that it was a super early tee time, but just setting an alarm, just, yeah, felt like I was half asleep until the back nine and then things started to kick off and got myself back into it.
"The traffic (coming here) was horrific this morning. We had to get a police escort in the end to get here and I was still really late, which is pretty much how I operate anyway. Yeah, being later than normal, sort of a bit of rush around to hit shots and get ready and feel like I was ready to go. Yeah, that might have — might not have helped with that slow start, so tomorrow try and keep that on time."
Brad Kennedy's effort to finish at 1 over 71 and as the third best of the Australians after round one was particularly impressive given his indifferent form to date in 2021. In his last eight starts Kennedy has recorded only one finish inside the top 30.
"I played really consistent throughout the day and managed to make a birdie on 14," said Kennedy. "Yeah, just stayed patient and just really tried to play a bit of British Open golf. Just centre of the green and yeah, just try and make my way from there.
"I've just got to really try and work on staying disciplined off the tee, giving myself those chances from the tee and start to — not so much push but just really try and shape it in and let the greens do the work."
The day was not so good for three of Australia's leading players. Adam Scott had 73 while Marc Leishman and an out of sorts Jason Day had 75.
Last week's Scottish open winner, Min Woo Lee, was out early and made a very impressive start just four days after his most significant win of his golfing career to date.
Making the turn at 1 under Lee bogeyed the 12th but was still nicely placed before a disastrous triple bogey at the 15th was followed by a bogey at the 12th and a very good start to the event was gone.
"It wasn't actually too nerve-racking for my first major," said Lee after his round. "I think if you're well prepared, I think you should be fine. But I think for my first major I handled myself pretty good other than that one hole.
"On the last hole I was mentally drained. I think I got a bit caught up in just the golf round. I won last week; I should be happy. But I'm going to enjoy this afternoon off and hopefully play well tomorrow. I've got not too much pressure on my back, and it was very nice to get that win."
https://www.bruceyoungmedia.com.au/wp-content/uploads/2021/07/Louis-oosthuizen-day-one-Open-RSTG.jpg
800
1200
Bruce Young
https://www.bruceyoungmedia.com.au/wp-content/uploads/2017/01/logo.png
Bruce Young
2021-07-15 20:23:27
2021-07-15 20:29:43
Oosthuizen leads Open – Ryan Fox heads Australasians