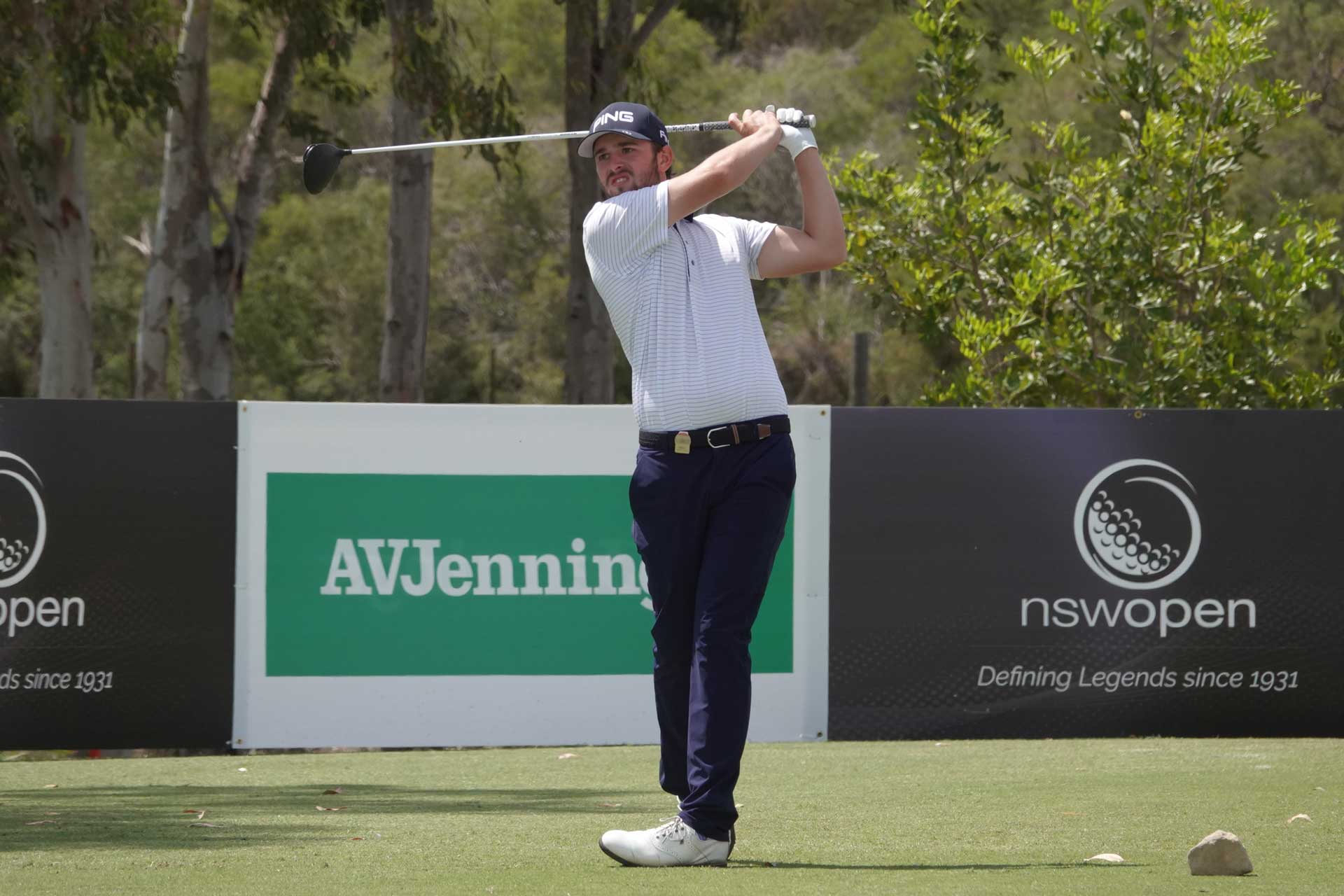 Harrison Endycott – file photo
The three Australians who attempted to gain improved status on the Korn Ferry Tour this week have failed in that quest, Jason Scrivener, Harrison Endycott and Justin Warren all finishing outside the all important top 40 who would earn at least eight guaranteed starts on the Korn Ferry Tour in 2022.
Scrivener and Warren had played their way into the final via Stage Two qualifying while Endycott finished 81st in the Korn Ferry Tour in 2021 and played the Qualifying Final as a result.
All three now have conditional status on the Korn Ferry Tour in 2022 and are likely assured of the occasional start via attrition but they are also eligible to attempt Monday qualifying for each event although as can be imagined that is very much a hit and miss affair.
Endycott will likely get a few additional starts to his fellow Australians because of his Korn Ferry Tour standing in 2021.
Perth's Scrivener, who is currently in 16th place in the Road to Dubai standings on the European tour, was no doubt keen to gain access to the PGA Tour which only the Korn Ferry Tour can now provide but he could only finish 63rd this week and will no doubt focus much of his attention back in Europe next year.
Endycott, who was a member of the Australian Eisenhower Trophy winning team in Mexico in 2016, has played the Korn Ferry Tour in each of the last two years but he had a tough week finishing 80th after a fast start on Thursday.
The Sydney golfer has yet to win as a professional, but he has been three times runner-up in events on the PGA Tour of Australasia and the South American Tour but to date his professional career has not lived up to his success in amateur golf.
He will be forced to play the events in which he can gain a start and try to get others via the precarious Monday qualifying process.
Justin Warren, from Picton south and west of Sydney, did well to make the final stage but he would finish last in this week's field and is resigned to Monday qualifying for events in 2022.
The winner of this week's event and a golfer who earns exemption to all Korn Ferry Tour events in 2022 was Zach Fischer who interestingly enough won the Final Stage of qualifying several years ago.
Fischer had contemplated giving the game away recently but after graduating through Stage Two two weeks ago he has now earned the right to play a full season on the Korn Ferry Tour.
"I don't know what the stats are, but I really wanted to win Q-School twice just for my mental side, said Fischer. "I haven't won a tournament on the Korn Ferry Tour, but I've gotten Q-School twice. Hopefully I can change that.
"Hopefully we can win an event this next year. To win it in California and then in Georgia, all the way on the other side of the country, is really cool, too. And also it's really cool, our head pro at Pleasant Valley Country Club in Little Rock, he came from The Landings. He was at Deer Creek, had a good — had to give him a shout-out for hooking me up with some housing. What an awesome week. Can't say enough for the golf course, the staff. It was just incredible."
https://www.bruceyoungmedia.com.au/wp-content/uploads/2021/05/Harrison-Endycott-please-photo-credit-Golf-NSW.jpg
1280
1920
Bruce Young
https://www.bruceyoungmedia.com.au/wp-content/uploads/2017/01/logo.png
Bruce Young
2021-11-09 02:55:12
2021-11-10 07:17:38
No joy for Australians at Korn Ferry Tour final qualifying