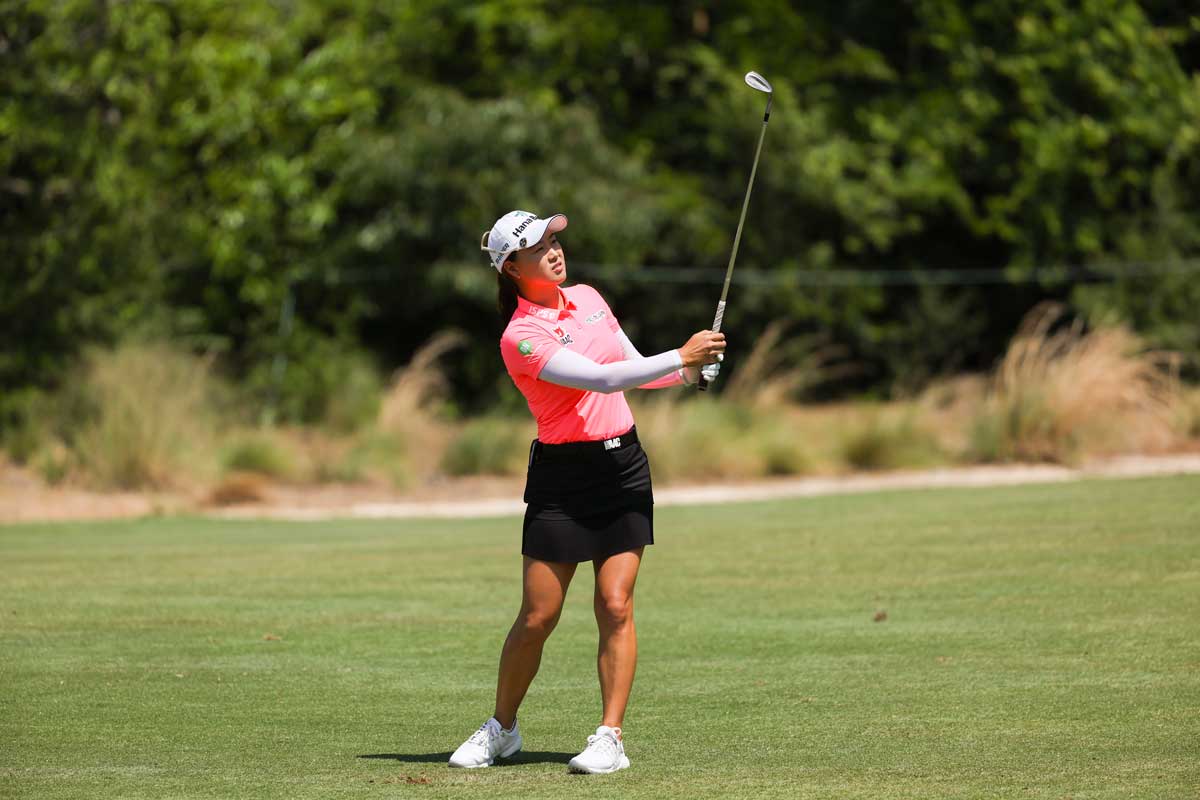 Minjee Lee during her opening round today – photo Jeff Haynes USGA
Minjee Lee finds herself in a share of third place and three shots behind American Mina Harigae at the completion of the opening round of the US Women's Open at Pine Needles Lodge and Golf Club in Southern Pines in North Carolina.
Separating Harigae from Lee is the Swedish amateur Ingrid lindblad whose round of 65 was the best ever by an amateur at the US Women's Open.
Lee, who is playing her 9th US Women's Open but without a top ten to date in any of those starts, was out in 2 under 33 and added four more birdies on her closing nine, but bogeys at the 13th and 17th saw her finish with a round of 4 under 67.
"Yeah, I mean, I was pretty solid all day," said Lee. "I made quite a few birdies out there. I also made a few bogeys, as well, but overall I think I putted really well. I had really good speed on the greens today.
"I was striking it pretty good; just had a few loose shots here and there. Hopefully I can clean it up for tomorrow.
"I feel pretty good. Today I actually putted really well, and usually I hit it better than my putting. But I've been working really hard on all aspects of my game, so I feel like I'm pretty confident just in my ability right now."
Hannah Green is the next best of the seven strong Australasian contingent following her round of 1 under 70, late birdie from 12 feet at the 16th getting her under par for the day.
New Zealand's Lydia Ko began with a bogey and was unable to build any real momentum from there and finished with a round of 72 to be eight shots from the lead.
Rookie, Grace Kim, playing in her first US Women's Open finished with a round of 2 over 73.
Victorian Gabi Ruffels made a solid enough start to the event but dropped four shots in three holes in a mid-back-nine stretch and finished with 74 as did New Zealand's Julianne Alvarez and Sarah Kemp was round in 76.
The cut at this early stage appears as is if might be around 3 or 4 over, dependent on conditions remaining similar tomorrow, so there is work to be done by several of the 'down under' brigade
But in many respects the honours on day one went to the 22 year old Lindblad, a college student at Louisiana State University, who not only had the thrill of playing with one of the female game's greatest ever players and a fellow countrywoman, Annika Sorenstam, in her group today, she also another one of Sweden's finest female golfer, Sophie Gustafson, on the bag.
Gustafson was a five time winner on the LPGA Tour including the Women's British Open before it became a major but this week is the first time Gustafson and Lindblad and she had met.
Sorenstam, who won last year's US Women's Senior Open and is nearly 30 years, Lindblad's senior, recorded a round of 73 which, given she has essentially been retired from regular tournament play for nearly 14 years, was an impressive effort.
After her round Sorenstam, who won a massive 72 LPGA Tour events, summed up where golf fits in her life now.
"I mean, I'm a lot more content in my life. My playing days are over; I'm not here to create a new career or start something new and make a mark for myself. I'm more here to enjoy what I've done and enjoy being invited to come here and play and kind of share it with my loved ones. I think that's more the attitude I have.
I have worked hard to try to get ready, and I've told myself this morning, there's nothing else I can do. Another day, another week, another month is not going to change. I'm happy the way I'm playing.
And score-wise it could have been better, but also it's not, and I think in '96 might have been able to put another gear in or maybe two gears. But I'm at my highest gear or lowest gear, whatever you want to call it, there's just nowhere to go other than what I have. I just have to accept it and kind of deal with it.
I don't get as mad as I used to. I kind of bounce it off. By the end of the day the kids want to do something, I probably have to cook dinner, just all those things that I enjoy doing off the golf course. I can't get upset anymore.
It's just great to be here, enjoy. The fans have been super supportive, a lot of cheering coming up to the greens, so it warms my heart. Especially on 18 there was a little tear or two from my husband and myself because it warms to be here."
Ingrid Lindblad with her caddie and former 5 time LPGA Tour winner, Sophie Gustafson – photo USGA Darren Carroll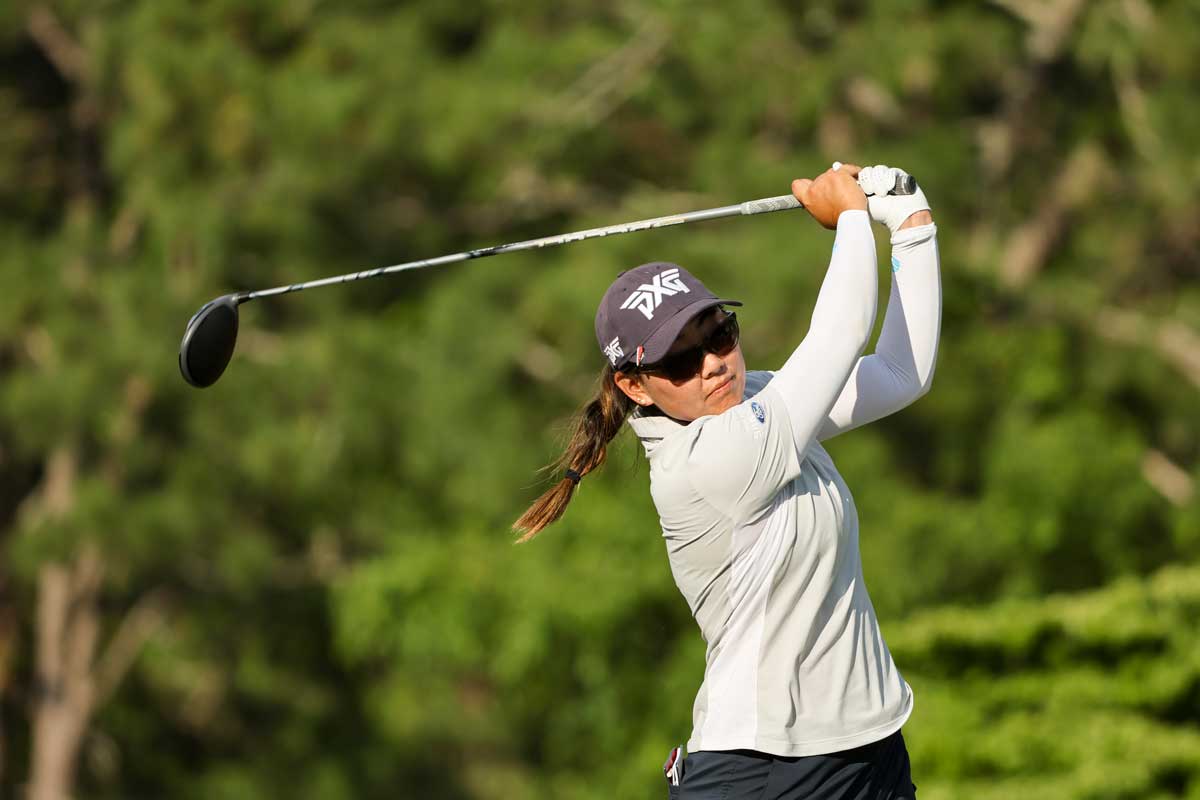 The leader Mina Harigae- photo USGA – Jeff Haynes 
https://www.bruceyoungmedia.com.au/wp-content/uploads/2022/06/Minjee-Lee-2022-US-Open-Jeff-Haynes-USGA.jpg
800
1200
Bruce Young
https://www.bruceyoungmedia.com.au/wp-content/uploads/2017/01/logo.png
Bruce Young
2022-06-02 23:57:40
2022-06-03 00:09:19
Minjee Lee three back at US Women's Open