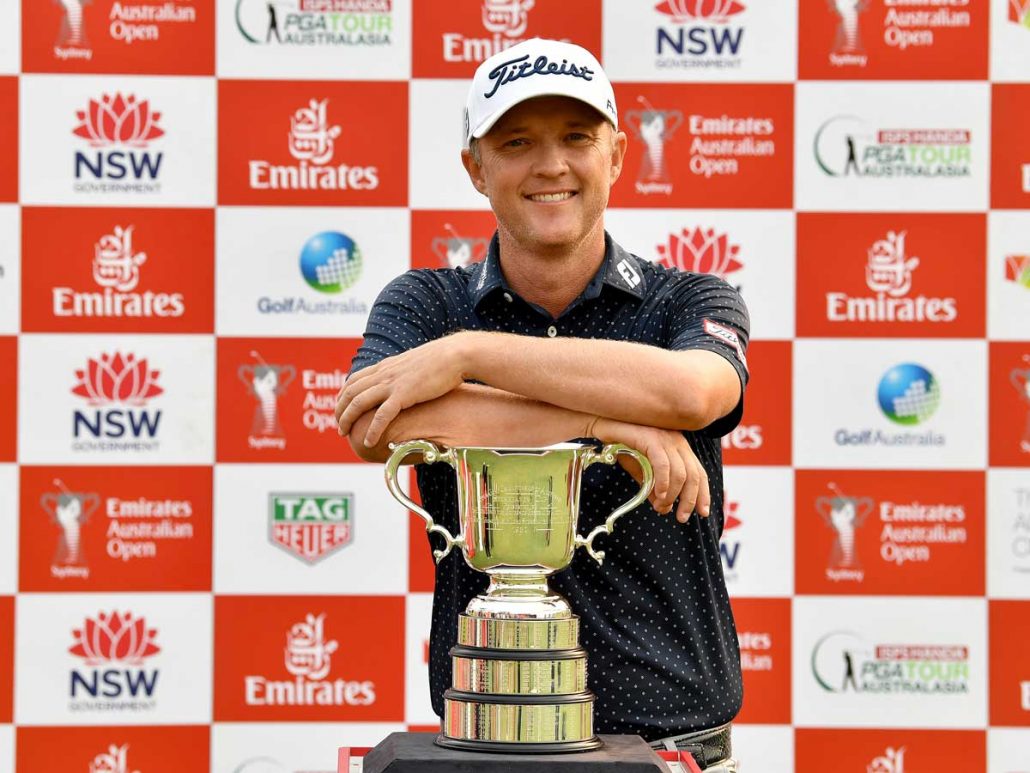 Matt Jones- enjoying the moment -photo Kirsty Wrice Golf Australia
It is never over until it is over as the saying goes and in today's final round of the Emirates Australian Open at the Australian Golf Club in Sydney, there was yet another great example of how that applies to tournament golf.
When Sydney's Matt Jones arrived on the 17th green after holding a minimum two shot lead all day, he led by two over South African Louis Oosthuizen who was playing in the group ahead and who, after a magnificent hybrid approach, faced a 16 foot putt for eagle at the last. Oosthuizen putted first and converted to draw level but just a few moments later Jones holed a 35-footer at the 17th to go ahead again.
As he stood on the 18th tee, Jones was one ahead and, surely, he could negotiate the par 5 last safely and claim his second national open, four years after his first. First, however, he had to find the fairway, but he pulled his tee shot left into a bunker guarding the left side of the fairway and at that point even a lay-up became problematical.
Adding to the confusion however was that Jones had thought he held a two shot lead, an issue that might well have changed his strategy had he known better.
Thinking long and hard as to which was the best option in terms of where he wanted leave his shot from the bunker, his execution was poor, failing to clear the pine needles and from there it was a case of just where he would leave his 3rd shot in order to set up a pitch and putt par and the win.
"I was just hitting it out there to hit a 9-iron on the green and it caught a little pine cone and just dropped straight down.  I actually didn't even see the tree limb, it was not even in play."
His 3rd shot was good but came up ten metres short of the green and some 40 meters from the hole.
Between he and the hole there was also a gentle ridge to negotiate but he hit the most exquisite of pitch and runs to 5 feet and although the putt scrambled in the left edge it was enough to secure the par and the win by one over the gallant Oosthuizen who had thrown out all stops to force a playoff.
"I was under the assumption that it was at worst, I had a two-shot lead, so I wasn't playing for the green on my third shot. I was happy to hit it in the bunker, which I'm happy I didn't, because that bunker shot wouldn't have been as comfortable, but then I realised what I had to do and the chip wasn't that difficult.
"It was landing down grain, so I could just get it over the bunker and let it release a little.  It was a pretty easy putt. I made it more difficult than it had to be, but it went in."
"It's fantastic," he added referring to what this means to him. "I've had a good start to the year (season) in the US.  Something like this has been coming and it's very special when it's your national Open and to do it two times in a row is something that's pretty unbelievable right now. But I'm going to build on this. If I can play as calm on the US Tour as I did these four days, I think I'll have a very good year."
Sharing third place were the impressive Japanese amateur, Takumi Kanaya, and Queensland based Aaron Pike who, as a result of their efforts, will join Jones as the recipients of starts at next year's Open Championship at Royal St Georges.
The leading three players finishing inside the top ten this week and not otherwise exempt to the Open Championship qualified for those spots and with Oosthuizen already in the field, Jones, Kanaya and Pike can make plans for a trip to Kent in England in July.
Paul Casey, two-time champion Greg Chalmers, American Cameron Tringale, Taiwan's Chun An Yu and New Zealand rookie Denzel Ieremia tied for 5th.
Jones' record at the Australian Golf Club is almost unequalled having now on two Australian Opens and been runner-up in another at the venue where he played a lot of his early amateur golf.
For Jones, however, it was a joyous moment in front of his home fans and family and the family he has met and raised in the US. His three girls and American wife were there to greet him as he walked from the final green
In addition to winning his national open championship, the opportunity to play the Open Championship once again was a source of great pleasure.
"I've played in maybe five British Opens and it's the one Major I would most like to win.  To be able to do that and plan a schedule around that, will be fantastic.  I played Royal St George's back in, I think when Rory won, and I liked it, so I'm looking forward to getting back there.
"As you can see by the two other guys that qualified, for them to get into a British Open is fantastic. I love coming back here because it's a great chance for me to do it. I've been lucky enough to do it a few times and I'll be back next year.  Hopefully I don't have to do it next year, but I'll be back here for it if I have to."
For Aaron Pike the opportunity to play his first open Championship is not lost on him
"In all honesty, I know the spots are up for grabs and I knew going into the last day I was running top 10, so I had that idea in my head so to speak," he would say before the finalisation of the three players.
"The 16th I saw a board and I realised that Louis would have been in because he's won one and Matty Jones will definitely take one, because he's not going to finish with five doubles or whatever it is and then I knew someone else there or thereabouts might get another one, so I'm going to have to put my foot down.  I birdied 17, I tried to birdie 18 to keep going, but it's the biggest Tournament in the world for me.  It is.  It's as simple as that. It'll be amazing to get in it."
Kanaya has already played one Open Championship courtesy of a victory at the 2018 Asia Pacific Amateur Championship but the rising superstar of Japanese golf gets another chance.
Australian golf now focuses on next week's Presidents Cup in Melbourne ahead of the Australian PGA Championship on the Gold Coast.
Open Championship qualifiers Aaron Pike, Matt Jones and Takumi Kanaya photo – R&A / Getty
https://www.bruceyoungmedia.com.au/wp-content/uploads/2017/01/logo.png
0
0
Bruce Young
https://www.bruceyoungmedia.com.au/wp-content/uploads/2017/01/logo.png
Bruce Young
2019-12-08 07:41:03
2021-02-03 01:04:58
Matt Jones holds on in final hole thriller at Australian Open