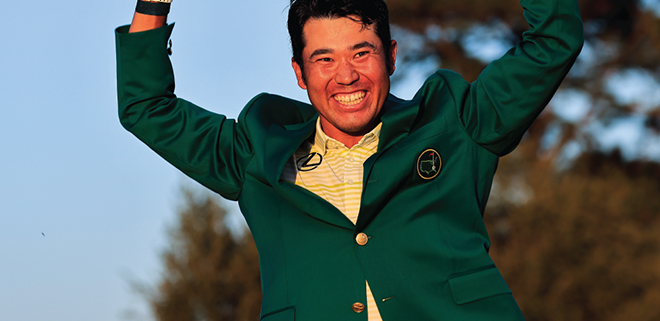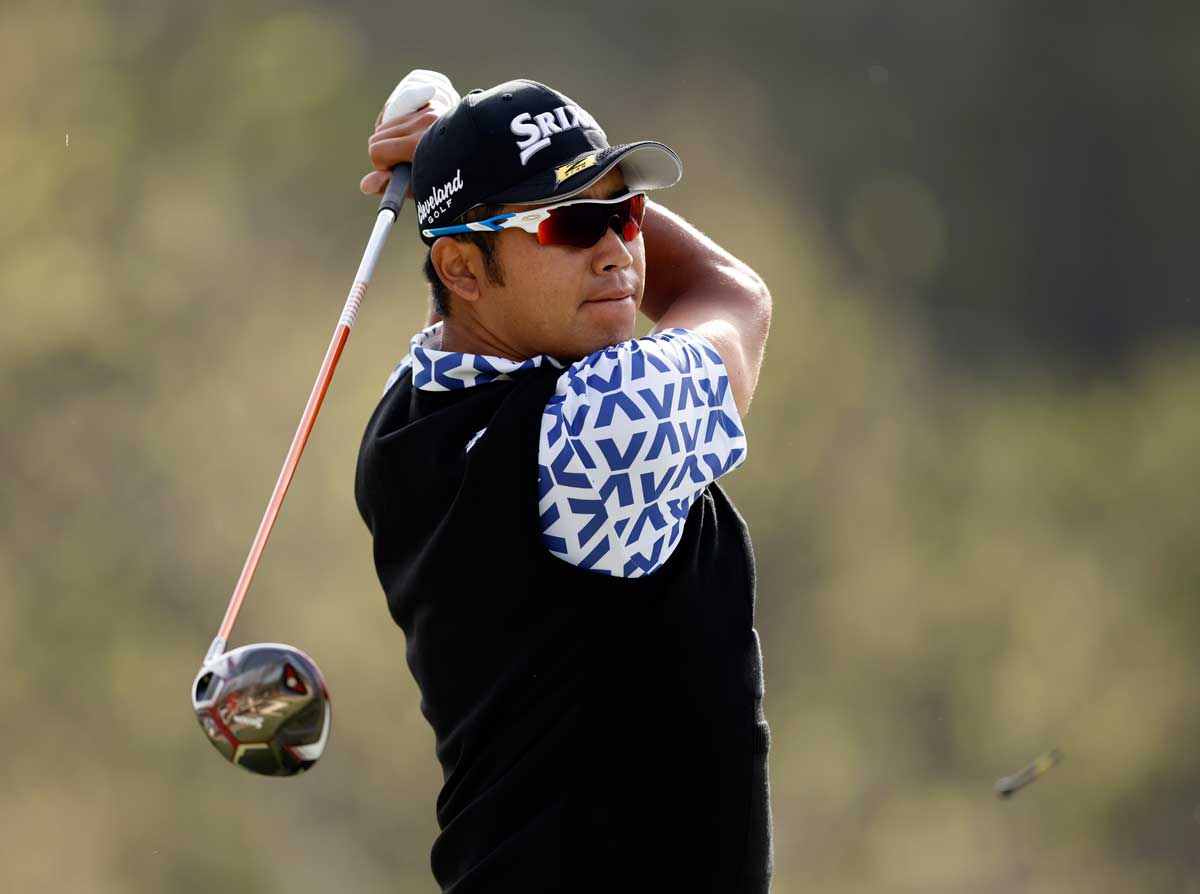 A huge day for Hideki Matsuyama and Japan – Photo Getty Images 
It would be hard to quantify the impact on Japanese and Asian golf today's one shot Masters' victory by Hideki Matsuyama will have but to say the least it will be significant.
He becomes the first Japanese male to win a major and the second Asian male (after Y.E. Yang) to claim one of the four major championship titles and in a golf crazy country like Japan, the win and the manner in which Matsuyama held off all and sundry will provide Japanese golf with a boost the likes of which has seldom seen previously – perhaps ever.
Isao Aoki, Jumbo Ozaki, Tommy Nakajima and Shigeki Maruyama are amongst leading Japanese male golfers to have finished inside the top ten in major championships, Aoki and Matsuyama however had been the best until today however when they finished runner-up at US Open Championships.
That all changed today when the 29-year-old Matsuyama took a four-shot lead into the final round and although the eventual winning margin was just one, he was never headed despite a slow start which saw him lose three of his four shot margin by the time he left the first green.
Will Zalatoris, one of his four closest pursuers entering the final round, birdied his opening two holes and when Matsuyama soon after hit a wild tee shot at the first and took bogey the margin was just one it appeared as if it might well have been a case of 'game on' for the remainder of the day.
Matsuyama would rebuild the lead when he hit a fine bunker shot at the 2nd to set up a birdie and by the time he reached the turn he had extended that lead to five over Zalatoris.
Every shot counted on the final day but there were several key moments. Xander Schauffele was playing in the final group with Matsuyama and when he bogeyed the 3rd, 4th and then double bogeyed the 5th his chances appeared gone.
The reason we love this event however is the amazing roller coaster it throws up and the opportunity for chasers to make up lost ground in a hurry.
Schauffele birdied six of ten holes from the 5th and when Matsuyama found the water behind the green at the par five 15th there were all sorts of possibilities beginning to emerge. Matsuyama, though, did remarkably well to save his bogey and although the margin between the pair was then just two it could well have been a very different story.
Then came the horror moment for Schauffele. Perhaps pushing hard to maintain the pressure on the leader, he found the water at the 16th, took triple bogey and despite another bogey by the leader the margin was three and it would be left to Zalatoris with birdies at the 15th and 17th to push Matsuyama to the limit.
Given the tremendous expectations on him how did the 29 year old feel as he anticipated today's final round?
"My plan this morning was to wake up about 9:30," said Matsuyama. "But needless to say, I arose much earlier than that and couldn't go back to sleep. So I came to the golf course early. Had a really good warm-up. I felt really good going to the first tee, until I stood on the first tee, and then it hit me that I'm in the last group of the Masters Tournament and I'm the leader by four strokes. And then I was really nervous.
"But I caught myself, and the plan today was just go out and do my best for 18 holes. And so that was my thought throughout day, just keep doing my best. Do my best."
Finding the water 30 yards behind the green at the 15th might well have been a mental error especially given the dangers that hole can present when going for the green and his then four shot lead but Matsuyama summed it up this way.
"Xander had just made three birdies in a row at 12, 13 and 14. I hit the fairway at 15, hitting first, with Xander having the momentum, I felt — it was a four-stroke lead, and I felt I needed to birdie 15 because I knew Xander would definitely be birdieing or maybe even eagling.
"But it didn't happen. And so I stood on the 16th tee with a two-stroke lead, and unfortunately for Xander, he found the water with his tee shot and I played safe to the right of the green at 16."
Matsuyama has already experienced his fan following in Japan is aware of the significance his win and just what it might mean for the game in his homeland.
"It's thrilling to think that there are a lot of youngsters in Japan watching today. Hopefully in five, ten years, when they get a little older, hopefully some of them will be competing on the world stage.
"But I still have a lot of years left, so they are going to have to compete against me still. But I'm happy for them because hopefully they will be able to follow in my footsteps.
"I hope it will affect golf in Japan in a good way. Not only those who are golfers already, but hopefully the youngsters who are playing golf or thinking about playing golf, I hope they will see this victory and think it's cool and try to follow in my footsteps.
"Up until now, we haven't had a Major Champion in Japan, and maybe a lot of golfers or younger golfers, too, thought, well, maybe that's an impossibility. But with me doing it, hopefully that will set an example for them that it is possible and that, if they set their mind to it, they can do it, too.
Zalatoris, in his very first appearance in the event, recorded a final round of 70 to be alone in second place, a performance which is further highlighted by the fact that only one player (Fuzzy Zoeller) since the very first staging of the event has won on debut.
"I've wanted to be on this stage for forever, for basically my entire life," said Zalatoris when asked to assess his performance. "So I think, if anything, it's like you finally get to this moment, and why shy away now? I've gotten here. So let's go do some damage. It was a fun week.
"I can play with the best players in the world. I felt like I played well this week, but I felt like I left a lot out there. The first one's coming. I've just got to keep plotting. Obviously, for my first time to really be in contention to be at the Masters is pretty special."
"It hasn't sunk in. I think, if anything, it's just the fact that I'm one shot short. It's just kind of sitting right in front of me, thinking through where I could have found that one or two shots, really. That's just golf every single week. You always think about those one or two.
"But like I said, the fact I put myself in contention and was able to handle it and be in the final group in my third major in my entire career is obviously really exciting."
Marc Leishman tied for 5th, his second-best finish in the event behind his 4th place finish in 2013. Birdies at the 13th and a near hole in one at the 16th resurrected a round going the wrong way until that point.
He finished as the leading Australian ahead of Cameron Smith and earned US$437,000 for his efforts.
"Yeah, a disappointing start, said Leishman. "It was tough early. I hit a good tee shot off 1 and just pulled my second. Then a couple of good shots into 3, made bogey. A couple of good shots into 7, made bogey. It was just, yeah, a little bit frustrating.
"But this place can do it to you. It's hard. It's hard when the wind is swirling and it's firm. That's the cool thing about this golf course when it's in these conditions. A little bit of wind can make it really tough, as the scores show.
"If I'd have got the putter hot there late, I could have made a little bit of a run, but just didn't quite drive it well enough today. Yeah, still a good tournament.
"Top 4s, top 5s in majors are good. You know, it's just nice to play well. Felt really good out there. My game felt as good as it has for a long time, and I'm excited for the rest of the year now."
Smith completed his third top ten in the event in just his 5th appearance and so despite a little disappointment at this week's result the chances of his eventually breaking through have increased.
"Yeah, it was a pretty up-and-down week," said the Queenslander. "There was lots of good. Just probably wasn't quite sharp enough with the shots into the green. I think my putting was just a touch out. My speed was a bit out this week. No, but I already can't wait to get back here next year. I want a crack at it again."
Matt Jones finished a very respectable 26th and Adam Scott, the only other Australian to make the weekend, finished last of those who survived Friday's cut.
https://www.bruceyoungmedia.com.au/wp-content/uploads/2021/04/Matsuyama.png
660
660
Bruce Young
https://www.bruceyoungmedia.com.au/wp-content/uploads/2017/01/logo.png
Bruce Young
2021-04-12 03:27:07
2021-04-12 08:26:20
Matsuyama holds on for historic Masters' win