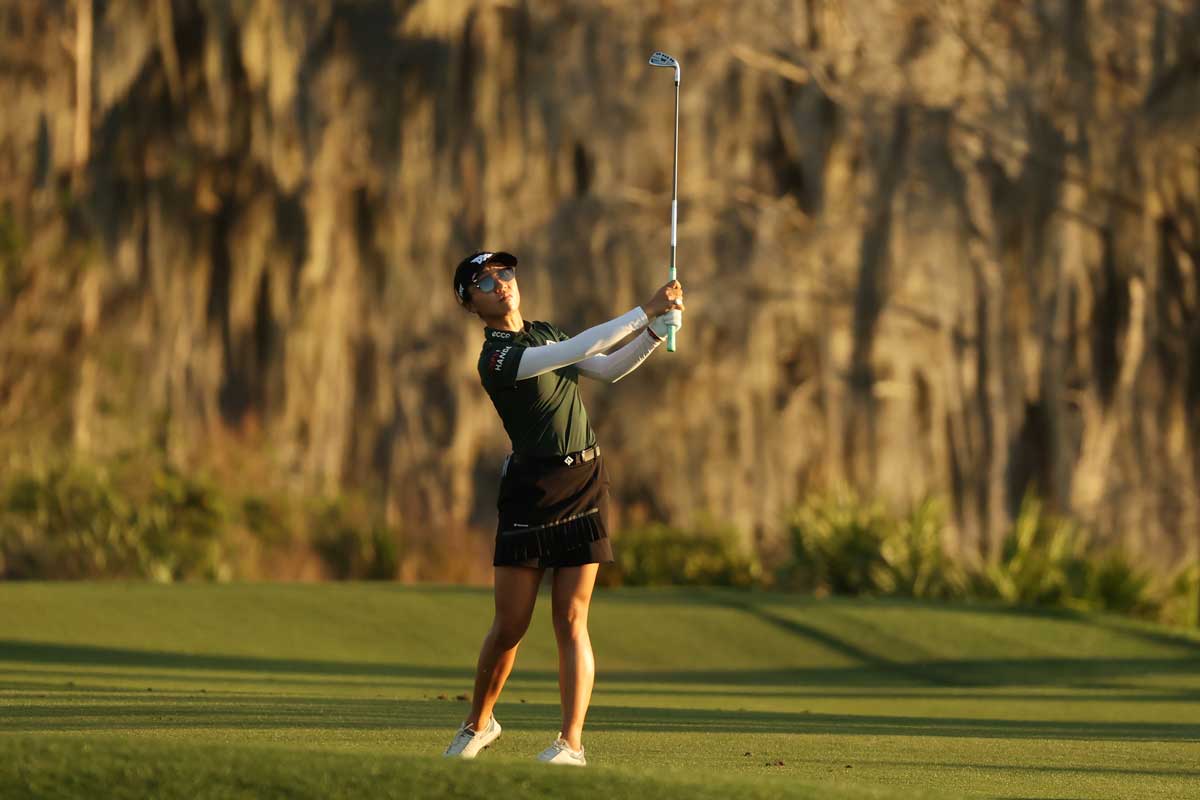 Lydia Ko – file photo Getty / LPGA
Close friends, Lydia Ko and Danielle Kang share the lead through 36 holes of the Gainbridge LPGA Boca Rio in Boca Raton, Florida, the pair opening up a four-shot gap over England's Jodi Ewart Shadoff and Japan's Yuka Saso.
Ko, who finished runner-up to Nelly Korda in this event twelve months ago, albeit at another venue, was unable to match the brilliance of her opening round of 63 but she did enough with her round of 70 to share the lead with Kang who was round in 68 today.
Ko explained the golf course player significantly more difficult today.
"I think the temperature was kind of a big thing. Par-5s that played pretty short yesterday, played like a completely different hole. Yesterday I hit driver 3-wood and a little flick wedge into 10, and today it was like a low driver, 3-wood, and like an 8-iron.
"So it just shows how much the weather and the conditions can make the golf course play so differently. It was a little bit more of a grind. I don't think I was as sharp as yesterday."
A new putter in the bag appears to be doing the trick for the still only 24 year old New Zealander.
"Last week was a bit of a struggle on the greens, and considering I play out at Lake Nona, you would think I would read it a lot better.
"I actually brought out a new putter this week. It's called The Catch, so I was like, Oh, this putter is a catch. Kind of seeing something new sometimes I feel like it brings a little bit of a different energy.
"To kind of have putted well yesterday I thought it was a good to debut for the putter. At the end of the day all I can do is put a good roll on it. If it goes in, great; if not, you're onto the next."
The weather is expected to get even cooler over the weekend and Ko is prepared for it.
"I'm like a Florida resident and last week was cold and this weekend is going to be cold again. You know it's cold when they've run out of hand warmers at the nearest supermarket.
"Everybody is going to play in pretty much similar conditions. It's not like it's going to be extra cold for people that tee off a little bit earlier and not so much in the afternoon. Yes, there is a little bit of a difference, but it's not going to be miles different.
"You just have to play with the conditions that you get. Luckily for us I got to practice playing in four, five layers of clothing last week. That will kind of be the go-to goal tomorrow as well."
Su Oh, fresh from her win at the WAPGA event in Brisbane two weeks ago, is nicely placed in a share of 10th while the only other Australian to make the cut was the 47-year-old and arguably Australia's greatest ever player, Karrie Webb.
"Webb was delighted just to be back playing again and happy with the way she has played to date in her first LPGA Tour event since November of 2020.
"Yeah, I think coming out here this week, I guess it feels a lot like coming home. You had this life and this routine for over 20 years, 25 years, so you pick up where you left off pretty quickly.
"It feels comfortable, and it's great to see a lot of friends that I haven't seen for a long time and catch up with them. The banter back and forth and the caddies and some of the players, I do really miss that, so that's been fun this week.
"I felt like I played pretty well for the two days. Didn't make a lot putts, but for not having played a tournament for such a long time, it's nice to be in the action on the weekend.
"I've lived down here for 23, 24 years now, so I guess I feel like a local as much as you can in Florida. Yeah, no, it's nice. Been a nice turnout, and it's been nice that everyone has appreciated that I've shown up to play. It's made me feel special for sure.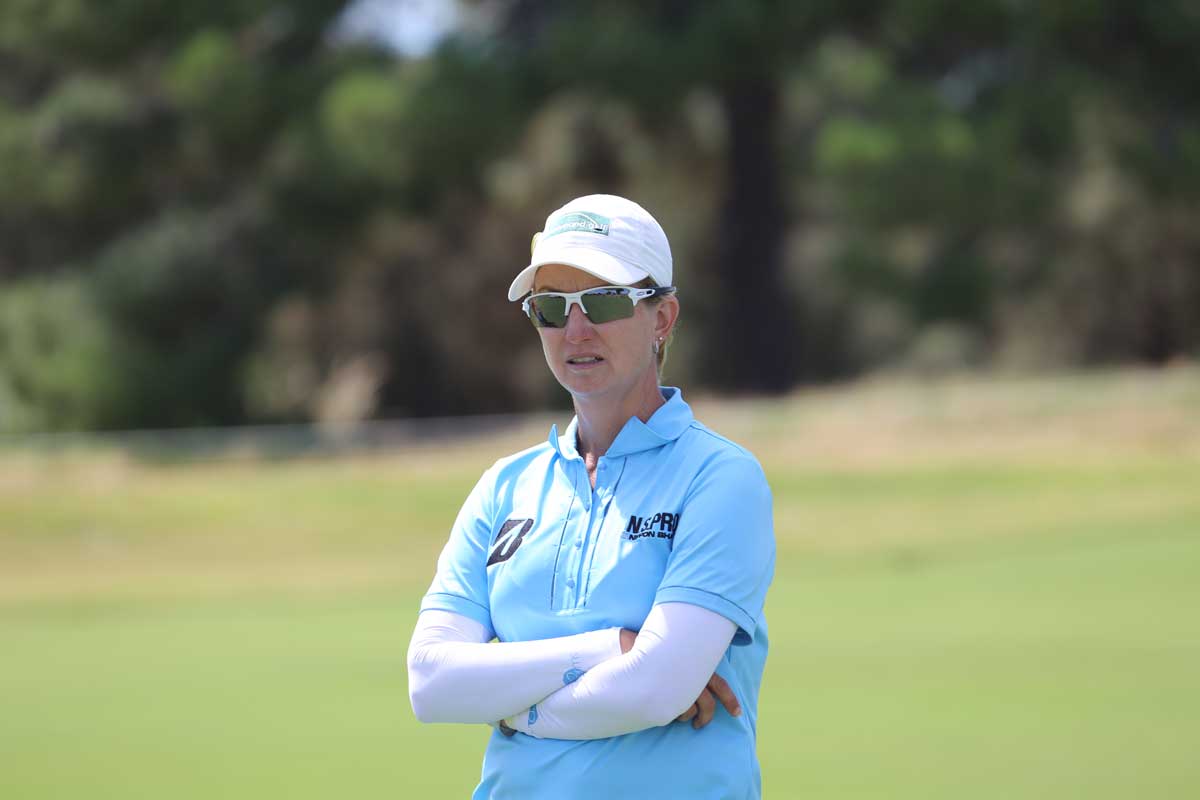 Karrie Webb file photo – Henry Peters

Oh played with Webb today which given her win in the inaugural Karrie Webb Cup at Royal Queensland recently was perhaps fitting and Oh was singing the praises of her idol.
"I think she just gives back like so much. She really gives back to the people that are up and coming. There is not many people who would bring two girls, even when she was still like playing full time like to the U.S. Open when she's probably like super stressed as well.
"Just to give the younger generation a chance at what she thinks is the pinnacle of golf. So it's a gift for us to like experience that and be like a motivation for us when we turn pro, and hopefully make it out here.
"She's hitting it so good at the moment. Not good for her standard, but she's still ripping it. I love the way she hits her irons. It's probably one of my favorites. Like so good, so high. Yeah, it's nice.
"Especially when it's so muddy as well. She's just like clips it perfect and it goes very high. Very envious of her ball flight."
https://www.bruceyoungmedia.com.au/wp-content/uploads/2022/01/Lydia-Ko-Gainbridge-.jpg-LPGA-Getty.jpg
800
1200
Bruce Young
https://www.bruceyoungmedia.com.au/wp-content/uploads/2017/01/logo.png
Bruce Young
2022-01-28 23:29:31
2022-01-28 23:43:15
Lydia Ko shares lead in Florida – Karrie Webb makes cut