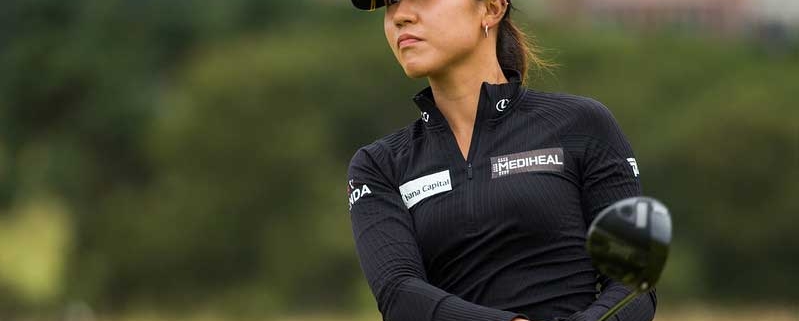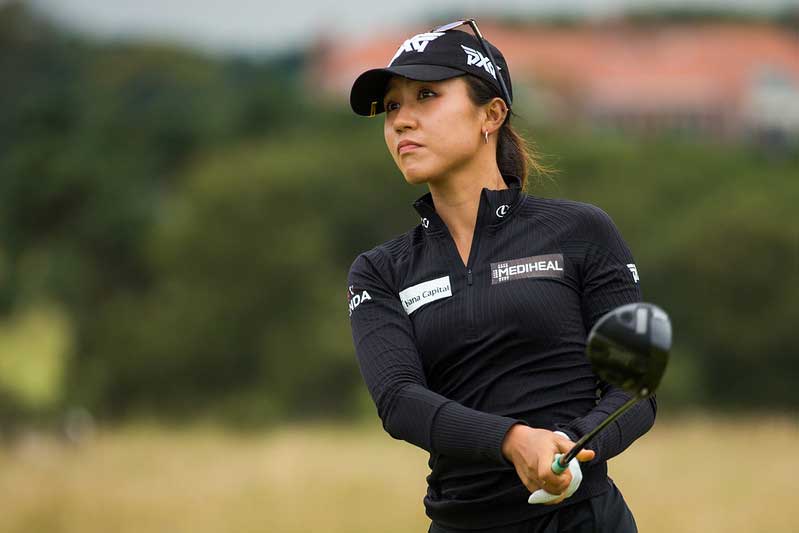 Lydia Ko – photo LET
Lydia Ko leads the Australasians after round one of the Women's Olympic competition in Saitama north of Tokyo, a 1 under par round of 70 in blistering hot conditions leaving her in a share of 16th place and four shots from opening round leader, Madelene Sagstrom of Sweden.
Minjee Lee bogeyed two holes late in her round of 71 at the Kasumagaseki Country Club to be at even par and in a share 23rd, a score equaled by her fellow West Australian Hannah Green.
New Zealand's Ko, reached the turn at 2 under but a double bogey at the 11th hole would prove costly in her quest to move closer to the lead before a birdie at the 14th had her solidly placed after day one.
"There was some good and there was some bad as well," said Ko reflecting on her round. "But I think when I was out of position for the most part I was able to recover really well and there was a lot of golf ahead of you, so even though that's the case you don't want to be making clumsy mistakes.
"So I think for the most part I was able to kind of tidy that up. Hopefully I'll be able to tidy up the game a little bit better overall and just give myself more opportunities the next few days."
"I'm very proud to represent New Zealand on a daily basis, playing on Tour," said Ko when asked the feeling the Olympics provides to represent the country in which she was raised. "Representing New Zealand in 2016 was probably one of the biggest highlights of my life, not as a golfer but as a person as well. So I cherish those moments, I even got the Olympic rings tattoo with the fern.
"So I feel like New Zealand is just always there and even though I don't get to go back home a lot, people always support me and I feel the love, so I'm just trying to hopefully do everyone back at home all the Kiwi's proud and even if things don't go well smile and just have a good time because it a huge honor to be able to represent your country."
Lee recovered from an early bogey to reach 2 under par on two occasions but bogeys at the 14th and 17th holes saw her finish at even par.
"I feel like I had a lot of birdies, but a lot of bogeys as well," said Lee reflecting the frustration of her day. "So if I can get rid of the bogeys then I would have posted a good score. So that's golf. I think I'm just going to take it day by day because it's so hot. Yeah, hopefully take the positives into tomorrow.
"It was bloody hot. Yeah, it was really hot. I feel like I felt it most, I mean I felt it more today than any other days. Maybe because we were playing 18 holes not like the other day where I played nine. But I think everybody's in the same boat, so it's hot for everyone so I can't really complain, I guess."
When asked if she was content with a round of even par, Lee responded, "Yes and no. I mean, I have high expectations for myself, so I think that's why I'm so disappointed in the even par, but if you look at it overall I think it's probably not too bad of a start. So, yeah, I'm like 50/50.
Green has not played a tournament in five weeks and early in her round it showed with a double bogey at the 3rd hole but she did well to recover for a round of 71 to share 23rd place.
Green was happy how she had managed her round, "Yeah, I mean I felt like I played a lot worse than the score. So to have even par pretty happy with. I have no idea where that's on the leaderboard. I wasn't really watching too much out there because it's only round one.
"But I missed a lot of greens and a lot of fairways today so I think that's something I got to fix on the range after this round. Hopefully, yeah, hit more on the next few days.
"I definitely felt the rust. I don't think I've ever been one to really get, have a great round the first round back. I think I've always kind of been the person that climbs on the weekend. So I hope tomorrow that I can hit more greens, hit more fairways and just make easy birdies and slowly climb up the leaderboard
Green also struggled with the hot conditions especially have spent the last few weeks in a Perth's winter.
"I think it's even more difficult because I come from Perth and we're in our winter. Not that it really gets that cold, but because it was rainy it was cooler than usual. I have to adjust to this and, yeah, I'm not the greatest in humidity, I'll admit that.
"I certainly feel it a lot more than I think others do. So I think I did a good job today with my hydration I just need to find the shade as much as possible but not with my tee shot."
Sagstrom leads by one over the world number one golfer, Nelly Korda and India's Aditi Ashok. Sagstrom is currently ranked 75th in the Rolex Rankings and is a winner of one title in her five seasons on the LPGA Tour.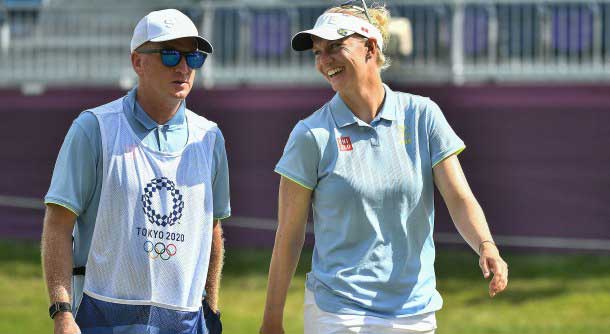 Madelene Sagstrom with caddie / manager today after heat and humidity cost her regular caddie from seeing the round out

https://www.bruceyoungmedia.com.au/wp-content/uploads/2021/08/Lydia-Ko-LET.jpg
533
799
Bruce Young
https://www.bruceyoungmedia.com.au/wp-content/uploads/2017/01/logo.png
Bruce Young
2021-08-04 08:40:18
2021-08-04 09:43:38
Lydia Ko leads Australasians after day one in Tokyo