Lydia Ko file photo Sam Greenwood Getty Images
New Zealand sport might have experienced a disappointing weekend from their two world class teams, The All Blacks and the Black Caps, but their two most successful golfers in 2021 provided cause for joy when both Lydia Ko and Steve Alker finished runner-up in their respective events on the LPGA and PGA Tour Champions.
Ko was involved in a four way playoff between herself, Lexi Thompson, Sei Young Kim and the eventual winner Nelly Korda at the Pelican Women's Championship at the Pelican Golf Club in Belleair in Florida, that event decided when Korda hole an 18 foot birdie putt at the first extra hole to win her 4th title of 2021 and continue her reign as the world's number one female player.
Ko's final round of 66 fell just one short of taking her second title of the year but she continues her remarkable resurgence, this being her 4th runner-up finish in 2021 to go with her win at the Lotte Championship in Hawaii early in the year.
Ko has had a busy schedule of late and when asked after her round today the reason for her great form of late, she responded: "I haven't been working on new things. I feel like we've always been working on the same things, making sure my alignment is good.
"Sean (Foley) was out here this week, which is nice, to kind of see — like have him out and then him to double check to make sure everything is not too quirky, and he pointed out a few things and I think that those things really helped.
"So, yeah, just going to keep it simple. At the end of the day, you're never going to play perfect golf. You just have got to play the best golf you can with the game that you have going on.
"Overall I played solid. Hopefully I will be able to keep the positives from this week going into next week. Hope for a few more putts to drop."
The next week Ko refers to is the season ending CME Group Tour Championship in Naples, Florida, an event Ko won in 2014.
"I've got a board meeting tomorrow," added the 24 year old. "So I'll be doing that in the afternoon. But other than that, yeah, take it easy. Tiburon I think is a golf course where you can go low, but at the same time it can get away from you as well. So just get my strategy.
"The weather looked pretty similar to this week, so that's nice there is not a huge change in temperature. Other than that, just going to enjoy it and see what the week ahead it going to be like."
Ko has improved to 5th in the world ranking after slipping all the way down to 40th 15 months ago. This finish is unlikely to advance her any further at this stage but a big week in Naples could see her finishing the year inside the top 3 in the world which given where she has been is an outstanding comeback.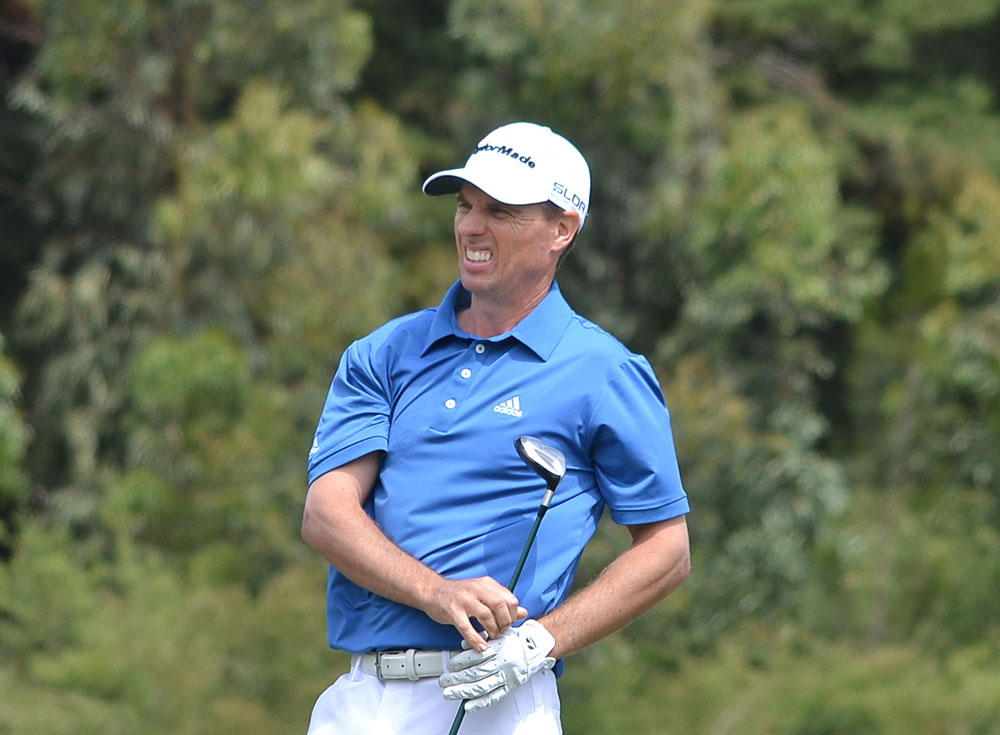 Steve Alker – file photo – Bruce Young
Alker is the talk of world golf at the moment given the remarkable run he has produced in the events he has played on the PGA Tour Champions since first pre-qualifying for an event in August.
In the ten events Alker has played since and including that first event in Seattle in late August, he has been outside the top ten only once and that was when finishing 16th at the SAS event.
He earns another US$250,000 for his runner-up finish, one behind Phil Mickelson this week and he now heads for a well-earned break ahead of a season in 2022 where he will enjoy full status on the PGA Tour Champions with what appears to be a lot more great finishes and large cheques to follow.
That the winner, Mickelson, is a major champion and those finishing immediately behind him, Darren Clarke and David Toms are both major winners further highlights just how far Alker has come over the past three months.
The tournament brought to an end the 2020 / 2021 season and once again it was Bernhard Langer who won the Charles Schwab Cup, the 6th occasion the remarkable 64 year old German has claimed the season long title.
For this week's winner Phil Mickelson, however, it was his fourth win in just five appearances on the Champions Tour, suggesting 2022 might be even bigger for the 51 year old.
https://www.bruceyoungmedia.com.au/wp-content/uploads/2021/11/Lydia-Ko-Sam-Greenwood-Getty-via-LPGA.jpg
800
1200
Bruce Young
https://www.bruceyoungmedia.com.au/wp-content/uploads/2017/01/logo.png
Bruce Young
2021-11-14 23:48:55
2021-11-14 23:49:11
Lydia Ko and Steve Alker lift New Zealand's sporting spirits