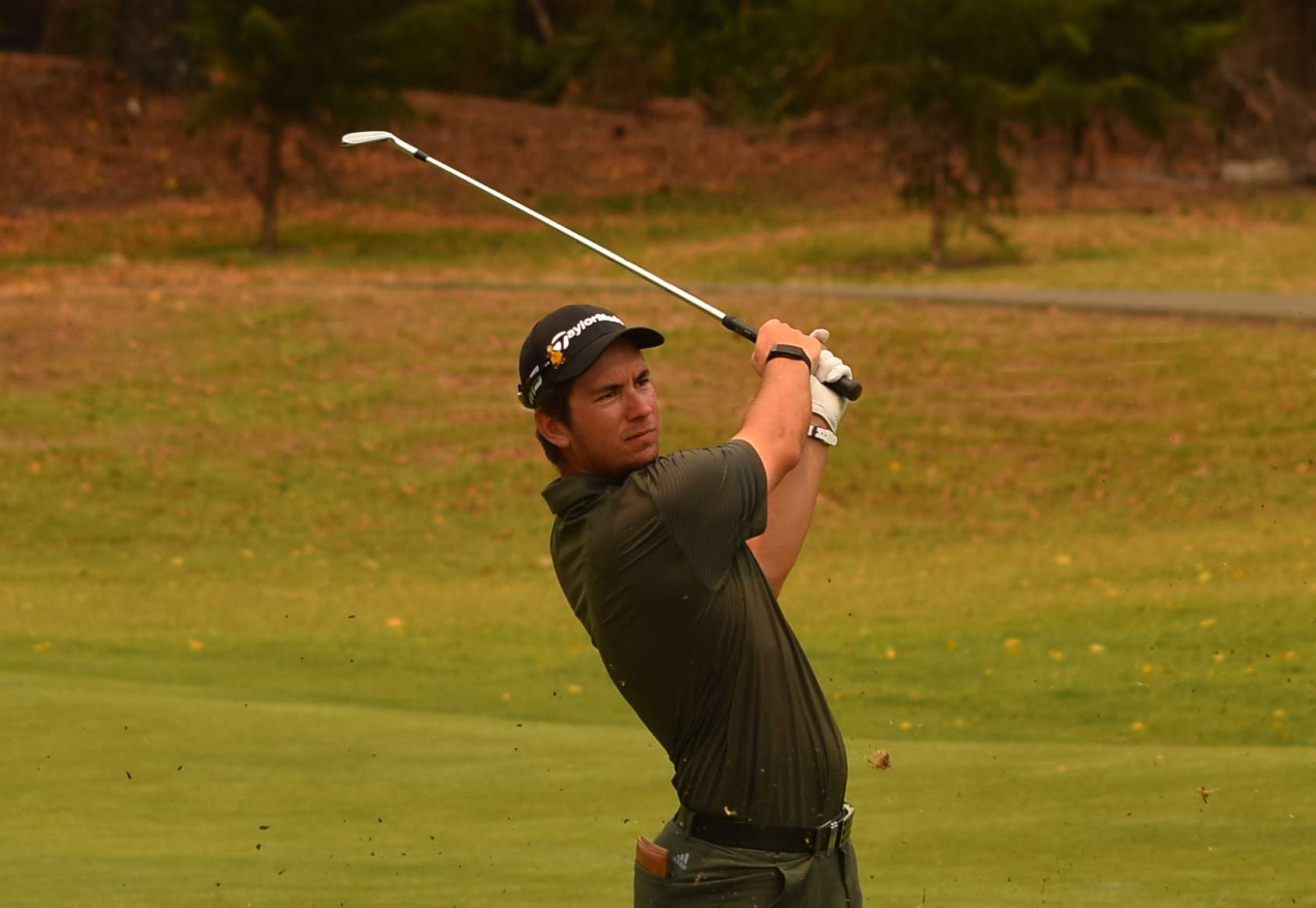 Lucas Herbert – file photo
Victorian Lucas Herbert, in his first full season on the PGA Tour, produced a remarkable round of 68 at the Arnold Palmer Invitational at Bay Hill Club and Lodge in Orlando and improved from an overnight share of 33rd to finish in a share of 7th.
Playing more than three hours ahead of the final group and with fellow countryman Adam Scott, Herbert birdied three of his first four holes, in some of the more demanding conditions he has faced on the PGA Tour thus far, to make progress on the field.
Although he would drop shots through the middle of his round a birdie from 6 feet or so at the 15th was followed by a monster putt from 50 feet at the 16th for eagle and at 2 under and with the field behind him on the golf course struggling there was an outside chance of him contending for the title.
It would not be the case as he would finish three shots behind the winner Scottie Scheffler, who won the tournament with a 72 hole total of 5 under par, but to have finished 7th and the manner in which he did so was one of the performances of the day.
His round was, in fact, the best of the day by one ahead of England's Tyrrell Hatton and given how he coped with the conditions he was enthusiastic about his effort.
"I'm pretty proud of myself for today's round," said the 26 year old after his round. "It was very, very hot out there. Obviously, you can look on TV, and everyone's going to see it. There's no room to hit bad shots out there. You get pretty heavily punished if you get it offline or get your yardage into the green or whatnot.
"Very, very proud of the way I played out there. Really proud to hopefully finish in the top ten first time here at Bay Hill. Yeah, it's been a bit of a slow start to the year, so it's good to sort of get a nice result in, hopefully build on some confidence going forward."
Herbert was asked what had been the difference given he had missed the last two cuts and had not been anywhere near the form that saw him win on the PGA Tour late last year.
"I think it's a bit of a combination of everything. Dom (Azzopadi), my coach, came over and just helped me with a bunch of technique stuff the last couple of weeks. Where it was like everything was kind of close at Phoenix and Honda, and I felt like I played better than two missed cuts. I didn't feel like I did a lot wrong. Unfortunately wasn't playing the weekend there.
"So it didn't feel like it needed to be a big change from the way I was playing, but it doesn't surprise me to finish the way I did given — even though the results weren't there leading up to it, the form felt like it was.
"I think these conditions, Scotty (Adam Scott) and I were talking about the fact that these conditions suit Australians. We're used to just playing firm, fast, windy conditions, and I think that plays into our hand a lot.
"It was just one of those days, you obviously watch Adam who doesn't miss a lot of shots. That obviously watch Adam who doesn't miss a lot of shots. That obviously inspires you a little bit as well. Just a day where I played really nice as well. Everything kind of came together for me."
Herbert made reference to the time he spent back in Australia last year playing golf at his now base on the Sunshine Coast and how rather than be disrupted by the issues Covid created he actually enjoyed it.
After THE PLAYERS, we (he and Scott) shot down there for COVID. He flew back to Australia. So when we had that three or four months there where we didn't have any events going, we were both back in Australia.
On the Sunshine Coast we kind of ended up — a lot of the Senior Tour guys who were normally playing Seniors Pro-Ams, had nothing to do too. We almost kind of started our own tour. Not quite at the Saudi level, but we were playing 100 bucks each. 100 bucks in each Friday to all the courses around in the local area. It was pretty good.
"We were playing with like amateurs that were up there at the time, veteran Tour pros, Tour pros that are sort of trying to make it on Tour, and guys like Scotty. We had a really nice mix. It was so casual and so laid back. I thought it was great. I actually really enjoyed that COVID lockdown."
Herbert now looks ahead to his first appearance at the Players Championship next week.
Adam Scott could not match the brilliance of Herbert on day four and finished tied for 26th after a final round of 74, Matt Jones was 52nd, New Zealand's Danny Lee 61st and Marc Leishman 68th.
Former winner Jason Day was forced to withdraw on the eve of the tournament following the passing of his mother Denning.
https://www.bruceyoungmedia.com.au/wp-content/uploads/2021/08/Lucas-Herbert-PGA-2019.jpg
1162
1685
Bruce Young
https://www.bruceyoungmedia.com.au/wp-content/uploads/2017/01/logo.png
Bruce Young
2022-03-06 23:03:25
2022-03-06 23:09:01
Lucas Herbert's brilliant final round at Arnie's place