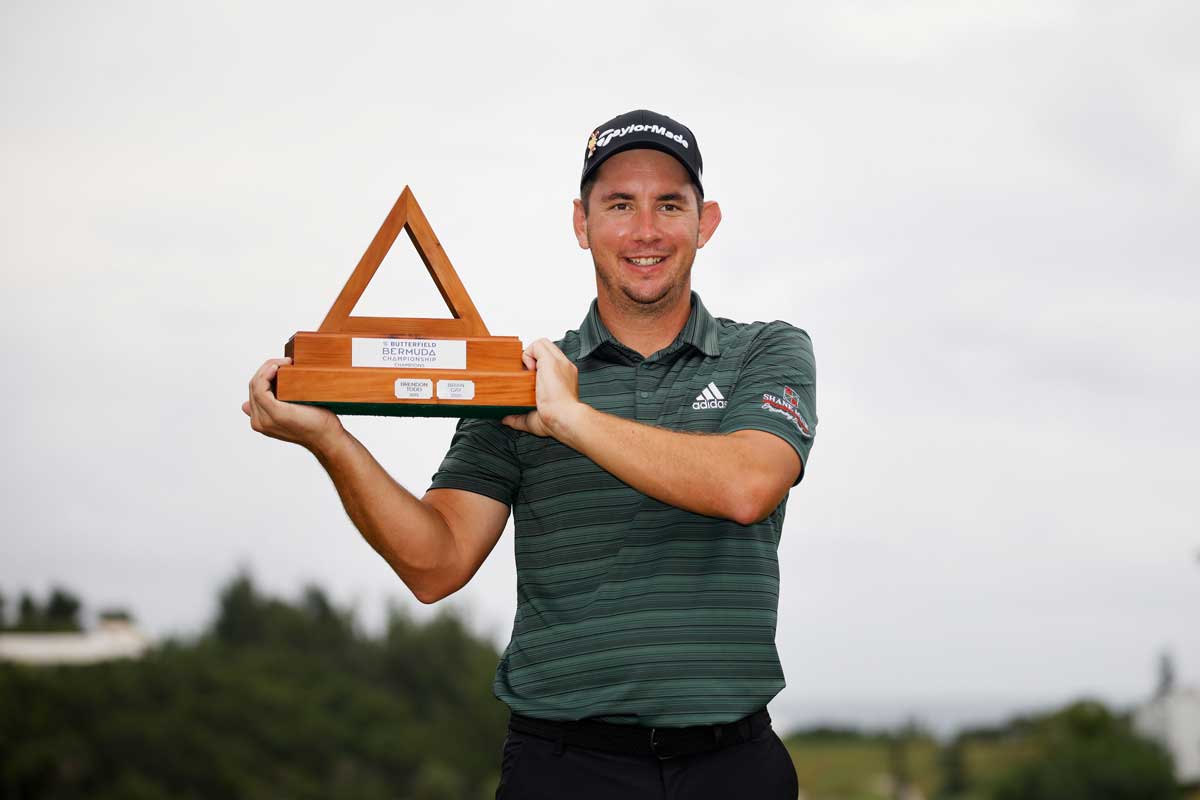 Lucas Herbert – photo courtesy of Getty Images
Less than two months and after just three events as a PGA Tour member, Australian Lucas Herbert has broken through for his first PGA Tour victory with a narrow but impressive one-shot win at the Butterfield Bermuda Championship in Southampton in Bermuda.
In wet and gusty conditions, Herbert fought off strong late challenges from New Zealand's Danny Lee and American Patrick Reed to win by one over that pair and claim the first prize of US$1.17 million and perhaps more importantly cement his standing on the PGA Tour.
Herbert will likely move to 44th in the world ranking once the latest rankings are revised later today, the highest ranking of his career to date.
Since gaining full status to the PGA Tour during the Korn Ferry Tour Finals in early September, Herbert has missed the cut in his first two starts as a PGA Tour member but this week he contended throughout and began the final round in a share of second place but four shots behind Canadian Taylor Pendrith.
Well ahead on the golf course, after starting his final round an hour ahead of Herbert, Lee and Pendrith, Reed was putting together a stunning final round of 65, made all the better as it was compiled in such demanding conditions.
When Reed had finished his round Herbert still had several holes to play but a birdie at the 14th gave him the lead and when he managed to par the 15th, 16th and 17th and hit his approach to 5 feet at the last it was all over. He would miss that putt, but the victory was his.
"Like it's really tough to keep your mind from jumping too far ahead and thinking, you know, what are you going to say in the winner's speech or what's the photo going to look like with the trophy, I mean, it's pretty unbelievable," said Herbert trying to come to terms with such a significant milestone.
"Just so hard out there today and I just, it was one of those ones you couldn't even let yourself kind of get ahead and think that you've won the tournament early because conditions were just so brutal that you could have hit a shot anywhere at any time offline and it was just, it was just good to survive I guess is probably the way to describe it.
"I had to make sure that I kept myself in check, there's still a tournament to be played. Obviously, Danny was making a real run there and even when he hit it left on the last, I said to my caddie, we're going to expect him to hole that, we've got to make ours. I just tried to keep myself really present, not let myself get too far ahead. Once I was able to get over that putt with two putts to win on the last, it was kind of, that was a bit of fun."
The victory earns Herbert the right to play the Masters for the first time next April, along with starts at the USPGA Championship and other key events such as the Arnold Palmer Invitational and the Sentry Tournament of Champions.
"Definitely gets me into the Masters?" questioned Herbert when confirming that this event earns that right. "Okay. I mean, the next 12 months are going to be really cool.
"I've never played Augusta, so being able to play the Masters is going to be pretty cool. Getting to play in — we just talked about Kapalua, getting to play in a few of these events that I've watched growing up on TV, it's just going to be a cool experience. No matter how I play, it's just going to be phenomenal to play in those tournaments. It's going to be lots of fun."
Herbert made special mention of his long-time coach Australian Dom Azzopardi who made the journey to the USA recently to work on Herbert's game after missing his first two cuts as a PGA Tour member.
"Yeah, my first two wins on the European Tour, Dom wasn't there so to sort of experience a win with him here. Especially we missed the past two cuts before this in a row, my game was really, really struggling and I decided to call in and get him out over here. By the time it looked a bit dicey trying to get him back into Australia once we got him out.
"So for him to make that commitment to come out and help me out a lot with my golf swing, we hit a lot of balls over the last two or three weeks getting ready for this event. To have it pay off so quickly and to share that win with him, that was really special."
Lee appeared to blow his chances of a second PGA Tour title when he dropped four shots in three holes in the middle of his closing nine to drop four behind but birdies at the 15th, 16th and 17th had him just one back.
He was unable to find that one extra birdie he would need to force a playoff but for the 31 year old it was a week of some significance given he is currently playing without full status.
The New Zealander has been playing on a Minor Medical exemption after losing his status at the completion of last season and had just two more events after this one to regain his PGA Tour playing rights so despite the near miss the week has been very important.
"A lot of good and a lot of bad," said Lee referring to his roller coaster round.
"I fought really hard for it, just 12 through 14 was a very, very tough stretch for me. I hit a really, really good shot on 12, just went over the green by I don't know how much, but it was kind of a tough shot from back there. Made a silly double there.
"I was just kind of a little confused with my putting. Had three holes I didn't (inaudible) in my putting, I don't know why I did that, but after that I just bite my tongue and I just try to grind it out.
"There's so many times when that time comes or whenever that disappointment happened, I just kind of half-assed it all the way in, so this time I didn't want to do that. I gave 120 percent all the way in."
"I guess it's very good," added Lee referring to where this now leaves him as far as playing opportunities are concerned. " I have a lot more opportunity than what I had before, I think. I guess I think I got two more medical starts left and next week is Cancun, which I do very well lot of the years, so I'm looking forward to playing in that next week."
https://www.bruceyoungmedia.com.au/wp-content/uploads/2021/10/Lucas-Herbert-Bermuda-Getty.jpg
800
1200
Bruce Young
https://www.bruceyoungmedia.com.au/wp-content/uploads/2017/01/logo.png
Bruce Young
2021-10-31 22:43:10
2021-10-31 23:30:29
Lucas Herbert claims first PGA Tour title