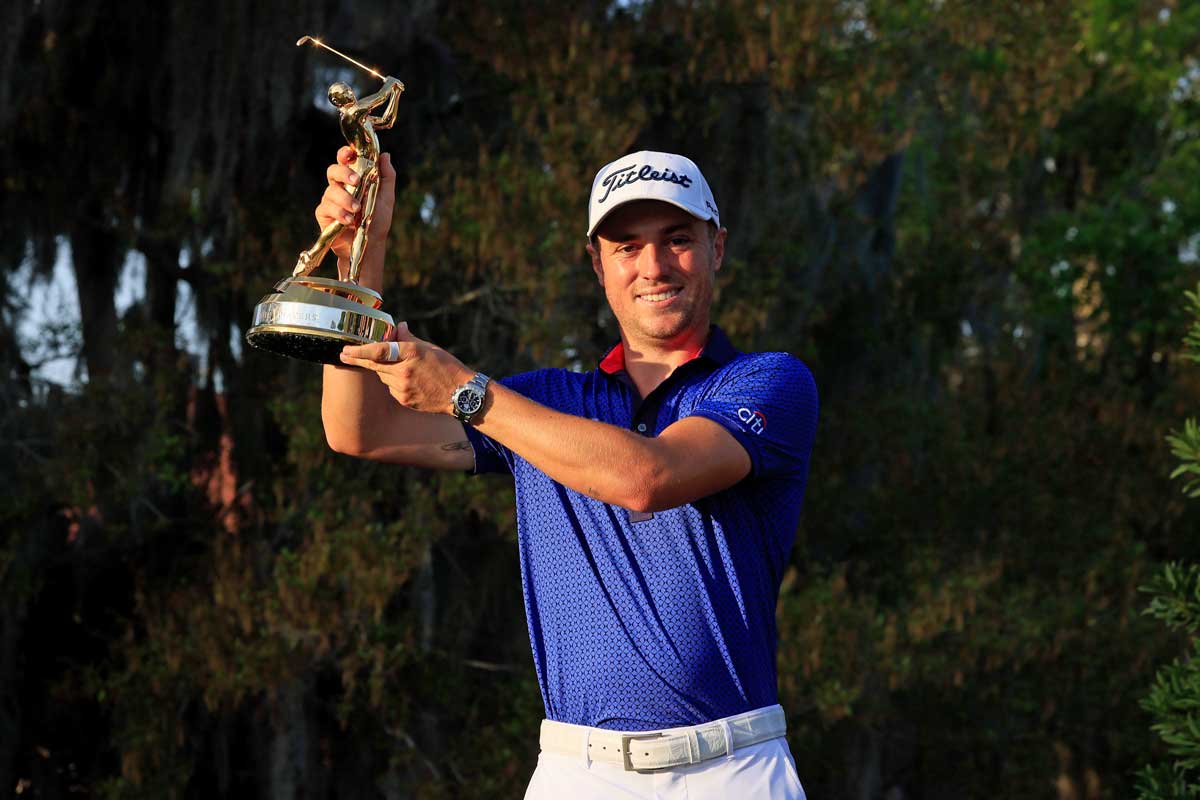 Justin Thomas – Photo Getty Images Sam Greenwood
It was a frustrating final day for Queensland's Cameron Smith at the Players Championship but he finished as the leading Australian in 17th position after a final round of 72.
Smith produced a round of five bogeys and five birdies although after two early bogeys it was perhaps a solid recovery and having a best of 56th in his previous starts in the event, the performance reflects the continuing advance of Smith towards the elite of the game.
A bogey at the last today followed birdies at the 16th and 17th, in fact he would birdie the dangerous 17th on three occasions during the week, but, overall, after working himself to the edge of contention during the weekend it was a result below his now considerable expectations.
With The Masters now fast approaching and Smith no doubt buoyed by his extraordinary showing in the 2020 event a few months ago when runner-up to Dustin Johnson, there is a lot to like about the 27 year old's chances of another strong performance in a major.
Smith finished 7 shots behind the winner, Justin Thomas whose remarkable weekend rounds of 64 and 68 swept him from just inside the cutline to victory after birdies at the 16th and 18th on Friday evening saw him survive the cut.
Thomas struggled through the opening nine today but a birdie at the 10th followed by a 20 foot eagle putt at the 11th had him in a share of the lead with 54 hole leader Lee Westwood and he would go ahead with a two putt birdie at the 16th and held on to win by one.
Westwood was not at his best today but fought doggedly making a fine par save at the 16th before a three putt bogey at the 17th. He then holed a fifteen foot birdie putt at the last to edge clear of Bryson De Chambeau and Brian Harman who tied for 3rd.
"It means a lot, obviously," said Thomas when asked of the significance of the victory to him.
"It's a huge championship, very special. It's a tournament I've wanted to win, a tournament that I truly did feel like I was going to win at some point, and hopefully multiple times.
"I love the golf course. It was in incredible shape this week. The greens were so good. The fairways were perfect. Rough was long. Just a great test of golf. I mean, that's why it's a PLAYERS Championship."
"It's been a crappy couple months. I've had stuff happen in my life I never thought I'd have happen, and I mean, losing grandpa was terrible, and having to play a round of golf dealing with that, and then on top of that not playing well, it just was a lot, and it took a lot on me mentally.
"At the same time, that's just the way that it was. I had to figure it out and had to get over it, and if I wanted to come to these tournaments and have a chance to win, then I needed to suck it up and get over it. If I wanted to throw a pity party for myself or feel sorry for myself, there's no reason to show up, and I can stay home until I feel like I'm ready.
"I felt like I was in a good enough head space where I could play. I just wasn't playing well. And then once I wasn't playing well, it was kind of snowballing.
"This week was huge to win a big championship like this in front of fans again, which is incredible. You know, it tested me mentally, physically, emotionally, and I'm very proud of myself for getting it done."
Thomas reached some low points during the personal and on course issues he was facing and spoke of the manner in which he dealt with it.
"I talked to people. I've reached out to people. I mean, it's not — I mean, I'm not embarrassed to say that I reached out to talk to people to kind of let my feelings out and just discuss stuff with them.
"I think it's something, especially at our level, a lot of people probably think that they're bigger and better than that, but some of the thoughts and things I was feeling, it wasn't fair to myself, and I needed to do something, and my girlfriend Jill was very helpful with that and staying on me to make sure I was taking care of myself, like I would want to do for anyone else in my family.
"Yeah, just like I do in my golf, if things are going on in life, I need to work on it to try to get it better."
Thomas moved up one place in the world ranking to 2nd behind Dustin Johnson.
Westwood finished runner-up for the second occasion having finished behind Bryson De Chambeau last week in Orlando.
"Obviously, when you're in contention, you'd like to win every tournament you're playing in, but I didn't quite have my game today," said Westwood.
"I don't know what it was. Maybe I just haven't played a lot of golf. I hate to say it, age is catching up with me. Yesterday I felt like my legs were just starting to get a bit tired and weak, and today I just didn't feel like I had my legs under me. I was hitting shots I don't normally hit. The ones right off 2, 4, and 11 were poor shots. Couldn't quite find the strike.
"Slightly disappointed that I didn't win, but you can't be too wanting after a second place finish in the PLAYERS Championship. It's something positive to take into next week to the Honda Championship, the Honda Classic.
"I've got a fun couple of days coming up. I'm going to play Augusta with my son Sam. Tomorrow's going to be a good Monday."
After Smith, Cameron Percy closed out his first Players Championship appearance with a 68 to be the next best of the Australians in 29th place, Jason Day was 35th, Adam Scott 48th and Matt Jones 55th.
The PGA Tour now moves south to Palm Beach Gardens for the Honda Classic.
https://www.bruceyoungmedia.com.au/wp-content/uploads/2021/03/Justin-Thomas-Sam-Greenwood-Players-Getty.jpg
530
600
Bruce Young
https://www.bruceyoungmedia.com.au/wp-content/uploads/2017/01/logo.png
Bruce Young
2021-03-14 23:48:06
2021-03-14 23:49:42
Justin Thomas wins Players – Cameron Smith heads Australians