Su Oh and Jed Morgan hold their respective trophies – photo PGA of Australia.
22 year old Jed Morgan not only created history with his winning margin of eleven at the Fortinet Australian PGA Championship today, he became the youngest player to win the title since the event turned to a stroke-play event in 1964 and, more importantly, created a career for himself.
The win over his home course layout at Royal Queensland all but guarantees the Queenslander full status on the DP World Tour (formerly known as the European Tour) in 2023, earns him starts in three DP World Tour events in 2022 and earns him a cheque for A$180,000 which I imagine at this stage of his career will be a welcome boost.
The leading three players at the end of the 2022 PGA Tour of Australasia will automatically earn cards for the European Tour and so just two months after turning to the paid ranks, Morgan has all but secured that very important asset for a rookie, namely a significant tour on which to play for several years.
Morgan becomes the immediate beneficiary of an initiative announced between the PGA Tour of Australasia earlier this week and the DP World Tour to provide greater pathways for emerging players and Morgan's win today certainly does that!
Jed Morgan today – photo Bruce Young
Morgan took a nine shot 54 hole lead into today's final round and from his opening birdie from ten feet or so at the first, the probable became inevitable as he birdied the 3rd and although he would later produce as many bogeys (3) today than he had in all 54 previous holes, he had done enough work over the opening three days to allow for the occasional mistake.
So how was he feeling as he headed out on a perhaps more important than normal Sunday round of golf at his local club?
"No, I'm pretty sure before a normal Sunday game at Royal Queensland I don't want to vomit," he said referring to the nerves he was feeling .
"So, it's been difficult. The last two days, I'm glad it's over, whether I won  or lost, I'm just glad it's over because I've never had that type of emotion. I've felt pressure for sure, I'm sure like Su's felt it more than I have, she's played in major championships and obviously has cemented her spot on the LPGA Tour, but I've never felt pressure like the way I felt it this week.
"It was something I want to do it again. Obviously, there's a couple of things I'd do a bit different, just try not to feel that way, but you can't help most of it."
If Morgan was feeling the nerves he certainly did not show it but a birdie at the first certainly helped settle things down.
"It was massive. I said I wanted to get 25-under at the start of the day just to keep pushing myself towards something, but yeah, that was big. I think it was a bigger even birdie the third.
"That kind of cemented a lot of it. Yeah, there were a couple of stages throughout the day I got a bit panicky I guess, made a couple of bogeys in the par 3s, but yeah, that was a nice way to start, especially to that pin."
Morgan paid credit to his playing partner Oh, the pair familiar with each other through their joint involvement with Golf Australia and having shared accommodation in the US in 2021.
"We almost lived together I guess for a month or two. There's a special bond I think between Australian golfers that only gets stronger as you go overseas. It's funny, like the Golf Australia House is obviously provided by the funding that they give to both amateurs and professionals. I've been lucky enough to obviously be with that program for five years now.
"I'm forever indebted and grateful for everything and as I said, I think it's a special bond between Australian golfers and just Australian people in general. We're huge fans to be Australian and yeah, it's just awesome. It was awesome to see her win as well."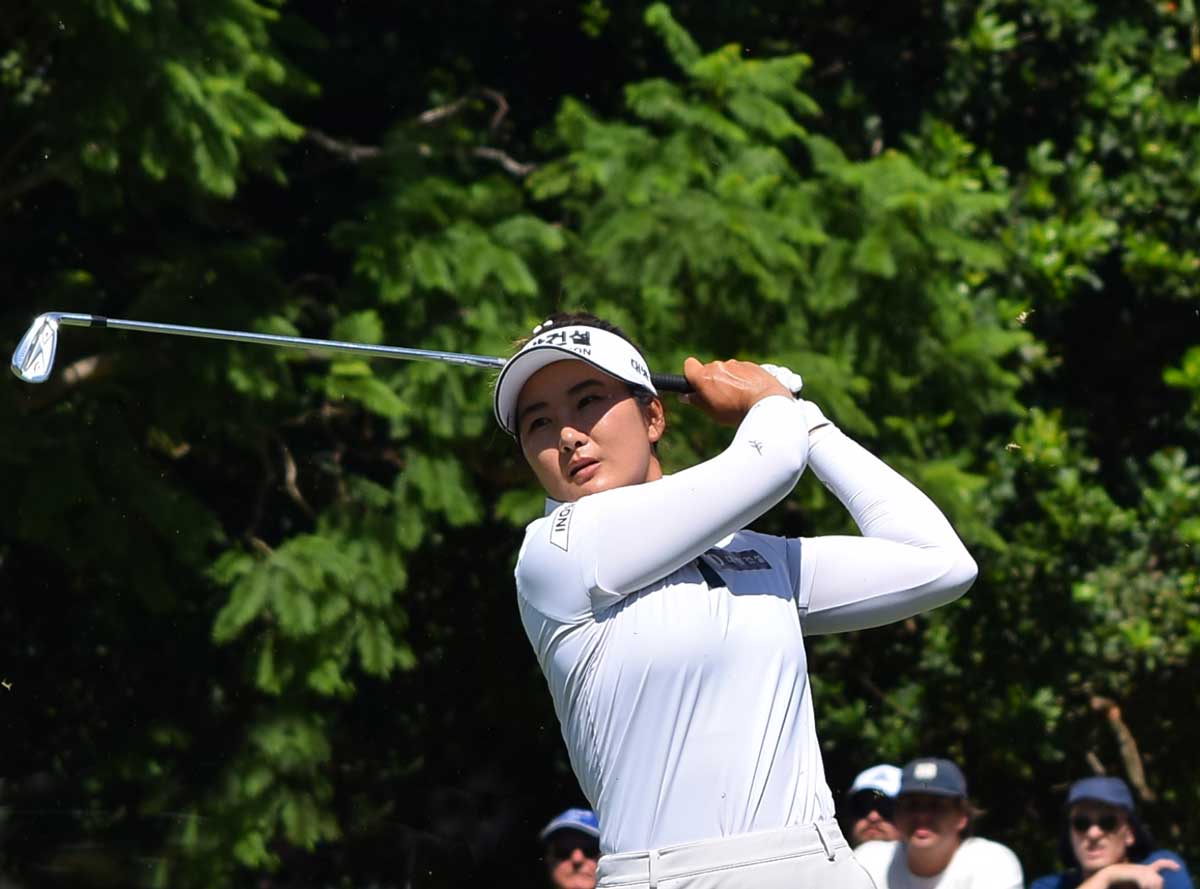 So Oh hits her tee shot at the 11th today – photo Bruce Young
The Fortinet WPGA Championship contested by 24 women was won by Su Oh who was the leading ranked player in the field following the withdrawal through Covid associated issues of Hannah Green, Stephanie Kyriacou and Sarah Kemp.
Oh won by four after a final round of 68 saw her extend her two shot 54 hole lead to four.
Recently turned professional, Grace Kim, the current Australian Amateur Champion, finished alone in second place, two ahead of Sarah Jane Smith.
Oh also earns $180,000 and secures her first win since the Australian Ladies Masters at RACV Royal Pines  in 2015 which came in just her second event as a professional.
"When I won at RACV Royal Pines, I didn't really go into the week trying to win, I just played," said Oh referring to her win so early at Royal Pines. "It was like my first pro event and I ended up winning. So, it was kind of like, oh, okay.
"This week, when I decided to play, I really wanted to come and win and hopefully put my name on the Karrie Webb Cup. So I think it made me be a bit more, you know, a bit of confidence in myself that I could get it done and it was a small field, but we had good players and it really came down to the last six, seven holes I think. So, it's nice to get it done.
"I definitely played well. I made quite a lot of mistakes as well though, around the greens. I just don't think I quite got used to the grain and how it really sits. But I played better than I thought I would, to be honest. I didn't know if I was going to be ready so early in the year, but I just said, I'd been playing well at the end of the year, so
hopefully that feeling's still with me.
"It's always different when you're under the pump. Sunday feels so different to Thursday, but my swing felt better as the days went on. I actually hit it very good Thursday, Friday, but played much better on the weekend. I didn't putt as well today, but still holed all the crucial putts that I had to hole."
Oh heads back to the USLPGA Tour with the confidence of a win under her belt and it may just be that the young lady who has perhaps not yet lived up to her potential in the US might just make the leap forward in 2022 that many have been waiting for.
The inaugural combined staging of the Fortinet Australian PGA Championships at Royal Queensland worked well and large crowds were present to see one of their own take the men's title and perhaps stamp himself as a star of the future, if not the now.
https://www.bruceyoungmedia.com.au/wp-content/uploads/2022/01/Jed-Morgan-and-Su-Oh-PGA.jpg
1818
1200
Bruce Young
https://www.bruceyoungmedia.com.au/wp-content/uploads/2017/01/logo.png
Bruce Young
2022-01-16 09:06:57
2022-01-17 05:52:46
Jediah Morgan – a star is born at Royal Queensland