Joint leader – Lucas Herbert – Photo: PGA of Australia
Victorian, Lucas Herbert, took full advantage of the perfect morning conditions on day one of the Australian PGA Championship at RACV Royal Pines on the Gold Coast, his 5 under par round of 67 handing him a share of the lead with Brisbane golfer, Brett Rankin, as the morning half of the field completed their rounds.
Herbert, who plays on the European Tour for much of the year, has struggled in 2019 compared to an impressive breakout season in Europe in 2018, battling a hand injury for much of the latter half of the season but it is no longer causing the problem it was earlier, his round today evidence of just that.
"It's been a lot better," said Herbert who was up early for a 6.20 tee time. "I can still just feel it a little bit at times. There was one shot into the eighth today that I felt it a bit and it was bit sore, but I think at the Open I was kind of flinching and trying to not hurt my hand whereas I'm not really doing that now.
"Whether it's like a wedge that you've got to take a pretty steep divot with, I'm actually okay with doing that, whereas I wasn't two weeks ago. Yeah, hand's really good, can't complain there. It's good to be healthy again and able to play."
His round this morning was highlighted by an eagle at his 3rd hole (the 12th of the course) which came after birdies at his first two holes . "It was a 6‑iron," he said when asked what club he had hit for his 2nd at the par 5. "I was actually in between clubs. I kind of just wanted to get it middle of the green and I kind of pulled it and hit it a bit hard and it got all the way back there. Yeah, take the good breaks when you get them."
He would bogey his next two holes and after being 4 under through 4 holes was just 1 under heading to his 10th tee but he would play the back nine in 4 under to complete an impressive start to the week.
"It's actually been an interesting day. Usually I kind of set little targets for myself to get through numbers‑wise, but I really didn't today, I kind of just let everything go and just enjoyed being out there. The course is in great shape, so I was just enjoying some nice weather, walking around a great golf course with one of my best mates on the bag."
The mate on the bag was brought about by a new caddie he hired last week for next season being unavailable for this event. "I've just hired someone for next year Friday of last week, but he couldn't make it this week so it's kind of just a fill‑in for the week.
"But Marcus caddied for me when I finished 11th in the Aussie Masters in 2014, so got some good chemistry there, had some good results together before. And he's just a mate carrying a bag, but he's doing a great job, always standing in the right place and never sort of annoying me, which is great."
Rankin has battled away on the PGA Tour of Australasia and the Queensland Sunshine Tour for much his nine-year professional career but in 2019 he would finally make his breakthrough when winning the Northern Territory PGA Championship. He has been a prolific winner of pro-ams but until this year was struggling to convert that success to a higher level.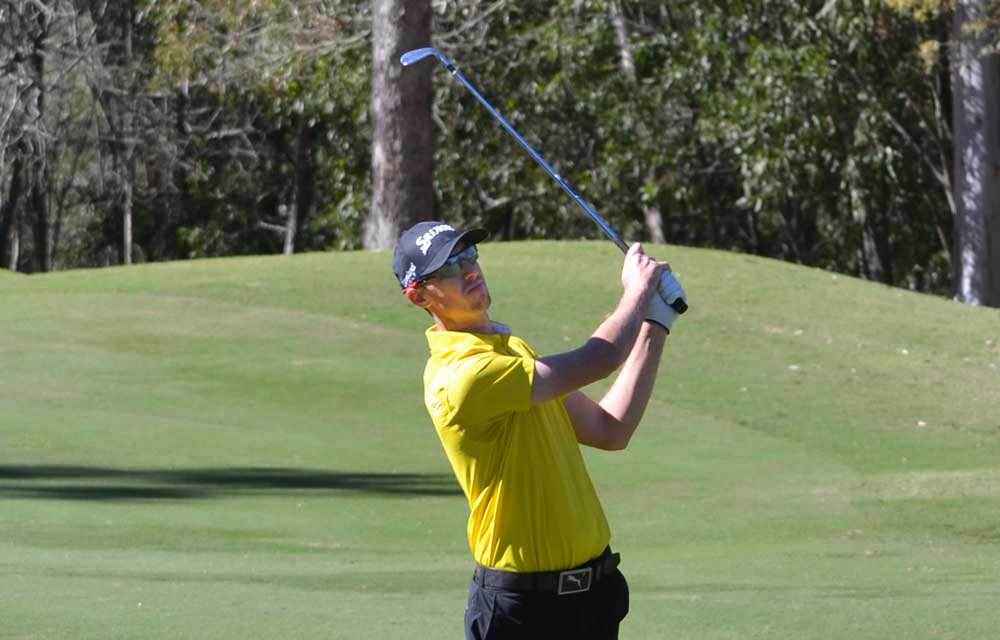 Brett Rankin – file photo
"Winning NT PGA just sort of gives you that confidence you know you can do it, your best golf can win on this tour," said Rankin after his round.
"It's a tough tour, there's so many good players out here. So you gain that confidence from winning multiple pro‑ams and you take that to the next level, you win a tour event, and the next you're like, okay, I belong here. You gain confidence just from doing that.
"It's also just a bit of a stress relief, to be honest.  You question it, you think about it and you're like, am I good enough to win, and you finally do it. You sort of tick that box and you're like, all right, let's go to bigger and better things."
Herbert and Rankin led by one over South Australian, Nick Cullen, New Zealander, Ryan Chisnall, and New South Welshman, Travis Smyth, as the morning field vacated the course for the afternoon field to do their stuff.
With a gathering breeze and a golf course drying out in the afternoon warmth, the task was always going to be a little more difficult for those out in the second half of the day one draw and so it would prove.
Adam Scott was one of those to play late on day one and the 2013 champion appeared to be on track when he holed a 30-foot birdie putt at the 10th to move to 2 under and within three of the lead.
The 13th at Royal Pines, however, is one of the toughest driving holes on the course and when Scott found the water from the tee he would drop two shots and was back in the pack.
He would, though, hit a stunning drive at the 15th and holed a 16-foot eagle putt to return to 2 under and that is the way he would finish the day, just three shots from the lead.
"I played good today," said Scott. "Unfortunately, I really mis‑hit that driver at 13 and it cost me two.  Other than that, it was pretty stress free.  I was very happy with it.  It wasn't that easy out there.
"I seemed to get a lot of in‑between numbers and you have to kind of ‑‑ when it's windy here, you kind of have to be a little bit careful because you don't want to be chipping short‑side around here, the grain is just too much to deal with.
"So I was pretty stress free.  I wish I could have that swing on 13 over again, but all in all I feel good about my round. A round like I ended up at 2 under leaves me in a great spot with hopefully light winds tomorrow morning to come out."
Playing with Scott were tournament invite and former Open Champion, Stewart Cink, and the immensely talented West Australian, Min Woo Lee. Lee has just completed his first season on the European Tour when playing events on invite and although he was unable to gain full status for 2020 he has done enough to be assured of as many as twenty events in Europe next year.
The brother of Australia's leading female golfer, Minjee Lee, Minwoo is considered by many to be one of the future stars of Australian golf and gave further evidence of that when playing in the elite company of major champions, Scott and Cink.
Lee finished the better of the trio with an opening round of 4 under 68 and, along with South Australian, Wade Ormsby, led the afternoon field. Lee's round was made all the better given he began with two bogeys early before birdies at six of his last 13 holes.
Ormsby has some history at RACV Royal Pines having been part of the three man playoff in the event won by Greg Chalmers in 2014.
Defending champion Cameron Smith finished with a round of 74 but two late birdies at least made the round reasonable. He finds himself in a share of 94th place and while very much back in the field he is still just seven shots from the lead and the chance of winning three Australian PGA Championships in a row is still a possibility although hardly a probability.
So, as the Australian PGA Championship heads into day two, Lucas Herbert and Brett Rankin are ahead by one.
Around 45 players broke par on day one and, with the likelihood of similar conditions tomorrow, the cut appears as if it will fall at the even par mark.
https://www.bruceyoungmedia.com.au/wp-content/uploads/2019/12/Lucas-Herbert-Aust-PGA-Day-1-leader-PGA-of-Australia.jpg
1280
1920
Bruce Young
https://www.bruceyoungmedia.com.au/wp-content/uploads/2017/01/logo.png
Bruce Young
2019-12-19 07:06:22
2021-02-03 01:04:12
Herbert and Rankin Early Leaders at RACV Royal Pines