US born Australian, Gabriela Ruffels, completed a remarkable week at the US Women's Amateur in Mississippi, birdies at three of her last four holes under the most intense of pressure allowing the 19-year old Victorian to become Australia's first US Women's Amateur Champion.
Ruffel's 36-hole final match against Switzerland's Albane Valenzuela was one of the closest fought in the history of the contest, the match tied at lunch after the opening 18 holes and only 1 hole between the pair over the final round.
The match was tied through 29 holes but when Valenzuela birdied the 30th she would take a 1 up lead into the final six holes.
Ruffels, though, would birdie the 33rd to square the match and then birdied the 35th to take a one-hole lead to the last.
Ruffels converted a downhill, right to left curling 14-foot birdie putt on the 36th green at Old Waverly Golf Club to clinch the title which she need to do as her opponent was facing only a six foot putt for birdie herself.
Ruffels is not only the first Australian to win this championship and is also is the 11th player from her country to win a USGA championship, joining the likes of Karrie Webb, Minjee Lee, Jan Stephenson and David Graham, Minwoo Lee and Geoff Ogilvy.
"I don't really know yet, it's been kind of a blur the last kind of 20 minutes," said Ruffels of her mindset shortly after her victory. "But this is amazing. This is what you dream of as a kid when you start playing golf. This is the biggest championship in amateur golf. I'm still speechless."
Ruffels has gone ahead in leaps and bounds since heading to the US to attend the University of Southern California where she has quickly settled into the collegiate system.
"I think I can credit that to my USC team actually," added the winner when asked about the elevation in her game which has included a victory at the North and South Amateur Championship earlier this year.
"We just included last year Malia Nam as a sixth person, and five people travel, so there was a lot of competition between us at school. I think we're all ranked maybe in the top 80 in WAGR, so there was definitely a lot of competition to go and travel, and we all push each other so much.
"And having that pressure to make the team, especially with all these great players around I think has pushed me to a new level and has made me try and work harder and harder, and I think I can credit that."
For winning the U.S. Women's Amateur, Ruffels receives a gold medal and custody of the Robert Cox Trophy for one year. Her name also will be on a plaque in the Hall of Champions at the USGA Golf Museum that will commemorate all of the USGA champions for 2019.
She also earns a 10-year exemption into the U.S. Women's Amateur as well as an exemption into the 2020 U.S. Women's Open at Champions Golf Club in Houston, Texas. She also earns an invitation to next April's Augusta National Women's Amateur as well as invitations to the ANA Inspiration, Women's British Open and Evian championships, provided she is still an amateur."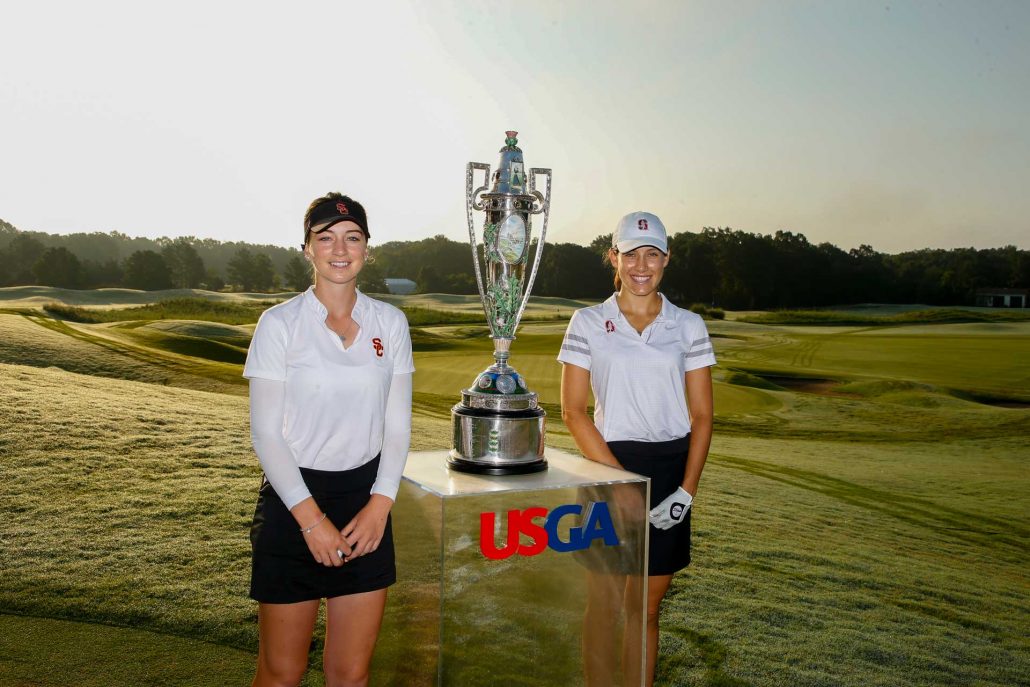 The finalists – Ruffels left and Valenzuela ahead of today's match – courtesy of USGA Steve Gibbons
https://www.bruceyoungmedia.com.au/wp-content/uploads/2019/08/Gabi-Ruffels-US-Womens-Am-Steven-Gibbons-USGA.jpg
1280
1920
Bruce Young
https://www.bruceyoungmedia.com.au/wp-content/uploads/2017/01/logo.png
Bruce Young
2019-08-12 00:24:18
2021-02-03 01:07:56
Gabriela Ruffels is the US Women's Amateur Champion