Marc Leishman at the 7th hole today – photo Getty Images
Marc Leishman headed into today's final round of the Sony Open at the Waialae Country Club near Honolulu, knowing he needed something special if he was to challenge for the title.
He did just that by producing a third consecutive round of 65 but, as good as his week had been, it was not enough to hold off the winner, Kevin Na, and joint runners-up, Chris Kirk and Joaquin Niemann.
Leishman tied for 4th which was his second best finish in 12 starts at the Sony Open, just one spot behind his 3rd place finish two years ago. He has made all 12 cuts in the event, this being his 4th top ten in that time so it is clear it is a golf course fits the eye of Marc Leishman.
Leishman recovered from a slow start to his round with a back nine of 30 and when he hit a 3 iron to 25 feet behind the hole at the last, an eagle possibility presented itself to take a share of the lead.
The putt finished short but the resulting birdie had him one behind although others on the golf course still had their chance to move ahead and so they did.
"I got off to a rough start," said Leishman. "I had to chip out sideways twice on the front nine, one left-handed. I hate doing that. So that was disappointing. But fought back well. Hit a great shot on 18 and I've seen guys leave that putt before, and I was telling myself don't leave it short and it's a really slow putt.
"Yeah, that's really disappointing. See how it ends up. I don't think it's going to be good enough but happy to get the competitive juices flowing again and put me in a good spot going into Torrey Pines in a couple weeks.
Leishman will be defending his Farmers Insurance title at Torrey Pines in two weeks so this and a solid week on Maui last week has been an encouraging start to the year.
Matt Jones began the final round a long way off the pace but raced to the turn in 31, an eagle at the 9th after a brilliant second, getting him within one of the lead at that stage. He was unable to keep that pace but his round of 64 has seen him finish in a share of 11th place, a very nice start to 2021.
Cameron Davis finished 31st, Adam Scott 41st and Aaron Baddeley also in 41st place after his final round of 72 saw him lose 28 positions.
Defending champion Cameron Smith would also lose ground over the final round and eventually tied for 62nd.
The winner Kevin Na won his 5th PGA Tour title with an impressive display of putting over the closing stages, four birdies over his final six holes including one at the last edging him clear of last week's runner-up on Maui, Joaquin Niemann, and Chris Kirk.
For Na, just an average length hitter on the PGA Tour, it reinforced the need for him to take advantage of the golf courses remaining on the PGA Tour which suit his game.
"Yeah, it feels great," said Na. "I felt like Waialae is a golf course I really have a chance at, and there's not too many of these left anymore, so I have to take advantage of it. What a great feeling to win at a golf course I really feel like I can win at.
"So I think on a golf course like this, fairway is a premium, and a guy that puts it in play and has got — a guy like me has got a good chance, and I don't feel like I'm at such a disadvantage, and mentally, already there, I'm able to compete. Some weeks, mentally it's tough because you know going into the week you're at such a disadvantage."
Early in the week Na was facing the possibility fo missing a start in the event for the third consecutive year.
"Two years in a row I've been here and wasn't able to tee it up because of injuries. This year, Wednesday morning in Pro-Am, warming up and I hit one hard and I pulled my rib and I didn't know what to expect. My trainer that I just added to the team, Cornel Driessen, he helped me out a lot.
"We worked on, it loosened it, and the next day I woke up, it felt great and felt like nothing happened. Had he not been here, I don't know, might have been a different story.
"It felt good during the whole week. I was swinging well, putting well, and a couple things went my way, a couple bounces here there, and that's what you need.
Kirk produced his impressive result at a time when he needed to most. He needed a top 3 finish here to regain his PGA Tour status after playing on medical exemption of late. This was his last throw of the dice and he delivered.
"It's incredible. I would have never guessed that it would work out this way this week, needing a top three finish to keep going. But you can see how much things of out of your control and when you play well and things work out thankfully.
"I'm so thankful to have the support of my family through these last few years, especially, it's been incredible when they probably were — you could have called them crazy for supporting me but my wife, Tahnee, and my boys, Sawyer, Foster, Wilder, I just love them so much and I can't wait to see them."
The PGA Tour now moves back to the mainland for the American Express event in La Quinta.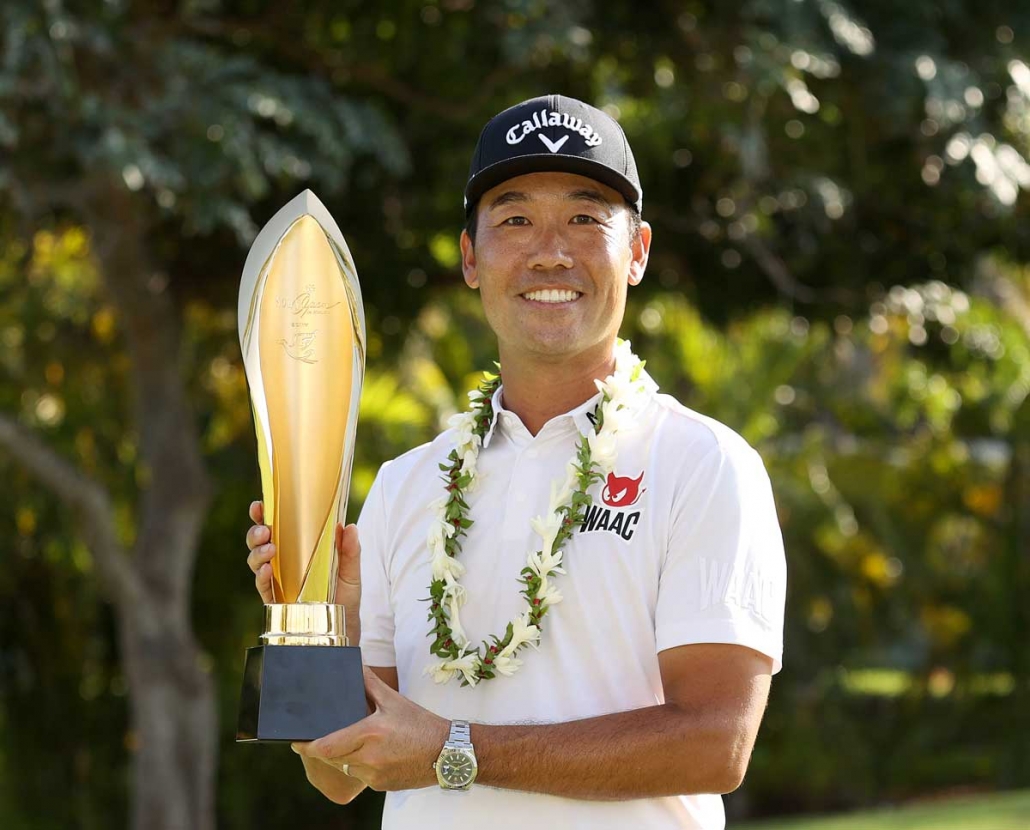 Kevin Na and his trophy – Getty Images Shamus Gregory
https://www.bruceyoungmedia.com.au/wp-content/uploads/2021/01/Marc-Leishman-final-round-Sony-2020.jpg
789
1200
Bruce Young
https://www.bruceyoungmedia.com.au/wp-content/uploads/2017/01/logo.png
Bruce Young
2021-01-18 04:27:52
2021-02-03 01:01:02
Close But No Cigar for Marc Leishman