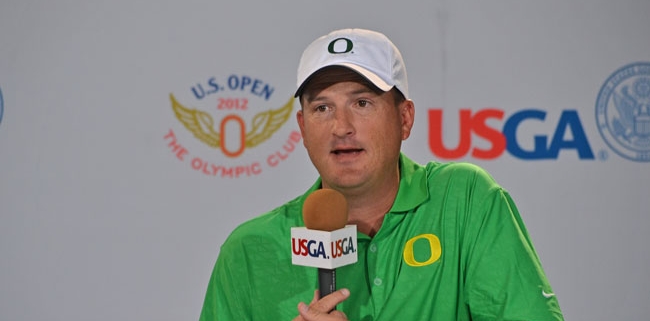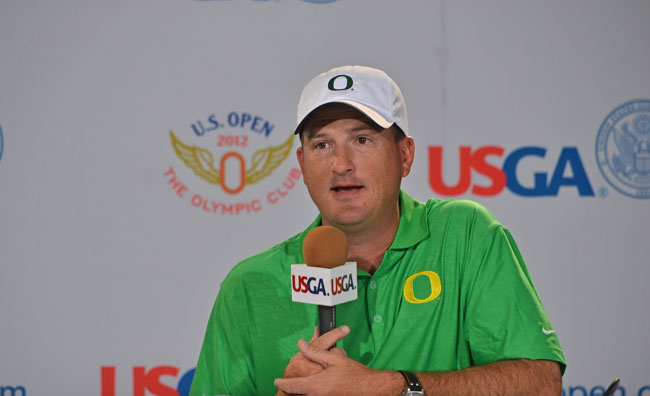 Casey Martin at the 2012 US open – photo Bruce Young
During the coverage of the Father and Son Challenge this weekend I was sad to hear that Casey Martin, a teammate of Tiger Woods, Notah Begay and others during his time at Stanford University in the mid 1990's, was forced to have his leg amputated after suffering Klippel–Trénaunay syndrome since birth.
The condition is a rare congenital condition in which blood vessels and or lymph vessels fail to form properly.
Martin's battle with the PGA Tour for the right to use a cart under what is known as the Americans with Disabilities act became universally known and garnered him with much attention and sympathy, and some controversy, as he fought to capitalise on the significant golfing skills he possessed.
He was granted the right to use a cart after suing the PGA Tour in 2001.
Martin was a player good enough to have won on the then Nike Tour (now Korn Ferry Tour) and in doing so in 1999, he graduated to the PGA Tour in 2000 but was unable to retain his playing privileges and returned to the secondary tour.
He would eventually lose status on the Nike Tour in 2003 and in 2006 was appointed as coach to the University of Oregon golfing team where he has remained since. That team did win the NCAA Championship  in 2016 under Martin's guidance.
He did though continue to play where opportunities arose and in 2012 achieved one of his finest moments when led the qualifiers at his venue for the 2012 US Open at Olympic Club (pictured).
In 2019 he broke his defective leg in an accident while recovering a garbage can from his suburban street and although he tried numerous means to keep the leg he eventually lost that battle in October of this year.
Casey's fight against the authorities to allow him to use a cart did polarise the golfing community in some respects, some feeling it set a precedent and allowed him an unfair advantage despite his debilitating condition.
One can't help but admire his determination to continue to play the game he loved as a career and to take on the conglomerate that is the PGA Tour in his quest to do so.
https://www.bruceyoungmedia.com.au/wp-content/uploads/2021/12/Casey-Martin.jpg
396
650
Bruce Young
https://www.bruceyoungmedia.com.au/wp-content/uploads/2017/01/logo.png
Bruce Young
2021-12-20 03:26:39
2022-01-01 04:44:35
Casey Martin loses leg after long and gutsy battle