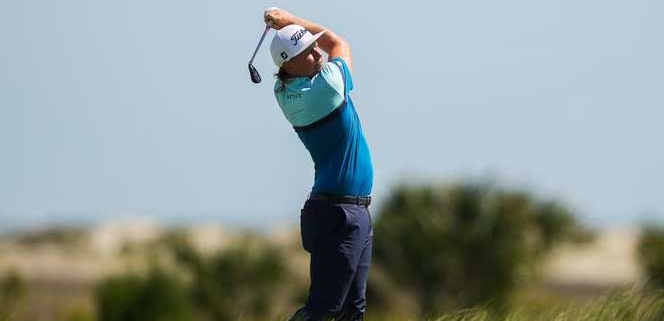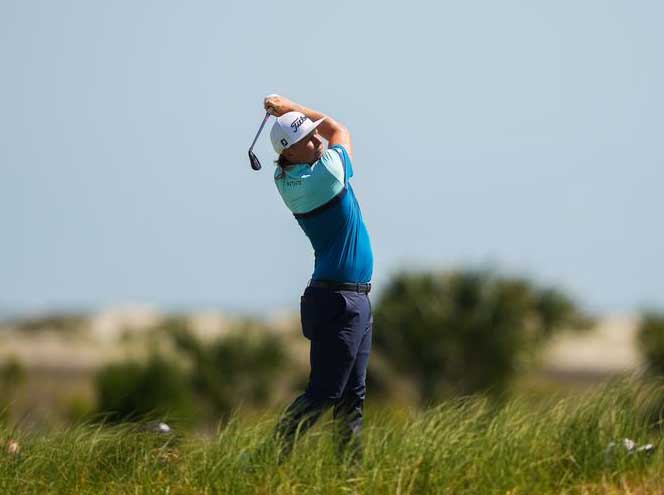 Cameron Smith – file photo PGA of America
Cameron Smith has elevated his world ranking to an all time high with his outstanding performance to finish runner-up in this morning's delayed final round of the Northern Trust event at the Liberty National Golf Club in New Jersey just across New York Bay from New York City.
Smith is now 23rd in the world ranking, surpassing his previous best of 24th after finishing 6th at the WGC Championship in Mexico in February of 2019.
The recently turned 28-year-old Queenslander produced a final round of 67 in the gusty conditions which followed yesterday's damaging Hurricane Henri and finished tied for the lead with Tony Finau at the completion of 72 holes.
Smith, who was tied for the lead with Jon Rahm through 54 holes, began his round well when he holed a lengthy birdie putt at the second but at the 5th hole he pulled his tee shot into the hazard left and eventually settled for a double bogey.
He made the turn in even par but raced home in 31 for his round of 4 under 67 to catch Finau who had finished in the group ahead following that player's closing nine of 30 and a round of 65 to set the mark for those behind.
Finau has been a perennial bridesmaid since his only previous PGA Tour title in Puerto Rico in 2016 having racked up ten runner-up finishes in that time, three of those in 2021 and as Smith stood over a 25-foot birdie putt at the 72nd hole to win the event outright there was a feeling whether it might happen again.
His putt finished a couple of feet short and it was off to extra holes to decide the winner of the first of three FedEx Cup Playoffs.
Finau's drive was perfect at the first extra hole but Smith's was so bad he was forced to play a provisional and was behind the eight-ball from that point.
Finau found the green with his approach and when he two putted for par the title was his.
Smith took the loss on the chin. After all he has advanced his cause in the FedEx Cup standings and the pursuit of riches they provide to third place, and he is very well positioned as the Playoffs head to Maryland this week for the BMW Championship and to Atlanta in ten days' time for the Tour Championship.
"Just a terrible swing, mate," said Smith when asked about the wild drive at the first playoff hole. "Just a mis-hit, and in these conditions, you can't mis-hit the ball. Got a little bottom-y and a little bit heal-y and just blew up in the wind and went a long ways right.
"You know, my driver has cost me a few tournaments this year. That makes me more determined to try and figure it out before the end of the year.
"Luckily for us there's always next week, and we've got two events left to try to make another move, so looking forward to it."
It was Smith's second runner-up finish of the season along with a similar finish at the Masters late in 2020 in addition of course to his win in New Orleans. He earns US$1.035 million for his runner-up finish however and takes his season's earnings on the PGA Tour to US$5.8 million and into 9th place on the money list standings.
Finau's victory moves him to number one in FedEx Cup standings and gets a massive monkey off his back where he has been unable to seal the deal given the many chances he has had to do so.
"Yeah, it's extremely special," said Finau. "It seems like I was a totally different player in 2016 than I am now. So there's a lot of good things I think that have transpired. I worked my tail off to put myself in this position again, and it's really nice to have — you know, I turned in my lowest nine on the back nine today and that's going to give me a lot of confidence moving forward in contention.
"That was the goal on the day was to get to 20-under, and we thought that was going to have a legitimate chance to win the golf tournament. And 21-under would have done it outright, but I was able to hit some clutch shots in the playoff and win the tournament."
"I've never been in this situation," he added referring to his position at the top of the FedEx Cup rankings. "I had a chance in 2018 and played great in the Playoffs and was in the top five going into THE TOUR Championship and had a chance to win the FedEx Cup then.
"This is obviously going to be my best position going into the BMW, and then on to THE TOUR Championship. I'm excited about that opportunity. I've never played that golf course next week, so we're back at work tomorrow, and you know, to try and get ourselves in position to win another golf tournament, the BMW and then on to THE TOUR Championship from there.
"It's exciting to be in this position. I've played great all season. No W throughout the season, but in the Playoffs, this is what makes the Playoffs, immense pressure, and a lot of things riding on these three events, and I'm happy to win this first one."
Of the other Australians beside Smith, Cameron Davis completed a solid weekend with a round of 69 to finish 31st this week and is currently 36th in the FedEx Cup standings assuring him of a place at the BMW Championship in Maryland this week and an outside chance to make the top 30 at the completion of that event who earn the right to play the Tour Championship.
Marc Leishman finished 47th this week and is now 35th in the FedEx Cup standings.
Australia will therefore have Smith, Leishman, Davis and Matt Jones in the BMW Championship field.
https://www.bruceyoungmedia.com.au/wp-content/uploads/2021/08/Cameron-Smith-PGA-Championship-PGA-Darren-Carroll.jpg
495
664
Bruce Young
https://www.bruceyoungmedia.com.au/wp-content/uploads/2017/01/logo.png
Bruce Young
2021-08-24 02:36:43
2021-08-28 00:44:37
Cameron Smith reaches highest ranking following 2nd place in New Jersey