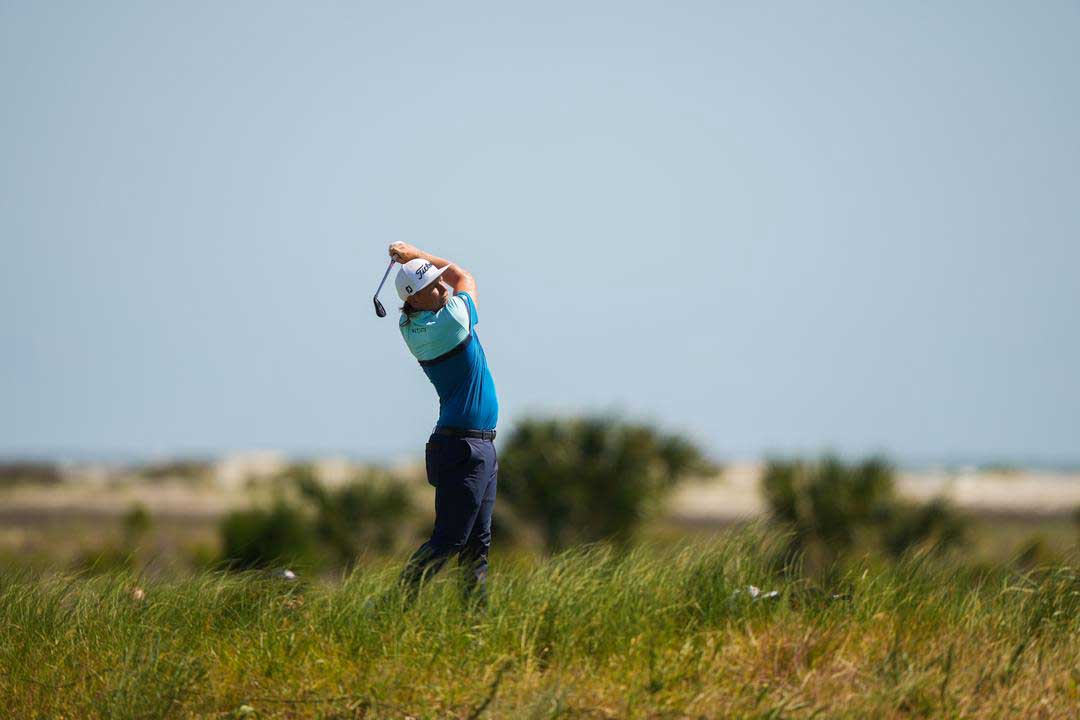 Cameron Smith during his opening round of even par 72 – photo PGA of America Darren Carroll
Cameron Davis is this week playing in just his second major championship but given the manner in which he tackled the opening round of the PGA Championship at the Ocean Course on Kiawah Island there will be plenty more to come and many further opportunities to contend.
Davis' round of 69 leaves him tied for second place and just two behind the day one lead held by Canadian Corey Conners but his recovery from an early triple bogey highlighted the 26 year old former Australian Open Champion's playing skills and constitution.
Davis birdied two holes early but was bought undone by a triple at the 6th hole. He bounced back immediately with a birdie at the 7th before an eight foot eagle putt at the 11th had him very much in contention at 2 under and when he added another birdie at the par 3 14th he had Conners in his sights.
Davis missed a very makeable 5 footer at the par 5 16th, two putted for par at the 17th and then after finding the rough to the right of the 18th he hit a fine approach to 15 feet and although he was unable to convert he had completed a remarkable round.
Davis was no doubt disappointed he had not been able to take advantage of the chances he made for himself late in the round but he was aware that he had handled the tough finishing stretch very well.
"Yeah, it was a really solid round other than one kind of really poor swing," he said. "Other than that, most of the round was really solid. I'm pleased with the way I finished, those difficult holes down the finishing stretch there. Plenty of good stuff for tomorrow.
"I kept the ball in decent spots on the fairway. I had a good shot on 18, that was a funky lie there and managed to hit a great shot to keep it going. With the wind not being super strong, those final holes didn't have as much teeth as they might have otherwise, like the last couple days in the practice rounds, those holes were a little more interesting in terms of the shots that you had to hit and how long they were playing.
"I hit good shot in the middle of the green, 17, which is really all you really want to do there and 18, after I hit a good tee shot, just took a poor bounce. Good little momentum savers, good, consistent shots kept the stress off and try and keep that going for the rest of the week."
Cameron Smith is the next best of the eight Australians after his round of even par 72.
Smith is playing just his 19th major championship but with three top 5's and four top ten's already to his name he has proven he, too, has the game and the constitution to grapple the demands of the games' greatest tests.
Smith began slowly with an early bogey at his 4th hole and although he would birdie the 5th and 7th holes he would make the turn in even par.
Birdies at the 11th and 13th had him within two of the lead then held by Cory Conners and when his tee shot at the par 3 14th finished eight feet from the hole it appeared he would move even closer. The putt would miss but he was nicely placed as he faced the demanding finishing stretch.
Smith would bogey the 15th and 18th and although now in a share of 31st place any round under par today is a good solid start.
"Pretty good," said Smith describing his thoughts on the round. "I thought the ball-striking was really up there today. I thought I putted well. A couple more putts go in and I'm right up there. Yeah, no work for me tonight. I'm just going to get a good rest and be here early in the morning.
"The last five holes I played 2-over and basically didn't really miss a shot. I hit a bad drive on 18 but it didn't really feel bad. That's just the way it is around here. You just have to take advantage of those downwind holes as much as you can and really hold on and hit really good golf shots into the wind."
Matt Jones and Jason Scrivener had 73, Marc Leishman and Jason Day 74, Lucas Herbert 76 and Adam Scott 78.
The leader, Corey Conners, has the lead by two and after his round described the greater self-belief he has as a result of several impressive performances of late.
"I have a lot of belief in myself, and I've been playing well for quite a while. I'm excited for opportunity to play against the best players in the world and put my game to the test.
"I have a lot of confidence in my game and I'm excited for the rest of the weekend. Didn't try to force it to happen but definitely saw myself having a good day today and hopefully can keep that up the rest of the weekend.
"I'd say it's impossible to be stress-free around this golf course. You can't fall asleep out there on any holes. It's very challenging. Yeah, I was fortunate to have a good day.
"Made it as least stressful as possible on myself. I hit a lot of really good shots and holed some nice putts early in the round, and that really helped boost the confidence. You know, played with a lot of freedom."
The cut tomorrow appears at this stage as if it will fall around 4 possibly 5 over so several of the Australians have a chance of being around for the weekend, a couple perhaps even strong possibilities of contending as the week advances.
https://www.bruceyoungmedia.com.au/wp-content/uploads/2021/05/Cameron-Davis-Getty-Steve-Dykes.jpg
503
600
Bruce Young
https://www.bruceyoungmedia.com.au/wp-content/uploads/2017/01/logo.png
Bruce Young
2021-05-21 00:42:50
2021-05-21 03:48:08
Cameron Davis' great recovery on day one of PGA Championship