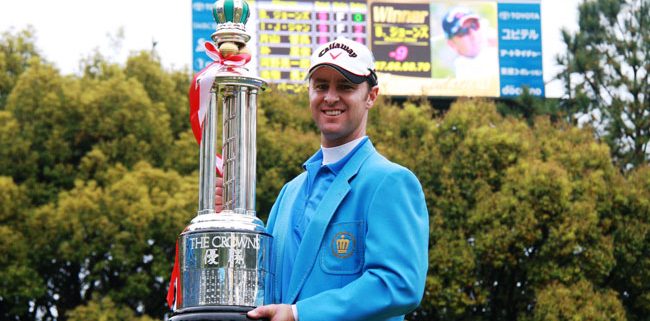 Brendan Jones with the 2011 Crowns Tournament Trophy
43 year old Australian Brendan Jones is in contention for yet another victory in Japan and if he was to convert his second place at the halfway point of the Crowns Tournament in Nagoya this weekend it would be his 15th title on the Japan Golf Tour.
Jones first joined the Japan Golf Tour in 2001 after his long-time coach and mentor Alex Mercer convinced him to test the competitive water of professional golf in Japan before considering other golfing arenas.
Seventeen years later Jones is the most prolific foreign money earner in the history of the Japan Tour (equivalent A$12 million) and displayed it is possible to develop a very successful career by commuting to and from one of the world's leading tours rather than establishing a base in that country.
Jones did try the USPGA Tour in 2005 and 2006 after success on the Web.Com Tour in 2004. He was one of the beneficiaries of the push by the then Nationwide Tour into Australasia through much of the 2000's, twice finishing runner-up in events in Adelaide and Christchurch and gaining limited status on the secondary tour in the US.
That status improved when he won an event in Chicago and finished runner-up, the limited status becoming full status and ultimately a card on the PGA Tour in 2005.
He would return to Japan full time in 2007 after splitting his time between the tours in 2006, injury and perhaps craving for a return to a lifestyle he had enjoyed earlier the driving force behind the change. The decision was soon vindicated when winning on three occasions that year and Japan was where he would stay. It was a case of back to the future.
Jones has escaped the attention of many Australian golf fans as when the flagship events of the Australasian Tour are being played in November and December he is involved in the lucrative, end of season events in Japan.
He has however played well on occasions in his home country having finished runner-up to Peter Senior at the 2012 Australian Open at the Lakes after a brilliant last round in some of the most demanding conditions imaginable saw him so nearly secure his national open.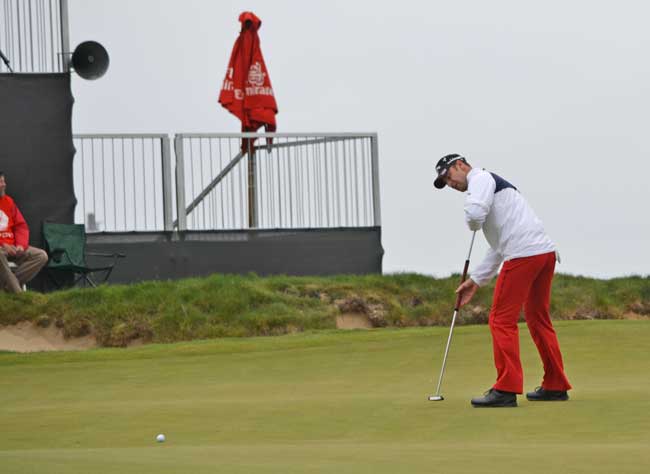 Jones with a putt that could have forced a playoff at the 2012 Australian Open 
Such a win in his home country might have alerted Australian golf fans to just how good Jones is although fame is not necessarily something he pursues. Rather the chance to ply his trade in a commercially successful way and to be able to commute between his family in Canberra and Japan which he has done for so long now is his motivation in staying on the Japan Tour.
Jones underwent surgery for a wrist injury in 2013 and it appeared for a while as if it might be a career altering moment but nearly three years later he won again and has had several other top three finishes since.
This weekend he gets the chance to win his 15th Japan Tour title in an event he has won previously but, even if he does not, the former Australian Amateur Champion continues to perform with great success as arguably the most successful foreign golfer in the history of the Japan Tour.
I say arguably as Graham Marsh was also a hugely successful player in Japan although some of his early success there came before the forming of the Japan Golf Tour as we now know it.
Either way Brendan Jones perhaps has a greater place in Australasian golf than his profile here suggests.
It is not something that appears to bother him greatly however.
https://www.bruceyoungmedia.com.au/wp-content/uploads/2018/04/Brendan-Jones-Crowns-2011.jpg
416
650
Bruce Young
https://www.bruceyoungmedia.com.au/wp-content/uploads/2017/01/logo.png
Bruce Young
2018-04-27 10:09:51
2021-02-03 01:09:51
Brendan Jones – continues to fly under the radar