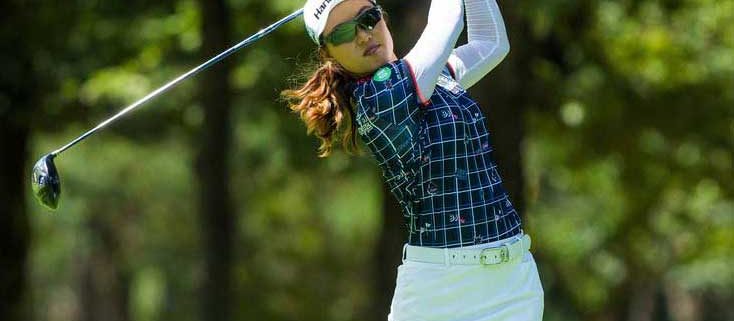 Minjee Lee – another chance at a major? – photo LET.

The second major championship in women's golf for 2002 is played this week in Rancho Mirage in California where temperatures are expected to exceed 100 degrees Fahrenheit for much of the week.
Five Australians and one New Zealander will take to the fairways of the Dinah Shore Tournament Course at Mission Hills Country Club but with the event being played six months later than its traditional date the hot late summer weather in the Californian desert is expected to play a key role in the outcome of the event.
The heat, coupled with smoke filled air caused by the Californian wildfires, suggest the 72 holes will be as much a test of endurance as they will golfing skills.
Tournament officials have already made allowances for the heat. Practice rounds will be played in golf carts and, during the event itself, caddies are able to drive carts while players walk.
New Zealander Lydia Ko, a winner of this event in 2016 and a player who has shown a significant form improvement in recent starts, expressed her concern for the expected conditions. Like so many in the field, however, she is just happy to have the chance to play another major after so much uncertainty in 2020.
"I think I was just excited that we were going to have the opportunity to play," said Ko on Tuesday. "I actually at that point when the schedule was kind of announced didn't realize how hot it would be until I think a couple weeks ago I was talking with Pernilla (Lindberg) and she was saying that it would be pretty hot because I was initially thinking of coming early the week before instead of going back to the East Coast.
"I saw the temperature and I was like — I normally think like 70s is perfect, 80s is like nice, 90s it's getting hot and 100 you're like, whoa, and then I'm like, this is like three digits and it's over 110. Like you don't really know how to gauge it, especially in Fahrenheit, I'm not like super good with.
"But no, I mean, everybody is playing in the same weather, and like I said, we're just lucky to be here, obviously a very different atmosphere to what it's normally like. But at least the champion will be able to have a nice dive into the cool water of Poppies Pond on Sunday."
Interestingly, despite her domination of the game for such a lengthy period of her still young career, the win in 2016 was the only top ten in seven starts in the event so she will need a continuation of her recent improvement under the watch of new coach Sean Foley if she is to contend again.
Of the Australians in the field, Minjee Lee is the standout not only because of her world ranking (5th) but because her recent form suggests she could be a genuine contender for her first major title. Like Ko she has only one standout performance in this event, that coming in 2017 when finishing 3rd.
In five other starts there has been no other top ten for Lee but with three top 5 finishes in LPGA Tour events in her last five starts there is reason to believe she could at least contend.
Hannah Green is just the third Australian female to win a golfing major, but she appears to be taking some time to settle back into tournament golf following the forced extended break during the Covid issues.
She returned with a solid 16th place at the Scottish Open but missed the cut two week's ago in Arkansas
Katherine Kirk will play this event for the 13th occasion but with just one top ten in those attempts it would seem her chances of contending seem slim. In her defense, however, is that she is playing as well now as she has for some time, highlighted by a 7th place finish at her last start in Arkansas two weeks ago.
Su Oh, has fallen from the standing she had previously in the game and has missed the cut in her last three starts since the return of the LPGA  Tour. Having never finished better then 50th in four starts in this event, suggests things aren't going to get a whole lot better this week.
Standout Victorian amateur, Gabriela Ruffels, gets her opportunity to play a second major when she tees it up for the first time in this event having recently finished runner-up in the US Women's Amateur Championship when defending her title from the previous year.
Ruffels, who attends the University of Southern California and bases herself not too far from this week's venue, played her first major championship at the AIG Women's Open at Royal Troon a few weeks ago where she missed the cut by just one shot.
Ruffels is foregoing college golfing commitments over the next few months to concentrate on events such as this and the US Women's Open.
Lydia Ko takes the traditional leap into Poppies Pond following her win in 2016.
https://www.bruceyoungmedia.com.au/wp-content/uploads/2020/09/Minjee-Lee-Canberra-2.jpg
530
734
Bruce Young
https://www.bruceyoungmedia.com.au/wp-content/uploads/2017/01/logo.png
Bruce Young
2020-09-09 01:39:35
2021-02-03 01:02:47
Australasians Prepare for ANA Endurance Test