Zhang at the age of just 17 – the US Women's Amateur Champion – photo USGA
A missed putt from less than 3 feet at the 2nd extra hole in today's final of the US Women's Amateur Championship in Rockville, Maryland, has cost Australia's Gabriela Ruffels the opportunity to win the event for the second consecutive occasion.
In an incredibly hard-fought final against the 17 year old American, Rose Zhang, in which there was never more than two holes between the pair at any stage and only one over the last eighteen, Zhang saved a miracle par at the 36th hole and then watched as Ruffels, three years her senior, failed to get up and down from behind the hole at the 38th.
Zhang saved par at the 36th hole after her  drive found the left rough and she was unable to clear the rough with her second leaving herself still 90 yards or so for her 3rd. She would hit the most extraordinary pitch to less than two feet which was conceded but surprisingly she conceded Ruffel's putt from three feet. The pair then moved into extra holes before Zhang parred the 38th and watched as Ruffels missed form very short range.
"Yeah, you can't take any putt for granted out here," said Ruffels. "These greens are crazy fast, and that did have a little break to it. I was playing it outside of the hole. I actually hit it on my line, it's just kind of heartbreak seeing it horseshoe out.
"Rose played great today and got up-and-down. I got up-and-down when I needed to; I thought maybe I had it. But she deserves it.
"Rose was one of the toughest opponents. She never let the door open. Like she was dead straight down the middle, hits greens. What a good player. Her wedge game is amazing, putting is amazing. She's so solid. I can't believe she's only 17. Yeah, all credit to her."
Ruffels has a busy schedule ahead of her, earning starts in events because of her win in this very event last year.
"I'm going back to Orlando, and then I leave on Sunday for the British Open, and then I have the other three majors. So I have the ANA, then the U.S. Open at the end of the year. Hopefully college season, I'm not sure, but looking forward to the three majors.
"This week I'll just have a little break, maybe a couple days off, and then — I mean, Scotland is definitely different golf. I've never played in Europe before, so just get out there and get some practice rounds in, and yeah, just kind of do the same thing that I've been doing."
It was a gut-wrenching way for Ruffels' valiant attempt at a second consecutive US Women's Amateur Championship to finish but, despite her age, Zhang is a highly credentialed youngster and is actually ranked higher than Ruffels in the World Amateur Ranking.
Ruffels can feel very proud of her outstanding play in both attempts at this most significant of women's amateur events but that will be of little consolation for her as she considers what might have been.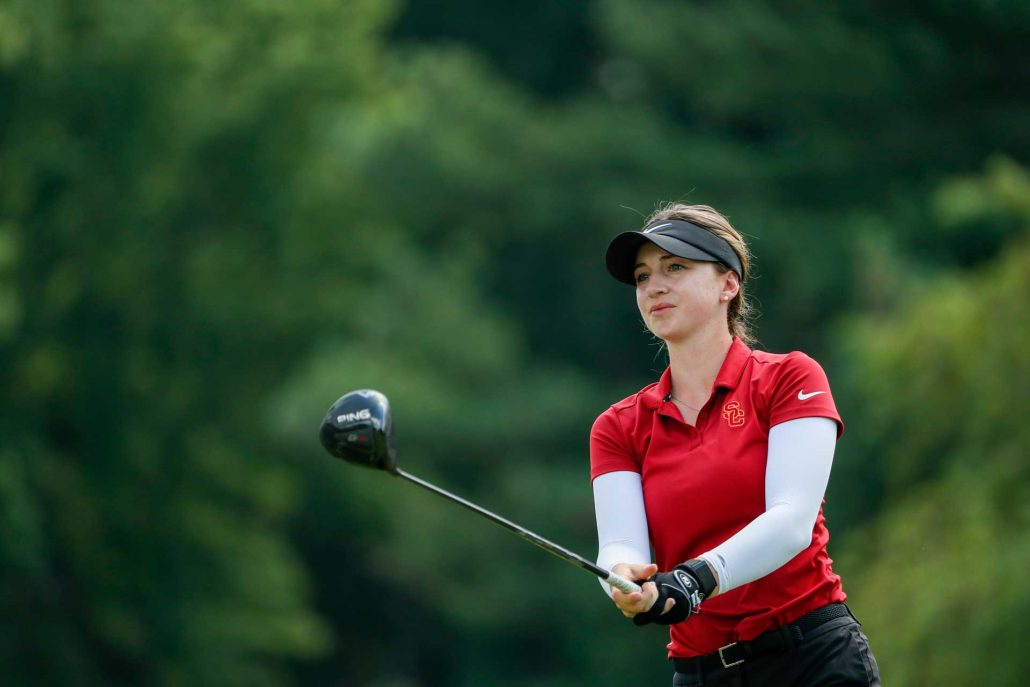 Ruffels in action in today's final
https://www.bruceyoungmedia.com.au/wp-content/uploads/2020/08/Rose-Zhang-trophy-US-Am-Chris-Keane.jpg
1280
1920
Bruce Young
https://www.bruceyoungmedia.com.au/wp-content/uploads/2017/01/logo.png
Bruce Young
2020-08-09 22:21:59
2021-02-03 01:02:47
Agonising Loss for Ruffels at US Women's Amateur