John Lister again thrilling a New Zealand crowd as I look on

1983 would see me caddying in my last season in New Zealand. To some extent the season was bitter/sweet in that it brought to an end a long, rewarding and very successful association with New Zealander John Lister but opened up a new chapter in my golfing and professional life with Australian, Graham Marsh.
John was coming to and end of his playing career as his playing fortunes in the USA continued to wane and we agreed that the New Zealand Open at the then Auckland Golf Club late that year (now Royal Auckland) would be the end of a journey which had seen John win ten events in New Zealand with me on the other side of the bag.
I had learned so much from Lister and he provided me with many great opportunities but as I looked ahead I was keen to make the golf industry a career and Marsh's growing business interests appeared to me as if they might open career prospects beyond caddying.
I took two weeks off from my hotel job in Nelson and drove north to Auckland for the first of what was to be two events but eventually became three. Lister and I teamed together for our swansong at Middlemore which was won by Ian Baker-Finch, John once again having his struggles with the New Zealand Open style set-ups.
We said our professional good-byes which for both of us I am sure was an emotional moment because of the success we had experienced together and for me especially because John had opened the door to a new world for me.
I still rate him as one of the more dynamic players I have seen when he was in the right frame of mind and form. He was a great shot-maker, doing things with the golf ball that many more credentialed players could only dream about. He was blessed with tremendous length from the tee but, when he was on song, he was also a brilliant putter.
Marsh did not play the New Zealand Open but, as arranged, was there the following week for the Airlines event at Titirangi Golf Club, also in Auckland, and that was where we would team up for the first time since the Piccadilly World Match Play Championship in October of 1975.
The West Australian played well that week and, if my memory serves me correctly, finished 3rd behind Bruce Devlin in an event reduced to 54 holes.
The reason for the reduction in holes from the original 72 was that on day one weather had cancelled out the opening round. Ironically, the man who suffered most from the cancellation of play on the opening day was John Lister who recorded a round of 63 only for it to be washed out.
I am not sure what signal that was giving from Lister. I felt for John but was happy for him that he had found some form at long last after a long hard year in the US.
I discussed with Marsh that week the prospect of working for him in some capacity amongst his growing business interests and while he indicated an interest in my involvement it would be another six years before that actually came to fruition. I will elaborate on how that all transpired in another memoir.
Marsh asked during the week if I would be available to caddy the following week as he had been unexpectedly and belatedly invited to play the New Zealand PGA Championship at Mt Maunganui, about a three hour drive south.
I quickly contacted my employers in Nelson to seek approval for another week off which was given so I headed off to what is one of my favourite holiday destinations in New Zealand – the Mount as it is affectionately known.
I had caddied for Jumbo Ozaki there in his win in 1972 and for Lister when he won in 1977 and also when Lister lost a playoff to Brian Jones in 1981 so I knew the course well and was excited to be continuing my rekindled arrangement with Marsh.
Marsh would go on to win the event by two shots over Vaughn Somers giving me a 4th NZPGA Championship title as a caddie as I had also caddied for Lister when he defeated Bill Brask in a playoff at the nearby Tauranga Golf Club.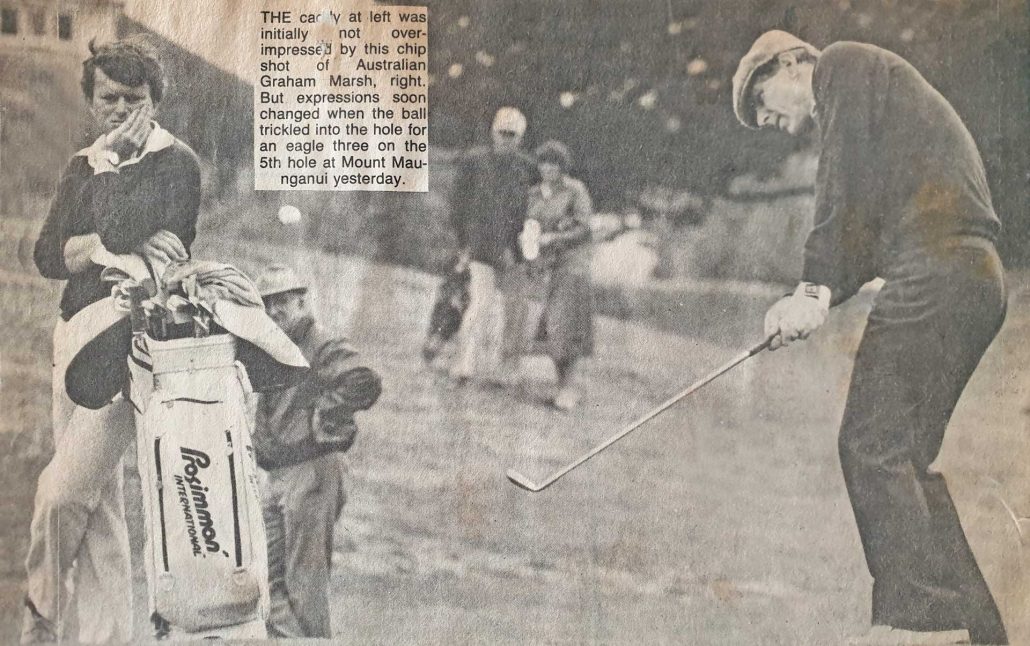 I might not have looked it but I was excited about Marsh's win at the 1983 NZPGA
The two weeks had reconnected Marsh and I and opened the door for ongoing discussions on the possibility of working for him in some capacity at a later date.
I recall him saying to me that he felt I needed more background in sales. While disappointed that nothing had immediately come out of the decision I had made, it gave me thought as to how I might further my skills to allow myself to be more employable in the golfing arena.
I returned to Nelson and was back behind the bar two days later pouring beer and having fun, but with the memories of what would be my final event as a caddie in New Zealand to the front of my mind.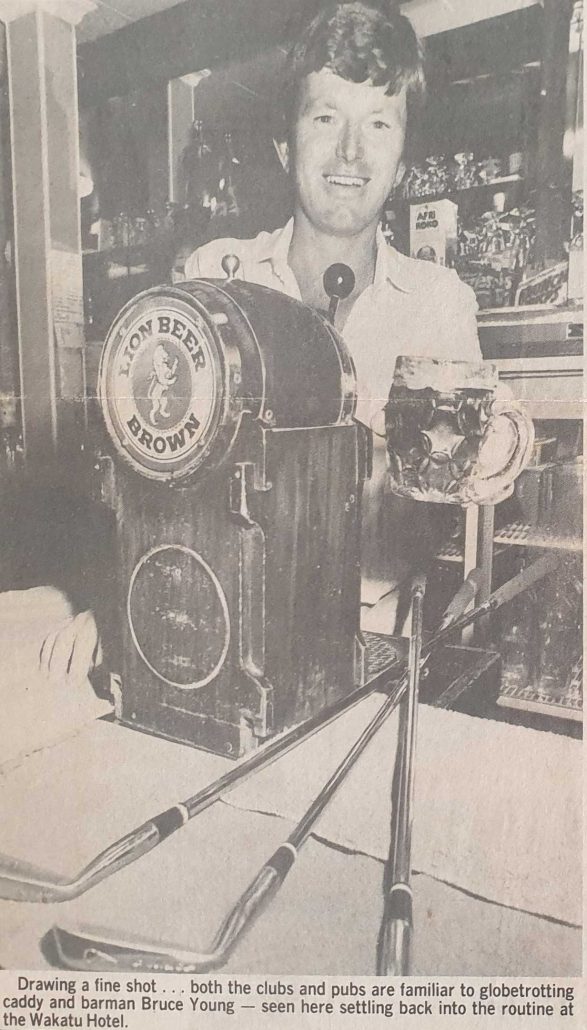 A photo accompanying an article on my return to Nelson
It would be another 4½ years before I caddied again, after relocating to Australia. In the meantime, however and after a few more months in the hotel industry, I would work in the Aquaculture Industry in the Marlborough Sounds of New Zealand and, for a few months before heading for Australia in 1986, in the Kiwifruit Industry in the Nelson area.
They provided further background for what lay ahead but, while fascinating, I never really felt they were what I wanted in the long term.
And so, my journey with John Lister was over but what a journey it had been. We had worked together in some seventy five events in New Zealand, Australia and the US, 55 or so of those in New Zealand in which there had been ten victories and two or three runner-up finishes.
There had been so many highlights but perhaps the Garden City Classic in Christchurch provided some of the greatest memories, John winning on four consecutive occasions and sharing the runner-up position behind Bob Shearer when attempting to win five in a row in 1976.
Lister could win from anywhere and often did. One of his victories in Christchurch came in 1974 when beginning the final round nine shots behind the lead of Tasmanian David Good.
It was heady stuff at times, his sheer brilliance thrilling the crowds and leaving so many, including myself, in awe of his power and deft touch.
He provided me a start in the game for which I will be forever grateful and have nothing but the upmost admiration for his ability to, at times, produce the seemingly impossible.
It was a fun ride.
Lister and I during one his his four consecutive victories at the Garden City Classic.
https://www.bruceyoungmedia.com.au/wp-content/uploads/2020/05/Seven-John-and-I-1.jpg
1065
1698
Bruce Young
https://www.bruceyoungmedia.com.au/wp-content/uploads/2017/01/logo.png
Bruce Young
2020-05-28 06:04:19
2021-02-27 04:03:31
1983 – The End Of An Amazing Ride