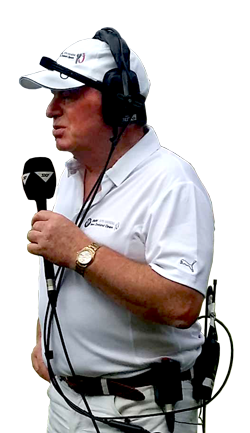 It's a great thrill to introduce you to my website.
An almost lifelong involvement in the game of golf has provided me with wonderful opportunities and experiences and it is my pleasure to be able to share some of those with you and to outline how the services I offer may be of assistance to you.
As you search the site you will find information on my background in the game which has included playing, caddying, a marketing role in the golf course design industry and, in recent years, the development of an extensive media portfolio.
Examples of my media involvement, including written, audio, commentary and MC work can be found in the various areas on the above menu bar to highlight such and I trust that by visiting these areas and others you will enjoy the journey that I have been fortunate to experience.
I look forward to the possibility of working with you at some future stage and the chance to meet with you in person.
Bruce Young
Below is video of some of my early caddying involvement. This was at the Piccadilly World Match Play Championship at Wentworth near London when working for Australian Graham Marsh. The 36 hole final became 40 holes, the longest in the history of the event.

In My Opinion
A blog by golf journalist and commentator Bruce Young.
Audio Betting Guide for October 18th

October 17, 2018

After a little bit of success last week with In Gee Chun getting across the line at $21 in Korea and Lucas Herbert doing so well at $51 in Portugal, we have a little reserve to have another bet this week but like always betting is a week to week proposition and a small success […]

RACV Royal Pines – Three Years On

October 15, 2018

Three year's on from its initial role as host of the Australian PGA Championship, the fully revamped golf course layout at RACV Royal Pines on the Gold Coast again stages the PGA Tour of Australasia's flagship event in late November. The 18 holes of the championship layout (there are 27 in total at the facility) […]

Marc Leishman – Playing to Win

October 15, 2018

Just over twelve hours after his 4th PGA Tour victory at last week's CIMB Classic in Malaysia, Marc Leishman was up early in Kuala Lumpur this morning to front a wide-ranging teleconference with Australian golf journalists. Still a little jaded following the demands of his five-shot victory and an enjoyable celebration with colleagues at his […]