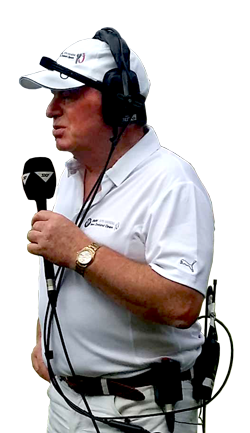 It's a great thrill to introduce you to my website.
An almost lifelong involvement in the game of golf has provided me with wonderful opportunities and experiences and it is my pleasure to be able to share some of those with you and to outline how the services I offer may be of assistance to you.
As you search the site you will find information on my background in the game which has included playing, caddying, a marketing role in the golf course design industry and, in recent years, the development of an extensive media portfolio.
Examples of my media involvement, including written, audio, commentary and MC work can be found in the various areas on the above menu bar to highlight such and I trust that by visiting these areas and others you will enjoy the journey that I have been fortunate to experience.
I look forward to the possibility of working with you at some future stage and the chance to meet with you in person.
Bruce Young
Below is video including my on course commentary role at the 2016 Asia Pacific Amateur Championship in Korea

In My Opinion
A blog by golf journalist and commentator Bruce Young.
Betting Thoughts for July 11th

July 10, 2019

This week we analyse betting options on four professional golf events. The Aberdeen Assets Scottish Open, the John Deere Classic on the PGA Tour, the Marathon Classic on the LPGA Tour and the TPC Colorado Championship on the Korn Ferry Tour all come under scrutiny and with just a week before the Open Championship begins […]

Betting thoughts for events on the LPGA, the PGA and European Tours – July 4th

July 3, 2019

Above Katherine Kirk – can she continue her good record at the Thornberry Creek Classic? This week we take a look at the Dubai Irish Open, the 3M Open on the PGA Tour and the Thornberry Creek Classic on the LPGA Tour. We struggled a little last week although it was a case of close […]

Golf Betting for June 27th

June 26, 2019

This week we take a look at three golfing events on which betting is available, the PGA Tour's Rocket Mortgage Classic, an inaugural event, the NW Arkansas Classic on the LPGA Tour and the European Tour's Andalucia Masters. No winners last week as such but Matthew Fitzpatrick so nearly got us a return when he […]